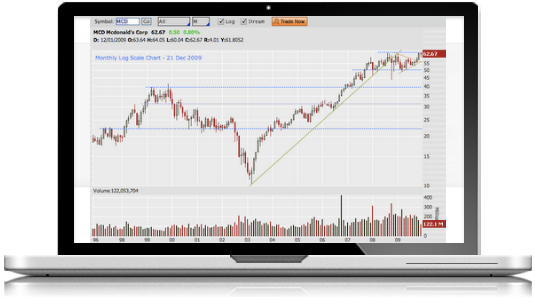 Thank you to all of my loyal readers,
I wouldn't be here today without you.
After 2 years of posting, I have decided to transition ChartSmarter
to a subscription-based model. I'd be honored if you joined me.
Please click the below button for more information. Thank you.
Markets registered decent intraday reversals Wednesday and it was the Nasdaq that put in the best effort. After Tuesdays bearish action it was pleasant to see, and the tech heavy index is now digesting the nearly 4% advance the two weeks ending between 5/4-11 very well. The handle on the Nasdaq cup base has a much better complexion after todays and it can also be viewed as a bull flag now. A move and CLOSE above 7425 could ignite a measured move of 425 handles. There were moves of 3% plus in several Nasdaq 100 names that contributed handsomely to tech dominance including NFLX, CTRP, ALGN and MELI. The VIX reversed hard after an intraday push above its 200 day SMA, which is still sloping upward. Looking at some "risk on" ETFs the JNK is starting to coil and it could be telling us something. A look at the Bollinger Bands on this ETF shows a squeeze developing as the bands are as tight as they have been in all of 2018. Will it thrust the most hated bull market even higher? Looking at individual groups there was some disparity among the major S&P sectors. Leadership today was somewhat suspect as the utilities rose with the XLU higher by .9%, and so far for the week headed into Thursday it is a clear winner up nearly 2%. Not far behind bulls welcomed the sight of the cyclicals and technology acting well with the XLY and XLK higher, both by .7%. Retail names were the main reason the cyclicals did well, as LOW reported a number that put the stock up more than 10% and clearing the very round 90 number which set it back a couple of times since falling below the figure on 2/28. TIF shined more than 23%, pun intended, hitting all time highs. RL added more than 14% and has now doubled since the first week of June last year. Anyone remember the phrase "Amazoned" as it related to the death or retail? Acting poorly Thursday were the financials as the XLF lost .7% and we speak of its chart in the next paragraph a bit. The financials have been in the news plenty of late with the talk of interest rates and their overall lack of vigor recently. The XLF has fallen 6 of the last 9 sessions after a failed bull flag breakout on Wednesday. Flying under the radar in this diverse space has been the strength in the investment banking advisory names. Below is the chart of EVR and how it was presented in our Thursday 4/26 Game Plan. This name sported a double bottom trigger just underneath the very round par figure, in a base that began with a bearish evening star completed on 2/2 at all time highs. Since the breakout on 4/25 it has acted very well, and we know the best breakouts tend to work out right away, advancing 17 of the last 21 days. It is always a good sign to see peers acting well in the sector and one has to look no further than MC, which since the start of April has declined just NINE times as it traded from the very round 50 number to where it is having some issues with the 60 numbers currently.
Markets displayed bearish action Tuesday as they started with mild gains and went out hard upon lows for the session. The Dow and Russell 2000 were the biggest losers each falling .7% and the Nasdaq and S&P 500 retreated a more blandish .2 and .3% respectively. The Dow recorded a bearish engulfing candle at the very round 25000 number today and the leading Nasdaq has now failed the CLOSE in the upper half of its daily range for 4 days in a row. Perhaps most concerning was the bearish engulfing candle the Russell 2000 registered Tuesday at all time highs. It is still 1% above its break through the 1610 bullish ascending triangle trigger, but something to monitor closely as the saying goes things always look the rosiest at the top. The VIX added just a bit more than 1% today which I thought would have been more, but to its credit it is not moving very far away from the 200 day SMA that it now sits just underneath. Looking at individual sectors Tuesday there was some clear bifurcation as the financials have woken up a bit with the XLK leading today advancing .6%. The ETF had the look of a bull flag breakout today, with a measured move of two handles, but it can also be viewed as attempting to move through a bullish falling wedge which has a measured move almost 4 handles. A breakout from the latter (was above intraday but needs to CLOSE above 28.50) would put it above the round 30 number, a feat it has achieved on a CLOSING basis only 4 times this (three of which were by 3 pennies or less). Utilities and technology rounded out the top three as the XLU and added .4 and the XLK lost .16%. Lagging today were the industrials as defense plays were soft including NOC LMT and RTN all of which retreated more than 2%. Energy, the only group weaker than the industrials, was the second weakest group as the XLE recorded a bearish shooting star candle near the critical 78 number. Lets see if the chart can right itself by the end of the week as bulls do not want to see the ETF pausing to long in this area like it did it December 2016 and again this January. Internet plays have been very strong, a welcome sight as software and semiconductors have both been contributing bullish subsectors within technology. Other internet names that have acted well include GRUB, AKAM, TWTR and GDDY. Below is the chart of ANGI and how it was presented in our Friday 5/11 Game Plan. The stock is up more than 6% this week already and it did break above a double bottom trigger of 14.45 on 5/11 and it did retreat slightly but found support at its 50 day SMA. Another way to look at the chart is that it did develop a handle on its double bottom base and today could be interpreted as a break above a 14.87 trigger too. The stock is lower 7 of the last 10 weeks, but now sits just 5% off most recent 52 week highs, which should be considered positive action given the 50% gain witnessed between the weeks ending 1/5-3/9.
Markets started the week off on the right foot Monday, although some of the indexes did finish slightly off intraday highs. The Nasdaq cam close to breaking above its cup with handle trigger near 7460, but shied away. The Russell 2000 added to its break above its 1610 ascending triangle pivot and traded HIGHER following last Fridays doji candle, which many looked at as a sign of exhaustion. It is still premature but today was a step in the right direction. Out of the 30 stock in the Dow, just two lost ground today as MRK and JNJ fell, but the bigger story Monday was the ongoing bullish move in the transports. The IYT broke above a 195 ascending triangle trigger on a CLOSING basis, which carries a measured move to 213. That would obviously surpass a cup base trigger of 206.83, but the story has to be seen in a glass half full, maybe three quarters full scenario. Rail plays UNP and NSC are near 52 week highs and a piece in the Market View section this week in Barron's caught my eye as the truckers are seeing growth like they have not seen in 30 years. Tick tock, inflation next stop? Looking at individual groups Monday it was easy to spot the rally was broad based as all nine of the major S&P sectors gained ground. Industrials and energy led with the XLI and XLE higher by 1.5 and .1%. Rounding out the top three was technology, which the bulls welcomed as the XLK rose by .9%. Financials did not want to be left out of the mix as the XLF rose by .7% too. Staples and healthcare lagged as the XLP and XLV added .4 and .1% respectively. The XLI has advanced 11 of the last 13 sessions since bouncing precisely off the round 70 figure on 5/3. Volume trends for the ETF certainly have to improve, and bears will point the seven weeks since the week ending 2/2 have dropped 2% or more, with 5 of the 7 surrendering more than 3%. Of course BA has been a big contributor and it is nearing a 371.70 cup base trigger, and a breakout would achieve an all time high. WAB was the subject of M&A discussion as GE transportation unit is merging with it and it is nearing the very round par figure which has been resistance dating back to April-August 2015. At some point sentiment becomes so negative on a stock that one has to put a name on its long radar. One does not simply buy on impulse however, as a catalyst is needed for entry. I personally admire stocks near 52 week or all time highs, but certain formations in technical analysis could alert bottoming situations which offer decent risk/reward. Below is the chart of GE and how it was presented in our Monday 5/14 Game Plan. It has spent the last 4 months trading sideways after a horrific downtrend, perhaps indicating sellers have exhausted themselves. The name is still 48% off most recent 52 week highs but the 15 level has been a line in the sand. There have been just 4 CLOSES above the number since falling below it on 2/5 until mid last week. It has achieved 3 of the last 4 sessions CLOSING above 15 and today broke above a bullish inverse head and shoulders formation. The measured move is not gigantic, but it could certainly surpass that. The dividend yield is still above 3%, compensating investors somewhat until the appreciation side of the equation comes to fruition.
Amazing work in this piece. Truly inspirational! You gotta keep this up. Good luck next week.
On Monday I played 3 of your alerts:  JACK = $110, AVD = $600, and SPW = $700. Today I played 2 more of your alerts: ALL =  $300 and WYN = $280.  THANK YOU!
I know Doug from the Carlin days in 1999.  He's the hardest working technical trader out there and shows no bias in his analysis.  A must read in any market.
Some great setups in @chartsmarter's service tonight. Do yourself a favor and take it for a test drive. You will be glad you did.