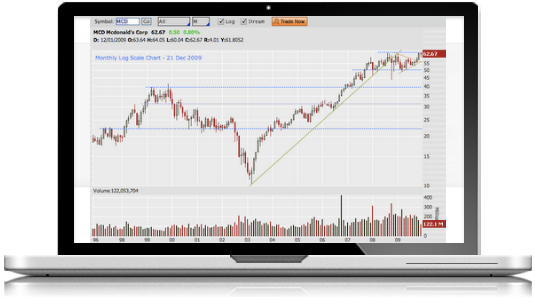 Thank you to all of my loyal readers,
I wouldn't be here today without you.
After 2 years of posting, I have decided to transition ChartSmarter
to a subscription-based model. I'd be honored if you joined me.
Please click the below button for more information. Thank you.
Markets started the week off on the right foot Monday, although some of the indexes did finish slightly off intraday highs. The Nasdaq cam close to breaking above its cup with handle trigger near 7460, but shied away. The Russell 2000 added to its break above its 1610 ascending triangle pivot and traded HIGHER following last Fridays doji candle, which many looked at as a sign of exhaustion. It is still premature but today was a step in the right direction. Out of the 30 stock in the Dow, just two lost ground today as MRK and JNJ fell, but the bigger story Monday was the ongoing bullish move in the transports. The IYT broke above a 195 ascending triangle trigger on a CLOSING basis, which carries a measured move to 213. That would obviously surpass a cup base trigger of 206.83, but the story has to be seen in a glass half full, maybe three quarters full scenario. Rail plays UNP and NSC are near 52 week highs and a piece in the Market View section this week in Barron's caught my eye as the truckers are seeing growth like they have not seen in 30 years. Tick tock, inflation next stop? Looking at individual groups Monday it was easy to spot the rally was broad based as all nine of the major S&P sectors gained ground. Industrials and energy led with the XLI and XLE higher by 1.5 and .1%. Rounding out the top three was technology, which the bulls welcomed as the XLK rose by .9%. Financials did not want to be left out of the mix as the XLF rose by .7% too. Staples and healthcare lagged as the XLP and XLV added .4 and .1% respectively. The XLI has advanced 11 of the last 13 sessions since bouncing precisely off the round 70 figure on 5/3. Volume trends for the ETF certainly have to improve, and bears will point the seven weeks since the week ending 2/2 have dropped 2% or more, with 5 of the 7 surrendering more than 3%. Of course BA has been a big contributor and it is nearing a 371.70 cup base trigger, and a breakout would achieve an all time high. WAB was the subject of M&A discussion as GE transportation unit is merging with it and it is nearing the very round par figure which has been resistance dating back to April-August 2015. At some point sentiment becomes so negative on a stock that one has to put a name on its long radar. One does not simply buy on impulse however, as a catalyst is needed for entry. I personally admire stocks near 52 week or all time highs, but certain formations in technical analysis could alert bottoming situations which offer decent risk/reward. Below is the chart of GE and how it was presented in our Monday 5/14 Game Plan. It has spent the last 4 months trading sideways after a horrific downtrend, perhaps indicating sellers have exhausted themselves. The name is still 48% off most recent 52 week highs but the 15 level has been a line in the sand. There have been just 4 CLOSES above the number since falling below it on 2/5 until mid last week. It has achieved 3 of the last 4 sessions CLOSING above 15 and today broke above a bullish inverse head and shoulders formation. The measured move is not gigantic, but it could certainly surpass that. The dividend yield is still above 3%, compensating investors somewhat until the appreciation side of the equation comes to fruition.
Some healthcare names have been garnering plenty of respect lately. Plays in the mid and large cap space that we have profiled acting bullishly include BSX, which is now on an 8 week winning streak, its first since an 11 week run between April-June '16. More importantly it has CLOSED above a 30.03 long cup base trigger the last 2 sessions. VRX which will undergo a name change, is higher by 22% over the last 2 weeks as it builds the right side of a goos looking cup base pattern. Below we look at FATE, first how it appeared in our Thursday 4/5 Game Plan and then we take a current look. Making a quick recapture of rising 50 day SMA very bullish. FATE is a healthcare play higher by 72% YTD and 148% over the last one year period. Earnings have been mixed with gains of .6 and 2.9% on 11/2 and 8/15 and losses of 5.2 and 1.2% on 3/6 and 5/16. The stock is on a current 4 week losing streak down by 30% in the process and this week is higher by 7.6% thus far (to be fair it went on a tear going from 4 to 14 the weeks ending between 12/15/17-3/2 so being 27% off most recent 52 week highs presents an opportunity. On its weekly chart it did hit a rough double top in the 13/14 area the weeks ending 3/28/14 and 3/9/18. Enter FATE on todays recoup of the very round 10 number here.
Markets ended the week with a slight whimper as the Nasdaq and S&P 500 fell .4 and .3%. The Dow finished UNCH and the Russell 2000 led with s slight gain of .1%. For the week the Russell 2000 was an outlier UP 1.2%, while the Dow and S&P 500 fell .5% and the Nasdaq by .7%. On a YTD basis the Russell 2000 has nearly caught the Nasdaq as it has advanced 5.9% compared to the Nasdaq rising 6.5% (the Dow is UNCH and the S&P 500 is up 1.5% on 2018). The Nasdaq was not helped in any way by some of their "old tech" darlings as CSCO sank nearly 6% for the week, it largest weekly loss in more than a year. AMAT plummeted more than 9%, and it already recorded an 11.3% weekly slump the week ending 2/9. Trade topped more than 100 million shares for the week, just the fourth time that occurred in the last 30 months. It is now in bear market mode and 21% off most recent 52 week highs, and one look at its chart shows very loose and sloppy trade, a hallmark bearish trait. The $TNX did back off some to end the week and it may be in for some further weakness as it completed a bearish evening star pattern. Looking at individual sectors Friday it was energy and financials that lagged, with energy taking a well deserved day off as the XLE fell by .7%. The financials were the worst performer as the XLF surrendered .9%. The ETF put up a nice 5 session winning streak between 5/4-10 but volume was paltry. The chart has the look of a bull flag or even a bullish falling wedge, but I have no interest in participating unless 28.50 is taken out on a CLOSING basis. The bulls did enjoy seeing the staples lag as well on Friday as the XLP fell by .6%. What should have come as no surprise was CPB falling after an earnings release. It has done so now FIVE straight times losing 12.4, 3.2, 8.2, 8.1 and 2% on 5/18, 2/16, 11/21, 8/31 and 5/19/17. On a weekly basis energy led with a 1.8% gain, bulls are going to want to see them pass the leadership baton soon. They were closely tailed by materials as the XLB jumped 1.7%, recording its first 3 week winning streak of 2018. The only major S&P sectors to fall this week were the financials, technology and utilities with the XLF, XLK and XLU losing 1.1, 1.4 and 2.8% respectively. Healthcare has been an inconsistent group recently and we have been stressing the medical device names have been the way to go, and that has been moderately correct. Below is the chart of JNCE and how it appeared in our Friday 4/27 Game Plan. There is no way to mince words. We were WRONG, and that is part of the business. No matter how good a chart looks one has to realize when a stop is hit it is game over. For those who disregard the rule of taking small losses it could be painful both in mental and physical capital. This chart was holding a great looking breakout above a long bullish ascending weekly triangle, but on 5/9 the stop was hit. For those that did not adhere to their discipline the name has been nearly sliced in half over the last 2 weeks and is a good example of the saying "nothing good happens under the 200 day SMA".
Amazing work in this piece. Truly inspirational! You gotta keep this up. Good luck next week.
On Monday I played 3 of your alerts:  JACK = $110, AVD = $600, and SPW = $700. Today I played 2 more of your alerts: ALL =  $300 and WYN = $280.  THANK YOU!
I know Doug from the Carlin days in 1999.  He's the hardest working technical trader out there and shows no bias in his analysis.  A must read in any market.
Some great setups in @chartsmarter's service tonight. Do yourself a favor and take it for a test drive. You will be glad you did.