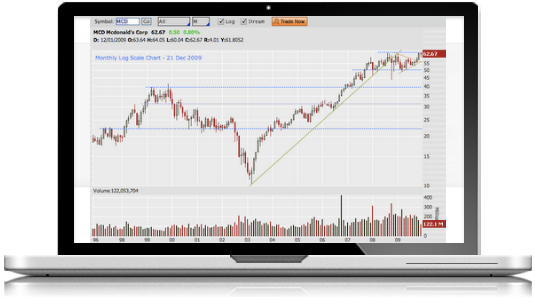 Thank you to all of my loyal readers,
I wouldn't be here today without you.
After 2 years of posting, I have decided to transition ChartSmarter
to a subscription-based model. I'd be honored if you joined me.
Please click the below button for more information. Thank you.
Markets continue to climb the wall of worry and the major averages were in the green for almost the entirety of the session. At the expense of sounding like a broken record the Nasdaq led gaining .6% after recording its ninth consecutive gain (the Russell 2000 rose 1%). For the week thus far it has gained more than 1% already and that is on top of the prior weeks robust move of 2.6%. It is now well ahead of its double bottom breakout just above 6300, and if bears want to point to something they can whine about the lack of volume. But as we all know we are paid on PRICE and the action has been undeniable. Could it change on a dime? Of course it can, but remember markets can go on a lot further than any of us believe in both directions, and fighting the trend is fruitless. Bears can mention on a contrarian note that SCHW saw a huge increase in new account openings, 34% worth, in the first half of this year, as small investors are often seen as entering near market tops. Looking at individual groups energy was the best with the XLE rising 1.5% and the ETF is now testing its 50 day SMA for the fifth time this year alone, and conventional wisdom states the more time a line is touched the stronger it becomes. I have no position in any energy related names, but I would say that will be broken to the upside sometime soon (today inched past and would like to see decisive follow through). Will it have legs is the question? Other groups that have been soft include retail and some of these names have been washed out earlier in the year and are trying to catch some footing. Below is the chart of LULU and how it was presented on our 6/30 Game Plan and its 200 day SMA is now beginning to curl upward as the elastic in their products stretches higher.
The retail group has been battered around and we have all heard of how AMZN in responsible ad nauseam, and it is most likely true, but I like to focus entirely on technical action. Below is a name to its credit has been acting a bit better as of late even though it currently sits 33% of most recent 52 week highs. It has advanced 9 of the last 13 weeks and this week by 2.1% thus far and is climbing the round numbers ladder. We look at TPX and how the name was profiled in our 5/15 and 7/6 Game Plans. This stock does report EARNINGS on 7/27 before the market open and as of this writing was on course to CLOSE above its 200 day SMA for the fifth consecutive session. In our 5/15 this is how we looked at TPX. Stocks that can be bought as they take out the round numbers are TPX. TPX is a mattress play lower by 29% YTD and 18% over the last one year period. Earnings momentum is excellent with four consecutive positive earnings reactions higher by .4, 4.1, 7.3 and 16.8% on 5/4, 2/16, 10/27 and 7/28 (the last 2 were both stopped at the very round 50 number). The stock is on a current 4 week winning streak up by a combined 18% and began with a big push off the round 40 number the week ending 4/21. It is presently dealing with the round 50 number and looking back that number was great support dating back to the weeks ending 10/17/14, 10/31/14, 2/6-13/15, 1/22/16 and 10/28/16. That price point has plenty of significance and memory. The last 2 weeks and week ending 2/17/17 were halted at 50 number. Enter with buy stop and CLOSE as always above 50.25 which should at least look to fill in an upside gap from the 1/27 session.
Markets put in another lackluster session except for the Nasdaq which rose .5% and is now on a current 8 session winning streak. The S&P 500 added .1% recording a bullish hammer candle, and it was the Dow which we rarely follow that was lower marginally because of a high priced financial play that reported earnings, with GS dropping. Remember the Dow is a price weighted index and with another higher priced name IBM reporting after the bell it could weigh on the mature benchmark. Technology, cyclicals and utilities led Tuesday and it was the industrials, materials and energy that slacked. Healthcare continues to be a group we are focused on as the XLV is becoming quite coiled as it spoons the round 80 number the last 4 weeks with 2 CLOSES above. Financials should be watched closely and keep in mind they will impact the Russell 2000 as they have they largest weighting in the index. Below is yet another coiled chart from that sector that aligns with the very 150 round number. It is SPGI and how it was profiled in our Wednesday 7/12 Game Plan. The reason I like to capitalize CLOSE all the time because finishing prices are supreme. This name is a great example as the last 5 sessions all were above 150 intraday or came within .12 of the figure but zero CLOSED above. Peer MCO in the group looks solid as well and it is important to have fellow names doing some of the heavy lifting too.
Amazing work in this piece. Truly inspirational! You gotta keep this up. Good luck next week.
On Monday I played 3 of your alerts:  JACK = $110, AVD = $600, and SPW = $700. Today I played 2 more of your alerts: ALL =  $300 and WYN = $280.  THANK YOU!
I know Doug from the Carlin days in 1999.  He's the hardest working technical trader out there and shows no bias in his analysis.  A must read in any market.
Some great setups in @chartsmarter's service tonight. Do yourself a favor and take it for a test drive. You will be glad you did.