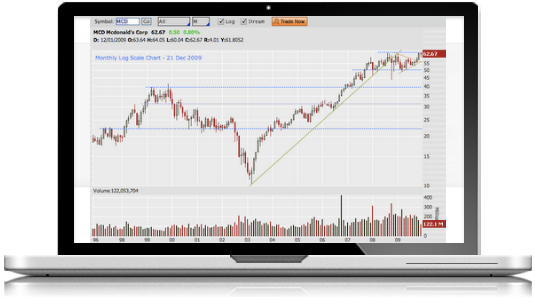 Thank you to all of my loyal readers,
I wouldn't be here today without you.
After 2 years of posting, I have decided to transition ChartSmarter
to a subscription-based model. I'd be honored if you joined me.
Please click the below button for more information. Thank you.
Markets: The Nasdaq flexed its muscles to begin the week adding .6%. It is higher 7 of the last 9 sessions and the two down days registered very taut intraday ranges. Compare that to the sessions that advanced, and one sees 7/5, 7/6 and 7/13 and today all moving up and CLOSING right at the top of its daily range. Monday saw a range of 113 handles top to bottom and always respect when the benchmarks, open on their lows and go out hard on highs. We have mentioned the semiconductors needed to display vigor and that they have as the continue to forcefully defend its upward sloping 200 day SMA. Monday marked its FIFTH 1% or more gain since recapturing the line on 7/5. The S&P 500 motored past the round 2800 number which gave it pause this year. It advanced .4%, and on its weekly chart is building the right side of a cup base that began the week ending 1/26. A breakout would occur above the 2873 level and notice how tight the weekly ranges have been since mid May (six weeks since the week ending 1/26 have seen intraweek ranges of less than 50 handles), compared to the very wide and loose trading that commenced the first week of February. Seven weeks recorded intraweek ranges of at least 100 handles between 2/2-4/6, and that type of action is considered bearish. Sectors: Those nagging staples just keep moving higher in a gradual fashion, just how we like to see it. No erratic moves, simply inclining in a smooth responsible manner. The XLP has gained ground 7 of the last 9 weeks and the taut action is reminiscent of the 6 weeks ending between 12/8/17-1/12/18 which all CLOSED within only .34 of each other. Today the group witnessed strength in the soft drinks with Monster and Pepsi doing there thing with MNST looking for a TENTH straight weekly gain and PEP for a ninth advance in last 10 weeks.  Technology was a bright spot once again despite the reaction from NFLX, which actually rebounded well off intraday lows CLOSING down 5%. It has acted well POST breakout from a 323 double bottom trigger taken out on 4/17, its prior earnings reaction that rose more than 9%. The XLK rose .7% and recorded a bullish engulfing candle, which typically are better received near bottoms. The ETF did successfully retest a cup with handle breakout of 70.52 taken out on 6/1 last month and now sits north of a cup base breakout trigger of 72.48. Special Situations: Retail in general has been showing that the US consumer is alive and well. The XRT is making yet another run at the very round 50 figure, having been able to record just 6 CLOSES above it recently (prior to that it had been 3 years since it traded north of 50). It has to be applauded for its tenacity. The stock below has been hampered by a round figure of its own, as 40 has proved to be a thorn in its side several times since March. Today it finished above 40, aided by its connection with Bitcoin most likely, after seeing 30 give it support late last month. The chart below is how it was presented in our Monday Game Plan this week and to be fair it is still more than 50% off most recent 52 week highs. It will be crucial to see in the coming days if former pesky resistance becomes support. 
Markets: The Russell 2000's weakness is beginning to become a bit of a habit instead of an aberration. It has now lost ground 4 of the last 5 sessions, and looks like a legitimate double top with bearish engulfing candle registered on 6/21 and 7/10. In a healthy breakout the initial time touching a rising 50 day SMA following a breakout, here the symmetrical triangle near the round 1600 in early May, would be a great entry. However it is looking to touch it again quickly for a second time, perhaps bearishly to soon. Maybe it was spooked as it came within one handle of challenging the Nasdaq's YTD move recently. The Nasdaq ended Monday lower by .3%, but it did CLOSE above the round 7800 number for a third consecutive day, although the doji candle from last Friday still looms large. Volume has been uncooperative as it rose into the 7800 level it achieved late last month. Could it be blamed on the summer doldrums? There is evidence that markets tend to underperform in the second half of July and extend into the August and September months. Give it credit for hanging around 7800, as it could very well be a double top with late June, but the longer it can hang around here the more the bulls will fell invigorated. Semiconductors need to participate. Sectors: Are the financials a contrarian indicator? The group via the XLF easily recorded the best major S&P sector return Monday with the XLF higher by 1.8%. The second best actor was were the cyclicals and utilities which ended up higher by .3% and lower by .1% via the XLY and XLU. The XLF still trades below both its 50 and 200 day SMAs and within the range of the nasty 13 session losing streak between 6/11-27. Markets have been doing fine just without them, but should this be seen as a welcome addition or should investors take a cautious view at its nascent strength? Energy was the worst performing space today as the XLE lost 1.1%. Its failed break above a double bottom trigger of 77.75 on 7/10 recorded a bearish shooting star, CLOSING below the pivot even though it was above intraday. It was the middle day of a bearish evening star pattern and today the ETF ended below its 50 day SMA, perhaps to quickly after doing so just last month. It is making a habit in CLOSING in the lower half of its daily range in July, suggesting buyers have little faith in the group going forward. Special Situations: There have been some nice turnaround stories in the casual dining space. CMG comes to mind as it has rallied more than 200 handles from its February lows this year although it has filled in a gap last week from the 7/7 session and is holding on barely to its 50 day SMA. Below is the chart of SHAK and how it was presented in our Thursday 7/12 Game Plan. This name has come a long way since completing a triple bottom at the round 30 number the weeks ending 1/15/16, 3/17/17 and 9/8/17. The stock touched its rising 50 day SMA for the first time in 3 months last week, which is often a good entry especially following a recent breakout. It topped out not long after going public near the very round 100 number the week ending 5/22/15, and a look on its weekly chart can be interpreted as a cup with handle and can be added to with a buy stop above a 70.06 trigger.
Markets: The Dow was the best actor among the big four indexes Friday as the benchmark rose .4%, aided most by its largest priced component BA gaining 1.4%. Its third largest priced name in the 30, GS is still mired in a downtrend off 18% from most recent 52 week highs, and for now seems to be shrugging off the bear flag at 220. Give credit to the Dow the CLOSED above its 50 day SMA everyday this week, after the prior week spent nearly the entire week underneath its 200 day SMA. We mentioned we wanted to see a few CLOSES above the round 7800 number on the Nasdaq, and it did so both Thursday and Friday as it grapples with the ugly bearish engulfing candle from 6/21. However Friday recorded a doji candle which can signal a fatiguing of the prevailing trend. It registered just three other ones in all of 2018 so far on 4/16, 5/17 and 5/24 which failed to hurt the tech heavy benchmark. Friday's doji however could hold more significance as it occurred at all time highs.   On a weekly basis their was a bit of bifurcation as the defensive Dow added 2.3% and the Russell 2000 FELL .4%. The small cap benchmark is dealing resistance with the WEEKLY doji candle of its own from 4 weeks back presently. On a YTD basis the Nasdaq holds a commanding lead higher by 13.4%, putting some space between the Russell 2000 which has gained 9.9%. The S&P 500 is up 4.8 and the Dow by 1.2% thus far. The VIX followed through this week lower after the prior week recorded an ugly bearish engulfing candle. That was preceded by yet another bearish weekly shooting star that reversed at the very round 20 number just 3 weeks ago. Is the VIX headed for single digits once again where it started 2018? Sectors: The financials were the laggards Friday and perhaps it was a buy the rumor and sell the news event. There was some big options purchases last week, and the earnings that were delivered from the banks Friday were uninspiring as WFC, C and JPM all lost ground, albeit in a small way. However given how WFC, C and JPM are all 17, 17 and 11% off their most recent 52 week highs one still has to paint a bearish narrative on the overall group. The most disappointing move to me came as FRC, which had been showing solid relative strength now 7% off its most recent 52 week highs, reversed hard as it continued to flirt with a 9 month cup base trigger of 105.62. On a weekly basis their was just one major S&P sector that declined, as the utilities via the XLU slipped 1.2%. Their were healthy gains seen with the industrials, consumer discretionary and technology showing the way with advances of 2.2, 2.1 and 2.1% respectively. Healthcare should not be left out of the conversation as it put up a nice return of 1.6% this week, on top of its 3.1% jump the prior week. The ETF is now honing in on the very round 90 number, where it has recorded just two CLOSES above in 2018. It has risen 10 of the last 11 sessions and is constructively building the right side of its cup base with a potential 91.89 trigger. Special Situations: As we are all aware there has been a big push in defensive sectors and we normally highlight the staples and utilities, but one can not ignore the strength in the REIT space. I am a purist, and still count the nine major S&P groups, even though real estate and communications now make up 11. The XLRE is higher 6 of the last 8 weeks and its daily chart now shows a cup with handle base with a trigger of 33.45. Below is the chart of WELL and how it was presented in our Friday 5/4 Game Plan. One could see the turning point with the a nearly 10% combined gain the weeks ending 4/27-5/4 in aggressive volume, with a nice bounce off the very round 50 figure. Leading stocks will offer additional buy points on the way up, and its current chart now shows a bull flag formation with an add on buy point through 64 which would carry a measured move to 71.
Amazing work in this piece. Truly inspirational! You gotta keep this up. Good luck next week.
On Monday I played 3 of your alerts:  JACK = $110, AVD = $600, and SPW = $700. Today I played 2 more of your alerts: ALL =  $300 and WYN = $280.  THANK YOU!
I know Doug from the Carlin days in 1999.  He's the hardest working technical trader out there and shows no bias in his analysis.  A must read in any market.
Some great setups in @chartsmarter's service tonight. Do yourself a favor and take it for a test drive. You will be glad you did.