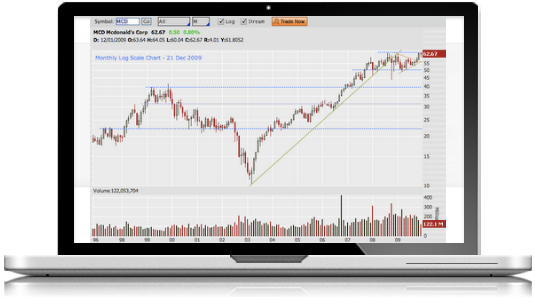 Thank you to all of my loyal readers,
I wouldn't be here today without you.
After 2 years of posting, I have decided to transition ChartSmarter
to a subscription-based model. I'd be honored if you joined me.
Please click the below button for more information. Thank you.
The healthcare group as a whole may be beginning to lose some of its steam as one of the best performing sectors, but below are a few names that held up nicely in the face of a tough week. That could be an important tell going forward. Others acting well this week were INCY which rose 15% this week in well more than double active weekly volume. MDCO rose 9% this week in very active trade and bounced nicely off 200 day SMA support for a third consecutive weekly gain. Pay attention to names that hold up well in a rough environment. They could very well be trying to tell you something. In our Thursday 8/20 Game Plan we looked at BLUE. The stock did rise 4 consecutive sessions to end the week, although each successive day came in weaker trade. We think this name has room to move to its 50 day SMA just above the 150 level and should find trouble getting above it as it was stopped there in both July and August. BLUE found nice support at the 200 day SMA and is higher by almost 13 handles from the recommended trigger. Below is precisely how we looked at the name in our 8/20 Game Plan. Stocks that can be bought after bullish hammers are BLUE. BLUE is a healthcare play up 38% YTD and 249% over the last one year period. Its last 3 earnings reports can all be construed as bullish with gains of 2.7 and 9.2% on 11/12 and 5/7 and on 8/7 it fell 1.3% but reversed 25 handles off intraday lows. The stock has put up some massive weekly gains with the one ending 12/12 up more than 100% hands down the best. BLUE is lower by 35% off all time highs made near the round 200 number in late May and is lower 9 of the last 11 weeks, many in firm volume. Wednesday it recorded a bullish hammer and enter on a pullback into the candle at 125.
Markets endured a wild rise this week with Friday seeing the Dow and S&P 500 essentially flat and the Nasdaq gaining .3%. The week however will go down in memory as the Nasdaq rose 2.6% and finished the week more than 500 points off intraweek lows. The S&P 500 ended the week up by .9% also recording another huge reversal of 120 handles. Those benchmarks did not come close to recapturing the massive losses of the prior week with the Nasdaq falling 6.8% and the S&P 500 by 5.8%. This type of volatility is not normally associated with bottoms as they will ordinarily form in a smoother fashion. The question now is was the Wednesday-Friday action a dead cat bounce or the beginning of another V shaped recovery. Technical damage has been done with the S&P 500 on the verge of a death cross, with the declining 50 day SMA undercutting the 200 day SMA. Volume on both the Nasdaq and S&P 500 lessened with each successive session between the 3 day winning streak to end the week. Figures I will be watching the coming week will be the round 2000 handle for the S&P 500 and the 200 day SMA on the Nasdaq which lies just less than 2% away. YTD the Nasdaq is in the green by 1.9% while the S&P 500 has declined 3.4%. The sector that garnered the most attention was the energy group as crude jumped 12%. Sentiment is terrible with AAII bulls numbering just 3% as compared with 43% in 2011, h/t @convertbond. The OIH surged almost 10% and 20% off intraweek lows helped along with merger activity between SLB and CAM. We have been down this road before with the group and it will be interesting to watch the groups performance this week. Perhaps value is beginning to be seen with earlier moves between HAL and BHI. With profitable hedges expiring soon could we expect to see more?
Markets fell in the neighborhood of 4% Monday as the benchmarks were tumultuous to begin the week. The S&P 500 fell 3.9% and the Nasdaq by 3.8%. At session lows the Nasdaq was lower by close to 9%. Energy, materials and financials (MS declined more than 10% last week) all dropped more than 4%. Perhaps looking back one could say name like PG, up just 4 of the last 27 sessions or DD being close to 40% off recent 52 week highs. Notice it CLOSED right at the round 50 handle and could be worth a shot with a stop below the intraday lows of 48.01. My advice would be to stay small and nimble and see how this all pans out for the rest of the week. We are longer term traders here, and we fell the shorter the timeframe the more difficult it is to make money. At least NATH was higher both last Friday and Monday as the Dow lost more than 1100 handles the last 2 days. Can not call this name a Dog, bun I mean, pun intended. Of course we are being frivolous as this name is down more than 40% from recent all time highs and is very illiquid. Attempting a little humor on a brutal Monday afternoon. I am off for my late August vacation and will be back next week.
Amazing work in this piece. Truly inspirational! You gotta keep this up. Good luck next week.
On Monday I played 3 of your alerts:  JACK = $110, AVD = $600, and SPW = $700. Today I played 2 more of your alerts: ALL =  $300 and WYN = $280.  THANK YOU!
I know Doug from the Carlin days in 1999.  He's the hardest working technical trader out there and shows no bias in his analysis.  A must read in any market.
Some great setups in @chartsmarter's service tonight. Do yourself a favor and take it for a test drive. You will be glad you did.