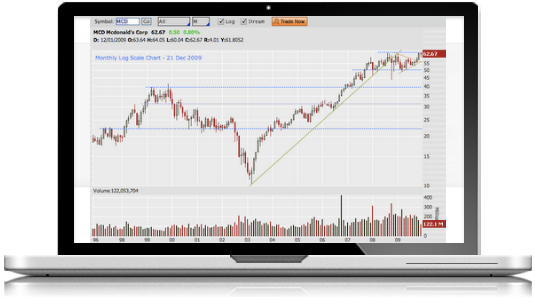 Thank you to all of my loyal readers,
I wouldn't be here today without you.
After 2 years of posting, I have decided to transition ChartSmarter
to a subscription-based model. I'd be honored if you joined me.
Please click the below button for more information. Thank you.
Markets began the week Monday on a positive note, although somewhat off session highs. It was the Nasdaq which is at least temporarily beginning to get its mojo back which led up 1%. The S&P 500 added .6% and both indexes managed to CLOSE above the round numbers of 5300 and 2200. The S&P 500's daily chart is sporting a bull flag pattern and attempted to surpass the formation but the results were inconclusive. If it can muster some strength a breakout above the pattern would carry a measured move to 2320. The Nasdaq did recoup its 50 day SMA, but still has work to do after recent bearish engulfing and doji candles. It was the Russell 2000 that was most impressive today rising 1.8%, as the small caps came back into vogue. The ETF did record a doji candle last Friday which will often signal a pause in the prevailing trend, but after just a brief 4 session losing streak between last Monday-Thursday that type of candle does not hold much credence. The best performing groups today were exactly what growth bulls would have wanted as technology, consumer discretionary, financials and energy led the way all in the neighborhood of 1%. Lagging sectors emanated from utilities, healthcare and staples. Industrials continue their romp higher although they may be due for a pause after such a robust run. Below is the chart of LSTR and how it was profiled in out Thursday 12/1 Game Plan. Monday it recorded a spinning top which could signal exhaustion to the current trend, but as we have mentioned last week this has now become a market where you buy pullbacks instead of selling rallies. The stock did recently take out a long two year cup base trigger of 81.90 and any move back toward that area should be purchased.
Markets traded in a narrow range Friday with the Nasdaq and S&P 500 finishing off session highs but higher fractionally by .1%. The Nasdaq just missed recapturing its 50 day SMA today, but ended the week down 2.65%. It did rise by a combined 7% the prior 3 weeks. The S&P 500 fell 1% on the week and recorded a bearish harami in the process, although it did register a bullish MACD crossover by the slimmest of margins. Looking at sector strength Friday the defensive oriented names dominated with the real estate, utilities and staples groups the best performers on the day. Financials and consumer discretionary were the laggards Friday with the XLF falling 1.1% and the XLY by .55%. For the week however, the clear standouts were the financials and energy with the XLE rising 2.9% with the largest weekly volume since the week ending 3/18. On its weekly chart it climbed back above its 200 day SMA for the first time since June '15. The ETF is now on its first 4 week winning streak since April and has advanced by a combined 10%. It looks like it could be headed to the very round par number where it had issues between the weeks ending 6/20-7/15/14 (keep in mind the XLE bottomed almost precisely at the round 50 figure the week ending 1/22/16). Speaking of the very round 100 number, another commodity I think will see the price is gold, via the GLD sometime next year. It is the total opposite of the XLE, DOWN 4 weeks in a row and has fallen 10 of the last 18 weeks. The ETF found support there between the weeks ending 11/27-12/18/15. That would complete a rounding top pattern and if it loses that round number, it could have a lot farther to fall. Below is the chart of the shorter term trend, which has some room to bounce.
Markets were once agin bifurcated and it was troubling to see the tech reaction for a second straight session. For a second straight day the Nasdaq dropped more than 1%, the first time since the heavy sell off in late June. Keep in mind even during the recent 9 session losing streak it endured between 10/25-11/4 NONE of the nine days dropped more than 1%. It undercut both its 50 day SMA and the recent double bottom trigger of 5312 taken out on 11/17. We all know the best breakouts work right away and conversely it is rarely a good sign to see one fall apart so quickly. The Nasdaq dropped 1.4% Thursday and for the week headed into Friday has surrendered 2.8%. Notable today was the breakdown of best of breed name SNPS which is on pace for its worst week of 2016. The S&P 500 dropped a more subdued .3% and thus far this week is lower by 1%. The Dow continues to outperform and that could be the sign of topping action as investors normally cling onto their largest of blue chip, dividend payers before finally giving in. Looking at individual sectors the best gainers Thursday were energy, industrials and financials acted the sturdiest with the XLF advancing 1.7% (a late push put the materials and discretionary fractionally higher). Technology as a sector was the worst performer with the XLK down 2.1%. The discretionary group almost eked out a gain with the XLY basically UNCH today and now is bull flagging after a recent double bottom breakout above a 80.51 trigger on 11/17. Many names in the space reported earnings this morning and it was overall a bit weak with PVH and LZB forging gains of 1.9 and 5%, but others like EXPR, GES, LE and DG slumped 20.4, 10.2, 4.5 and 5%. We will hear from a slew more after the bell with ULTA, FIVE, BIG, ZUMZ, GIII and ASNA. Below is the chart of BGFV and how it appeared in our Tuesday Game plan this week and is a good example of why one must await PRICE confirmation. It had issues CLOSING above the round 20 number and any who attempted to step in beforehand were given a market lesson today.
Amazing work in this piece. Truly inspirational! You gotta keep this up. Good luck next week.
On Monday I played 3 of your alerts:  JACK = $110, AVD = $600, and SPW = $700. Today I played 2 more of your alerts: ALL =  $300 and WYN = $280.  THANK YOU!
I know Doug from the Carlin days in 1999.  He's the hardest working technical trader out there and shows no bias in his analysis.  A must read in any market.
Some great setups in @chartsmarter's service tonight. Do yourself a favor and take it for a test drive. You will be glad you did.