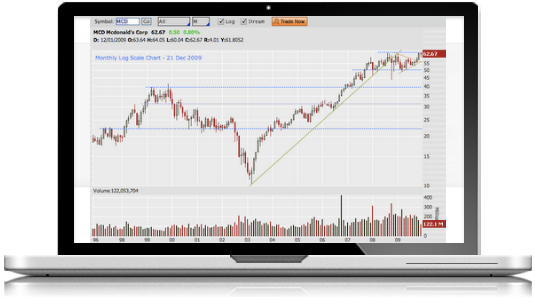 Thank you to all of my loyal readers,
I wouldn't be here today without you.
After 2 years of posting, I have decided to transition ChartSmarter
to a subscription-based model. I'd be honored if you joined me.
Please click the below button for more information. Thank you.
Markets: The major benchmarks fell Wednesday but did bounce, and did so at key moving averages. The Nasdaq kissed it upward sloping 50 day SMA precisely, like it did in both June and July. The tech heavy index did spend four sessions feeling if the retest of the important line was for real before resuming its powerful uptrend the last couple months. Time will tell if that happens once again. The S&P 500 did not come into contact with its 50 day but did register a bullish hammer candle within just 2 handles of the meaningful round number. Advantage bulls, as the break point the bears were given today was unable to be capitalized upon. The S&P 500 is looking at a possible back to back weekly decline, and it is still very premature but the index has not recorded a three week losing streak in near 26 months. The Russell 2000 is now back below its 50 day SMA, which has been a rare occurrence since early April. There is a real tug of war continuing at the very round 1700 number with no weekly CLOSES above the level, with FOUR of the last eight trading above intraweek. Gold which many believe should be thriving in this type of uncertain environment lost 1.6% Wednesday and is looking like a sixth consecutive weekly decline is likely as the GLD is off by 3% heading into Thursday. The ETF is 14% off most recent 52 week highs, and has not registered an accumulation week since the week ending 2/6. Sectors: Utilities and staples were the winners today as the XLU and XLP advanced by .8 and .4% respectively. The XLU is up by 1.3% this week so far, and 7 of the last 9 weeks the ETF CLOSED in the upper half of its weekly range (the only weeks it did not lost a very pedestrian .5 and .6% the weeks ending 7/20 and 8/10). Healthcare was the third best actor among the major S&P sectors and the XLV fell by .2%. Today completed another handle on a cup base with a potential trigger of 90.48. The 3 week tight pattern looks likely as the last 2 CLOSED within just .18 of each other and this week so far is within that range. Lagging in a very sizable manner Wednesday was energy as the XLE slumped more than 3%. That was due to three of the four largest components losing between 4-6%. EOG which makes up nearly 5% of the ETF, cratered more than 6% after a 128.06 cup with handle breakout lasted just 5 sessions. Breakouts that crumble that rapidly are a very bearish sign and it is now in correction territory 12% off most recent 52 week highs. CVX the second largest component slipped almost 4% and undercut its 200 day SMA for the first time in 4 months. Special Situations: On sessions like Wednesday it always pays to search for names that shrugged off the weakness. Below is the chart of SCI and how it appeared in our Wednesday Game Plan this week. It emanates from a dreary funeral business, but it is one that is constantly in need. These types of defensive plays have come into vogue recently, but this name has been acting well on a current 6 week winning streak and most likely will make that 7 as it has advanced 3.3% this week headed into Thursday. SCI also brings round number theory into play as the 40 figure was resistance the two weeks ending between 1/26-2/2. During that time span it managed just one CLOSE above 40 on 2/1, but after today it has finished FOUR straight days above the number. It recorded a break above a 6 month cup base trigger of 40.38 on 8/13, and the move looks far from dead, pun intended.
Markets: Turnaround Tuesday was in force today and it was the risk on indexes that fared best. The Nasdaq and Russell 2000 rose by .6 and 1% respectively, and the latter is honing in on its nemesis, the round 1700 figure. I come away impressed with its tenacity and its continued touches upon the line in my opinion will only weakens the bears resolve there. Of course the final arbiter is PRICE alone and keep in mind a break above 1700 would be a move through a bull flag, which has a measured move to 160 handles. The bond market usually give clues ahead of the overall stock market direction. Thats the belief as the smart money is there and its much larger. Looking at the 10 year yield it is within the confines of a symmetrical triangle. Notice the trouble with the "round" 3 number as it was resistance on 6/13 and 8/1. The pattern began with the completion of a classic evening star pattern on 5/18, which resulted in a 50 basis point plunge in just 6 sessions. The JNK is showing a "risk on" appetite and sports a bull flag formation. Last weeks loss interrupted a 5 week winning streak, its first such feat in 10 months.  Sectors: The rally was broad Tuesday and it was the cyclicals that impressed the most with the XLY higher by 1%. The diverse group has been pushed upward by traditional retail names and others such as casual diners. The brick and mortar plays have been helped by a vibrant consumer and the combination of unprofitable stores being closed down. Restaurants are of course benefitting from the stronger economy and stocks like CMG and WING and wing are sitting deliciously right smack at 52 week highs, pun intended. Lagging Tuesday, but still advancing were the energy and utility sectors. The XLE needs to hold 73.98 to continue the lower highs and higher highs within its current symmetrical triangle that began in May. The XLU is trading very sloppy, but on its weekly chart things look a bit better as there is the possibility of a bullish 3 week tight pattern to emerge. The ETF is higher 6 of the last 9 weeks and consolidating the 4 week winning streak ending between 6/15-7/6 which added a combined 8.8%. The right side of its cup base is looking healthy as it grinds higher gradually, and has a potential trigger of 57.33. Special Situations: Retail names have been doing plenty of the heavy lifting for the overall markets this year, as the XRT is now decisively above the very round 50 number. The ETF rose 2.3% today and the group is very diverse and it is not hard to find leaders within. Below is the chart of BOOT and how it appeared in our Friday 8/10 Game Plan. This name broke above 26.35 cup base trigger on 8/8, and immediately reversed the next session recording an ugly shooting star candle showing that although they are useful, PRICE action reigns supreme. To add to the bullish narrative the trigger for the short cup base could have been interpreted as a handle in a much larger base that began the week ending 7/17/15. This name should be pulled magnetically toward those all time highs in the mid 34's toward the end of the year.
Markets: There is a saying that cash is king. In an uncertain market, when is it not, it can be considered a valuable position. I am not disputing the statement, but one has to realize that some funds MUST have capital deployed. And I only make this point as the US markets may be the best place to put money to work. Keep in mind money is put to work where it is treated best and that by far is here at home, as returns firmly suggest. We raised this argument last week and it is a valid one if domestic benchmarks can carry the entire weight. Only time will tell, but the ankle weights on the US benchmarks are starting to show some fatigue. The Nasdaq managed to show a bit of strength Monday, but it was muted as the tech heavy index still lost .25%, but outperformed the major averages. Concerning is the Russell 2000's recent action. The round 1700 number has been a stern roadblock and Monday slumped by .7%. Its 50 day SMA is getting plenty of PRICE attention, but the bulls are still in control as its 50 and 200 day SMAs are sloping higher. The VIX recorded its third straight winning session, its first in 2 months, and it did CLOSE above its 200 day SMA.  Sectors: Strength was very select among the major S&P sectors as the defensive utilities group was the leader with the XLU rising a frail .2%. Healthcare, technology and staples were not far behind being the only other groups that came within the UNCH mark Monday. The XLV has the possibility of forming a 3 week tight pattern, as the last 2 weeks CLOSED very taut within just .18 of each other. In my humble opinion, that is bullish as it fights with the very round 90 number and trying to avoid a double top. The last time 90 was touched was in late January, before a rapid descent. The fact that it is not shying away this time around speaks volumes. Lagging Monday were the financials, materials and energy. The XLF did complete a bullish 3 week tight pattern last Friday as the previous 3 all CLOSED within just .16 of each other. This week is obviously off to a poor start as the ETF was lower by 1% today, but the week is still young and the set up is still in play. Looking at the XLE since breaking below its 50 day SMA on 6/15 it has been unable to show any consistency staying above it. Additionally now the line is sloping lower for the first time since mid April, even as GDP put a recent impressive print.  Special Situations: One should always keep a close eye of recent new issues, ones that go public in the last 2 years, as these can prove to be big winners going forward. Below is the chart of YEXT and how it appeared in our Tuesday 7/10 Game Plan. It came public in April '17 and had been trading between 11-15 its first year of trading. It took off after breaking above 15 the week ending 6/1 on a CLOSING basis, with a huge move of more than 14%, and overall has moved 50% since June. Not surprisingly it had some problems with the very round 20 number, touching it for the first time between this June-July, before busting above the week ending 7/27 screaming higher by almost 17%. The stock broke above a bull flag and now looks to be forming another one and add to wit a buy stop, and as always CLOSE, above 23.
Amazing work in this piece. Truly inspirational! You gotta keep this up. Good luck next week.
On Monday I played 3 of your alerts:  JACK = $110, AVD = $600, and SPW = $700. Today I played 2 more of your alerts: ALL =  $300 and WYN = $280.  THANK YOU!
I know Doug from the Carlin days in 1999.  He's the hardest working technical trader out there and shows no bias in his analysis.  A must read in any market.
Some great setups in @chartsmarter's service tonight. Do yourself a favor and take it for a test drive. You will be glad you did.