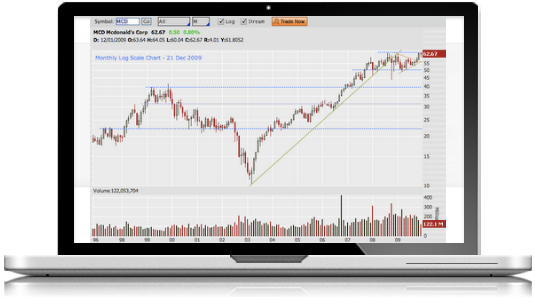 Thank you to all of my loyal readers,
I wouldn't be here today without you.
After 2 years of posting, I have decided to transition ChartSmarter
to a subscription-based model. I'd be honored if you joined me.
Please click the below button for more information. Thank you.
Markets put in yet another choppy session and they should continue to do so as the VIX which has obviously come in substantially from touching the very round 50 number almost precisely on 2/6. Notice how it CLOSED at another round number, 30 on that day as well. But as it has come in hard, at the same time it remains elevated with the very round 20 number now posing issues temporarily. I would not be surprised to see a retest of the 15 level which could turn into support, after being resistance through much of last year. It would also correspond with a test of its rising 50 day SMA. The major benchmarks are acting in a bearish manner starting on highs and CLOSING near lows. For the fourth straight session the Nasdaq reversed near the round 7300 number, but to be balanced the bears have been unable, up to now, to make a serious dent in PRICE. The Russell 2000's 50 day SMA is now flatlining, something it has not done since last September and that index is often seen as a good leading indicator. It is not in the penalty box yet, but as the referee of your portfolio it should lead to valuable clues in the short term. Looking at individual groups Thursday one could question the leadership as the lagging energy group was the best actor with the XLE higher by 1.3%. It was higher intraday and as much as I do not care for lagging sectors it is still maintaining altitude, albeit very low, above the 200 day SMA and it did record a bullish harami candle today. The downside is that the ETF is forming a bear flag here and if the formation fails it could have a measured move to 56. Lagging today were technology and financials, sandwiched by the healthcare arena, just the opposite of what wants to see. The XLF was a clear under performer as it fell .6% and it is spooning the 50 day SMA, but it is becoming slippery. Technology via the XLK looks a bit better as it has some space between its 50 day SMA and another day or two hanging here would complete a bull flag. Like we mentioned earlier it is okay for leading groups to take a day or two off, today energy let it catch its breath, but one should look for confirmation in the uptrend sometime next week. I have been talking incessantly about the need for scouring through names that have held up well during the recent correction. As you know by now they will be the ones that often sprint out of the gate first once and if the major averages find their footing. The cyber security space has been one with an abundance of good actors. PANW and IMPV has been winners in the space and below is the chart of FTNT and how we looked at the chart in our Wednesday 1/10 Game Plan. Like in real life in the markets good things come to those who wait and are patient. This stocks flag played out a bit longer that most, if you find the perfect chart run away from it, but once it finally broke above the 45.10 pivot in 1/18 it was a tug of war there between bulls and bears and the bulls came away with a hard fought win with multiple days finding support at an upward sloping 50 day SMA. Not surprisingly it has found some resistance this week at the very round 50 number, but a decisive move above 50.41 would be a huge positive as it would achieve all time highs in a long cup base pattern that began the week ending 8/14/15.
Volatility is back, and the Dow wiped off intraday gains of 300 points only to go red in the final hour, declining almost 200 points. The leading Nasdaq was putting in a decent day with the tech rich benchmark advancing 1% intraday, but reversed more than 100 handles from earlier highs. If one take a closer look some bearish traits are taking hold. The last 3 days on the Nasdaq have all CLOSED well off intraday highs, beginning with the doji candle last Friday after a 700 handle range beginning on 2/9. That type of action took place 6 of the 7 days between 1/24-2/1 before the latest selloff picked up speed. The S&P 500 and Dow ended underneath their 50 day SMAs for the second straight day. The Russell 2000 flirted once again with trying to finish the day above its own 50 day SMA and eked out a fractional gain. This is not uncommon with this tug of war occurring at the important line, but generally bulls want to see a quick reclaim of the line. Any more stalling here and the bears will gain confidence. Looking at individual sectors Wednesday the financials were the best performing group as the Fed minutes revealed the likelihood of more rate hikes this year. The XLF however rose just three pennies and has now CLOSED above its rising 50 day SMA for a fifth consecutive session. This group like technology are key ingredients to the genuine health of the overall rally. Lagging today were just what bulls want to see with the bond proxy groups like staples and utilities faltering. The XLP and XLU dropped by 1.2 and 1.3% respectively and energy was the worst actor with the XLE slipping 1.6% and it is on a 4 session losing streak and down 2.2% this week already. And perhaps most importantly the ETF seems to be losing the war with staying above its 200 day SMA, but is still within the range of the bullish engulfing candle recorded on 2/14. I can not stress enough how important it was to have had a watch list of names that were resolute during the rapid correction were encountered earlier this month. A good start would have been any names that did not undercut their rising 50 day SMAs during the downdraft. Others may have never come into contact with that line, but may have gapped higher after earnings and then tautly digested the move. A good example of that is the chart below and how it appeared in our Wednesday 2/14 Game Plan. The stock screamed higher the week ending 2/2 by nearly 40% as the S&P 500 slumped 3.8%. It slipped 7.1% the very next week, but then recaptured all of those losses advancing 8.4% last week. On a much longer term basis it broke to news highs above the round 60 number and a 60.03 cup base trigger in a pattern 4 1/2 years long. Generally speaking the longer the pattern the better chances of success after the breakout.
Markets were somewhat bifurcated until late in the day when the downturn became a bit more pronounced. The Nasdaq was hanging in decently but for the second straight session reversed at the round 7300 number and fell 1% off intraday highs both today and last Friday. Today it CLOSED right near the UNCH line and keep in mind this is the benchmark investors want to watch very closely as it has been bullishly leading the way. Hardest hit off the big three was the Dow off more than 250 handles as one of its components fell sharply today, although it was not one of the highest price names in the index. It was WMT that sank more than 10% Tuesday and its chart which had been trading very tight, hallmark bullish characteristics, have suddenly become wide and loose. The stock did complete a nearly perfect measured move of 10 handle in a bull flag breakout that began at round 90 number, took out par and then traveled to 110 on 1/29. Give the name some time to heal. The S&P 500 lost .6% and fell underneath its 50 day SMA after last Fridays bearish shooting star, although they tend to work best at all time highs. The Russell 2000 which was the only of the aforementioned four averages not able to reclaim their 50 day SMAs last week was rejected there today and slipped nearly .9%. Looking at individual groups the top performing groups were just what bulls wanted to see with technology and financials acting best, with one up and one down on the day with the XLK up by .1% and the XLF off by .2%. Lagging were the defensive sectors, as the utilities which seem to either be at the top or bottom of the major S&P sectors each day recently. The XLU dropped 1.2%, and was only outdone to the downside by the staples with the XLP getting thrashed to the tune of 2.2%, even with the Albertson's acquiring RAD. Of course the latter has been a perennial bottom dweller still 64% off most recent 52 week highs even after Tuesdays news. The stock which traded with a low 2 handle was as high as the very round 50 number in December 1998. Even GIS raising guidance could not get the stock to finish in positive territory today. On the other hand M&A activity was able to affect the semiconductors in a positive way as NXPI was back in the news today as QCOM upped its bid. Other names in the space that shrugged off a weak overall tape were CRUS, KLIC and UCTT which rose by 4.9, 4.9 and 6.1% respectively. Only problem is all of them are steeply off most recent 52 week highs. The chatter regarding Brazil is becoming louder with each passing day, and perhaps with good reason. The political climate is getting somewhat better and of course they are a major commodity player feeding a global economy that continues to expand. The EWZ has advanced 13% YTD and sports a dividend yield of 1.5%. The ETF broke above a 44.13 cup base trigger on 1/19 and showed a good response after an initial touch of its rising 50 day SMA on 2/8 and the next session recorded a bullish hammer candle. A chart that acted very firm Tuesday was paper play FBR and below is how we profiled the name in our Wednesday 1/3 Game Plan. It had been flirting with its 50 day SMA last December and the line was tilting downward, but that has all changed now. The stock cleared its 50 day on 1/9 and then punched above a double bottom trigger of 16.72 on 1/22. It has acted excellent POST breakout and is now sniffing out the very round 20 number, a figure it has not been in contact with since 2010. Looking further back on its weekly chart it displayed solid action after a break above a 14.04 cup base trigger the week ending 10/6/17 in a pattern that began the week ending 11/27/15, and that breakout was retested and held firm last December. This name is battle tested.
Amazing work in this piece. Truly inspirational! You gotta keep this up. Good luck next week.
On Monday I played 3 of your alerts:  JACK = $110, AVD = $600, and SPW = $700. Today I played 2 more of your alerts: ALL =  $300 and WYN = $280.  THANK YOU!
I know Doug from the Carlin days in 1999.  He's the hardest working technical trader out there and shows no bias in his analysis.  A must read in any market.
Some great setups in @chartsmarter's service tonight. Do yourself a favor and take it for a test drive. You will be glad you did.