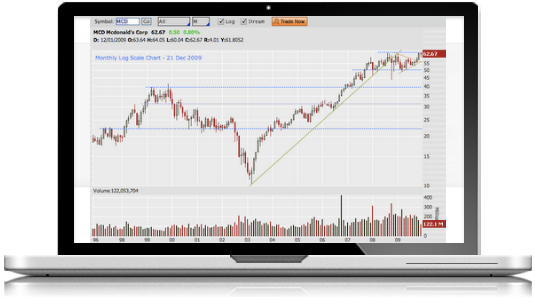 Thank you to all of my loyal readers,
I wouldn't be here today without you.
After 2 years of posting, I have decided to transition ChartSmarter
to a subscription-based model. I'd be honored if you joined me.
Please click the below button for more information. Thank you.
Markets put in a robust move Tuesday with the Nasdaq leading the way. It jumped 1.1% and more importantly recorded its second gap up, a rare event for an index, in the last 4 sessions. Not to be outdone the Russell 2000 which has been on a tear roared past a 1510 double bottom trigger gaining .1%. Is the benchmark about to go on another tear similar to last November and this August-September? I have no idea and if anyone tells you with certainty label them a charlatan. It has been following certain patterns and keep in mind this index is often seen as a leading indicator. The S&P 500 was hampered by the round 2600 number, a little like the 2500 number did in mid September. It has now formed a bull flag formation and a move through the 2600 figure will have a measured move of 100 handles. Looking at individual sectors Tuesday it was a broad rally as all nine of the major S&P sectors advanced. The best performing group was technology with the XLK rising 1%. The healthcare group which has been under pressure as of late was not far behind with the XLV up .9%. Peering deep into the cyclical group into the retail names, they were the only subsector that was meaningfully lower with the XRT falling more than 1% and shying away from a break above a bullish inverse head and shoulders formation with a neckline near 42. Some names in the group imploded after earnings reactions today with SIG and DSW off 30.4 and 13.2% respectively. But their has been some real bright spots recently in the arena including WMT, KORS, BURL, CRI, PLCE and URBN which we profiled recently in this piece. Perhaps we will look back at the newly minted ETF, EMTY and say this was one of the most ill timed creations as it called the bottom in this space. The ETF is designed to track the demise of the retail store. We have spoken at length about the strength in "old tech" names. As in all markets some names will out or underperform and today we look at a name that lagged, and coming into today was 14% off most recent 52 week highs. It was weighed down by one very nasty drop following an ill received earnings reaction this summer. Sometimes these are a one off situation and the chart below may be a good example of that. The stock has gained ground 4 of the last 5 times following an earnings release, but the one miss was a real doozy perhaps frightening investors. It slumped 18.5% on 8/3, but rebounded firmly on 11/2 adding more than 8% and is now looking for a 5 week winning streak higher by more than 4% this week already. On 11/2 it also recaptured its 200 day SMA which it had been below for 3 months and then retested that line last week and held firm. The pivot was never hit, but an alternate entry point would be above an unorthodox cup with handle trigger of 17.60.
Markets began the holiday shortened week in lukewarm fashion. The big three major indexes were near the UNCH line, the Dow ended up .3%, but it was the Russell 2000 that once again proved formidable advancing .7%. Of course this renewed strength is nascent, but the pause was well deserved. It recorded a couple of giant moves after the election late last year and this August-September. The good sign was the action between 11-8/15 which witnessed nearly every session CLOSE near highs for the day after early softness and within reach of its still upward sloping 50 day SMA. It recaptured the round 1500 number Monday and is now honing in on the 1510 level which would record a double bottom breakout if taken out. There was a good article in Forbes recently stating the concern over the high yield and S&P 500 correlation, but it rightly pointed out it was not as accurate as many pointed out. Its connection should be associated more with the Russell 2000 as high yield generally is sold by smaller cap companies. Looking at individual sectors it was the financials, industrials and technology that were the best performers. The XLF continues to catch its breath along an upward sloping 50 day SMA. The subsector broker dealers behaved very well pushing the group higher as evidenced by the IAI. The ETF is illiquid, but the price action is undeniable. It has CLOSED the last 7 weeks all within just .50 of each other and this type of tight trade can lead to explosive moves, typically in the prevailing direction. CBOE has essentially doubled over the last year beginning at the round 60 number last October and is nearly touching the 120 figure. It has lost ground just 12 weeks so far in '17 and 8 of the 12 lost less than 1% and the other 4 lost no more than 1.8%. Lagging today were the utilities, energy and healthcare. The XLV is trading right at a bearish head and shoulders neckline of 81 and the XLE is not off to a good start following its 3.2% dump last week. We did mention this weekend their were some bearish engulfing candles recorded at all time highs from tech heavyweights AMZN and GOOGL. Now keep in mind candlesticks act as warning signs and come secondary to PRICE action. If anything they could be used to trade around core positions and shave some long exposure. Perhaps one can add back stock that they shaved off on an AMZN for example on a retest near the cup base breakout trigger of 1083.41 taken out on 10/27. The same can be done with GOOGL where one can reenter near a gap fill at 1007 from the 10/26 session. Below is the chart of INTC and how it appeared in our Wednesday 11/8 Game Plan. The semiconductor giant recorded a bearish engulfing candle on 11/3 and did not participate in the groups strength Monday. Again it is suggested to repurchase as INTC did register the candle 20% above its rising 50 day SMA. Let it come to you.
The retail group has come to life, after a long period of lying dormant underneath the Amazon effect. These events are overblown both to the upside and downside in general with an array of sectors and this space is no exception. The analogy you are never as good or as bad as you think comes to mind. It is always a good practice to avoid any meaningful long exposure to a weak group, as a rising tide with lift all boats in reverse. But keeping a list of former leaders on your radar can often prove fruitful as theses names will normally be the first out of the gate to score solid gains. Below are a few recent examples we profiled in the last month, and not included are stocks like ROST and BURL. ROST just burst above a 66.26 cup base trigger on 11/17, with two consecutive 10% gains after earning along with the 8/18 session, which could also be interpreted as a bullish inverse head and shoulders breakout. BURL smashed through a 101.73 cup with handle trigger of its own on Friday but REPORTS earnings this Tuesday before the bell. In our Tuesday 11/14 Game Plan we looked at GOOS. The stock is now 5% higher than the highlighted entry and now firmly above its 24.42 cup base trigger and at all time highs. It rose 1.5% this week on the back of the prior week advancing more than 23% on more than double average weekly volume. Stocks that can be bought after recent cup base breakouts are GOOS. GOOS is a retail leader higher by 46% since inception this May and is now 4% off most recent 52 week highs. Obviously a very small sample size of earnings with 2 of 3 registering nice gains of 14.1 and 15.7% on 11/9 and 6/2 and a loss of 3.3% on 8/10. The stock is higher 8 of the last 11 weeks and the last 2 weeks alone jumped nearly 25% (week ending 11/10 advanced 23.1% on third best weekly volume ever). It has been acting well POST breakout from inverse head and shoulders trigger of 20.50 and on 10/25 was retested and held firm at round 20 number. GOOS broke above a 5 month long cup base trigger of 24.42 on 11/9 and enter here on pullback.
Amazing work in this piece. Truly inspirational! You gotta keep this up. Good luck next week.
On Monday I played 3 of your alerts:  JACK = $110, AVD = $600, and SPW = $700. Today I played 2 more of your alerts: ALL =  $300 and WYN = $280.  THANK YOU!
I know Doug from the Carlin days in 1999.  He's the hardest working technical trader out there and shows no bias in his analysis.  A must read in any market.
Some great setups in @chartsmarter's service tonight. Do yourself a favor and take it for a test drive. You will be glad you did.