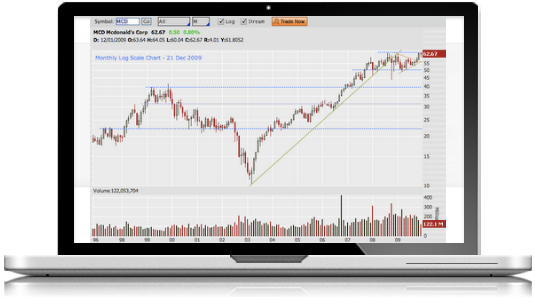 Thank you to all of my loyal readers,
I wouldn't be here today without you.
After 2 years of posting, I have decided to transition ChartSmarter
to a subscription-based model. I'd be honored if you joined me.
Please click the below button for more information. Thank you.
Markets continue to attempt to take back any technical damage from last Tuesday and the Nasdaq led the way Wednesday as it rose .4% and is now on a 4 session winning streak. On the weekly chart the tech heavy benchmark has the chance to record a bullish engulfing candle and the pattern also has the look of a bull flag. The S&P 500 is healing as well off its rising 50 day SMA and its a bit to early but a double bottom base looks to be shaping up, although technically they need to be 5 weeks in duration to be legitimate. The Russell 2000 is now on a 5 session winning streak and is now at a critical juncture just underneath its 50 day SMA, which has been flatlining and has every right too after its recent huge run. The soft energy group was the best performer today with the XLE following through off Tuesdays bullish morning star formation. and rose 1.4%. The financials which were the best actors Tuesday, flipped the script today and were the worst behaved with the XLF falling .7%. The ETF is trying to shake off a 3 week losing streak which lost almost a combined 6% and as of todays CLOSE has the look of a bullish weekly counterattack candle, but obviously we still have 2 sessions to go. If one wants to paint a bearish picture, I am not in that camp as we reside very bear all time highs, they can look to the paper packaging plays. Names like UFS are lower by 18% from most recent 52 week highs and off 6 of the last 7 weeks and 2.6% this week so far. The 800lb gorilla in the space IP is 14% off its most recent highs and below is the chart exactly how it appeared in our Wednesday 3/29 Game Plan. It is flirting with the very round 50 number and does offer good risk/reward down here. There has been no shortage off IPOs this year either, although in the tech space there has been some softness and when browsing through charts last night noticed the recent software IPO brought public by Goldman Sachs, APTI which is lower 12 of the last 13 weeks and 52% off recent highs, when markets have been traded almost the opposite. At the expense of sounding cliche, this is and always will be a stock pickers market. Trade accordingly.
Markets demonstrated sweet follow through after Mondays nice reversal and that should be respected. The S&P 500 rose .7%, the Nasdaq by .6% and the Russell 2000 by .7%. Looking at the Nasdaq chart one sees the quick acceleration back into the bullish zone above 50 as it did in the beginning of last December and this January. The S&P 500 did the same as it has now traded between the bullish parameters of 40/45-80/85 RSI figures. The Russell 2000 is now on a 4 session winning streak and lies less than 10 handles below its 50 day SMA, the only benchmark of the aforementioned 3 that is still below that important line. We continue to see impressive earnings reactions and today was no different with DRI and RHT adding more than 9 and 5% respectively. One still hears the chatter that a correction is imminent and that is not the euphoria type of discussion that is normally associated with market tops. Remember we focus solely on price action and if one wanted to point to jubilation one could look no further than todays reading of Consumer Confidence. The 125.6 reading was the strongest since 2000 and perhaps animal spirits are still alive and well. The averages did sigh after the healthcare reform was denied at least for now, and even retail names are responding favorably. Maybe this is just a belief that the border tax is dead on arrival or it may be that consumers are truly feeling sanguine about the future. Of course we can not know definitively and that is precisely why price action should be ones only compass. The traditional sectors one would want to see lag did just that Tuesday with utilities, healthcare and staples underperforming. Financials got their groove back as the XLF was the best actor rising 1.4%. Crude caught a bid today with WTI higher by 1.3% and names in the group responded favorably. Below is the chart of former leader PE and how it was examined in our Thursday 3/16 Game Plan. It has been trading between the round 30 and 40 numbers and it is defending 30 figure strongly.
Markets were firmly lower to begin the week Monday but responded nicely with the Nasdaq CLOSING in the green higher by .2%. It recorded a nice reversal almost precisely at its rising 50 day SMA, but the index still has some work to do the repair its image after the ugly bearish engulfing candle last Tuesday. That being said today was a very good start. The S&P 500 also bounced off its 50 day SMA and typically you want to see volume ease up as it tests that widely followed line, but we know nothing aligns just right and if it does it will probably do the exact opposite. The Dow fell slightly and is still on an 8 session losing streak but did rally nearly 150 handles off intraday lows, which is not that significant given that it trades north of 20000. But price action is omnipotent and is how investors are ultimately judged and for that reason decisions should be made primarily based upon it. The Russell CLOSED green today and recorded its second bullish hammer candle in the last 4 sessions and it is still early but a potential double bottom formation is taking shape, but one should wait for a penetration to the upside before entering in my opinion. Sectors that impressed the most Monday were legitimate with healthcare, materials and technology leading the way. Within technology semiconductors have been a stalwart and one would be wise to give them capital and below is a name setting up not widely followed. Here is how VECO was profiled in our Tuesday 3/21 Game Plan. The round number theory also comes into play here.
Amazing work in this piece. Truly inspirational! You gotta keep this up. Good luck next week.
On Monday I played 3 of your alerts:  JACK = $110, AVD = $600, and SPW = $700. Today I played 2 more of your alerts: ALL =  $300 and WYN = $280.  THANK YOU!
I know Doug from the Carlin days in 1999.  He's the hardest working technical trader out there and shows no bias in his analysis.  A must read in any market.
Some great setups in @chartsmarter's service tonight. Do yourself a favor and take it for a test drive. You will be glad you did.