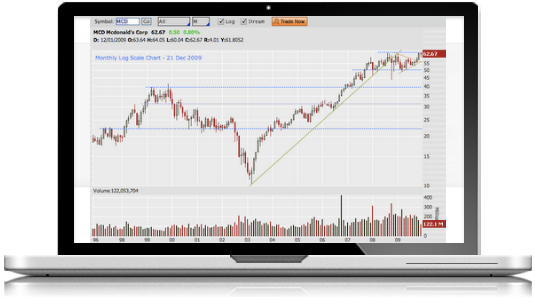 Thank you to all of my loyal readers,
I wouldn't be here today without you.
After 2 years of posting, I have decided to transition ChartSmarter
to a subscription-based model. I'd be honored if you joined me.
Please click the below button for more information. Thank you.
Markets: Their was some uniformity within the major benchmarks with the Dow, S&P 500 and Nasdaq all CLOSING the day lower in the .4-.5% neighborhood, it was the Russell 2000 that was a standout. The small cap index ROSE .5% and looks poised to challenge the 1708 level that has given in headaches recently. On the weekly chart a bullish hammer candle is taking shape and perhaps it is still digesting the recent, impressive EIGHT week winning streak. Keep in mind it is also shrugging off the doji candle from the week ending 6/15.  The VIX registered its first back to back daily gains in a month and it has recorded three spinning top candles in the last 8 days, which like the doji, could be suggesting that the weakness in the prevailing downtrend could be softening. It still swims below both its 50 and 200 day SMAs, albeit slightly, and moves above the downward sloping 50 day SMA have thwarted it since the beginning of April (with the exception of late June). Its 6% plus move Thursday, an oversized move for pedestrian markets, may be getting ready to be jump started. Sectors: The utilities were the best performer of the major S&P sectors Thursday. The XLU rose by .9% today and I could easily be wrong about their direction. Its 4 week winning streak, which rose nearly 9% between weeks ending 6/15-7/6, was impressive and last week recorded a bullish hammer candle. My concern emanated from the bullish engulfing candle that fell more than 3% on 7/9. Obviously one should pay more attention to longer time frames, so give this group the benefit of the doubt. Financials were the worst actor trading in an inverse fashion to the bond proxy utilities. The XLF withdrew 1.5% today and yesterdays break above a bullish falling wedge trigger is being retested already. We know the best breakouts work out right away, so this is not the best sign. Lets cut it some slack as it rose 3.5% the first three days of the week before todays backtrack. Volume trends need to firm up as it looks like it may complete a 3 week winning streak tomorrow, but note volume has been absent, and last week recorded a reversal to CLOSE in the lower half of the weekly range. Special Situations: Tonight we will focus on the retail space, and one can not deny the bullish moves within. The XRT, which is a diverse and liquid consumer ETF, has been fighting its way higher and has been repelled by the very round 50 number recently. Its weekly chart is taken on the look of a bull flag formation, and the last 6 weeks have seen a one up one down week and this week is holding to that higher by 2.9% so far. Below is the chart of M and how it was presented in our Wednesday Game Plan this week. Since mid February it has received support at an upward sloping 50 day SMA FIVE times and on the weekly it may be setting up for a summer move toward an add on 41.43 cup with handle trigger. The consumer is spending, the bear will say they are doing so on borrowed money.
Markets: The Nasdaq CLOSED at the UNCH mark Wednesday, a day after finishing more than 100 handles off Tuesday's intraday low. The small 40 point range today was characteristic for the tech heavy benchmark and heading into Thursday is higher by .4% for the week. Looking back it has advanced 8 of the last 11 weeks and all 8 of the gaining weeks CLOSED at or near the top of the weekly range, a bullish trait. One has to admire its strength as names like AMZN narrowly missed a 9 day winning streak, AFTER Monday's gravestone doji candle. The transports were very firm today with the IYT adding 2.3%, only its third 2% plus gain in the last 3 months. The whole group seems to be humming along, pun intended, as the rails look solid with NSC sits near all time highs. Today the airlines joined the party as the JETS ETF rose nearly 3%, but is still 12% off its most recent 52 week highs. This space still has plenty of room to grow as the delivery players FDX and UPS currently trade 14 and 17% off their own most recent 52 week highs and both reside below their 50 and 200 day SMAs. With those type of stats it is hard to believe the S&P 500 still remains just 2% off its all time highs. Sectors: Bifurcation existed Wednesday within the major S&P sectors as financials and industrials both rose more than 1% via the XLF and XLI, and on the losing end was the defensive utilities and staples lost .5 and .8%. Within the XLP there were very few winners among its largest components, and heavy losses were felt in particular as CLX and TAP both slipped 4%, with the latter now lower by 32% from most recent 52 week highs. The XLU is on a current 3 session losing streak still trades within that large ugly bearish engulfing candle from 7/9. Peering into healthcare, the XLV continues to productively build the right side of its cup base, and has traded taut and sideways the last 5 days, not long after a 8 day winning streak between 6/28-7/10. It has the feel of being magnetically pulled toward the very round 90 number, where trouble began with just 2 CLOSES above on 1/26-29. The IBB is acting even better than the XLV now just 1% off most recent 52 week highs (XLV 5% off its) and just below a 119.40 cup base trigger. The IHI has advanced 12 of the last 14 weeks, and one now gets the reasons behind the recent positive sentiment toward the space. Special Situations: Sticking with the healthcare theme below we take a look at the chart of NVCR and how it was presented in our Thursday 7/5 Game Plan. One quickly notices the bearish shooting star candle on 7/3 at all time highs as it broke above a bull flag trigger. It was NOT a failed breakout as it CLOSED above the 32 entry and from there it never went any lower. The stock is looking for a SIXTH consecutive up week advancing more than 10% this week thus far, and it is higher 12 of the last 14 weeks, (the two down weeks managed to CLOSE in the upper half of the weekly range). It is now half way toward its measured move, although there is no saying it will get there or if it will stop there should it get to the round 40 figure. It could travel much higher from there, and why I am not a fan of the measured move, as it prevents investors from achieving potential powerful gains.  
Markets: The Nasdaq flexed its muscles to begin the week adding .6%. It is higher 7 of the last 9 sessions and the two down days registered very taut intraday ranges. Compare that to the sessions that advanced, and one sees 7/5, 7/6 and 7/13 and today all moving up and CLOSING right at the top of its daily range. Monday saw a range of 113 handles top to bottom and always respect when the benchmarks, open on their lows and go out hard on highs. We have mentioned the semiconductors needed to display vigor and that they have as the continue to forcefully defend its upward sloping 200 day SMA. Monday marked its FIFTH 1% or more gain since recapturing the line on 7/5. The S&P 500 motored past the round 2800 number which gave it pause this year. It advanced .4%, and on its weekly chart is building the right side of a cup base that began the week ending 1/26. A breakout would occur above the 2873 level and notice how tight the weekly ranges have been since mid May (six weeks since the week ending 1/26 have seen intraweek ranges of less than 50 handles), compared to the very wide and loose trading that commenced the first week of February. Seven weeks recorded intraweek ranges of at least 100 handles between 2/2-4/6, and that type of action is considered bearish. Sectors: Those nagging staples just keep moving higher in a gradual fashion, just how we like to see it. No erratic moves, simply inclining in a smooth responsible manner. The XLP has gained ground 7 of the last 9 weeks and the taut action is reminiscent of the 6 weeks ending between 12/8/17-1/12/18 which all CLOSED within only .34 of each other. Today the group witnessed strength in the soft drinks with Monster and Pepsi doing there thing with MNST looking for a TENTH straight weekly gain and PEP for a ninth advance in last 10 weeks.  Technology was a bright spot once again despite the reaction from NFLX, which actually rebounded well off intraday lows CLOSING down 5%. It has acted well POST breakout from a 323 double bottom trigger taken out on 4/17, its prior earnings reaction that rose more than 9%. The XLK rose .7% and recorded a bullish engulfing candle, which typically are better received near bottoms. The ETF did successfully retest a cup with handle breakout of 70.52 taken out on 6/1 last month and now sits north of a cup base breakout trigger of 72.48. Special Situations: Retail in general has been showing that the US consumer is alive and well. The XRT is making yet another run at the very round 50 figure, having been able to record just 6 CLOSES above it recently (prior to that it had been 3 years since it traded north of 50). It has to be applauded for its tenacity. The stock below has been hampered by a round figure of its own, as 40 has proved to be a thorn in its side several times since March. Today it finished above 40, aided by its connection with Bitcoin most likely, after seeing 30 give it support late last month. The chart below is how it was presented in our Monday Game Plan this week and to be fair it is still more than 50% off most recent 52 week highs. It will be crucial to see in the coming days if former pesky resistance becomes support. 
Amazing work in this piece. Truly inspirational! You gotta keep this up. Good luck next week.
On Monday I played 3 of your alerts:  JACK = $110, AVD = $600, and SPW = $700. Today I played 2 more of your alerts: ALL =  $300 and WYN = $280.  THANK YOU!
I know Doug from the Carlin days in 1999.  He's the hardest working technical trader out there and shows no bias in his analysis.  A must read in any market.
Some great setups in @chartsmarter's service tonight. Do yourself a favor and take it for a test drive. You will be glad you did.