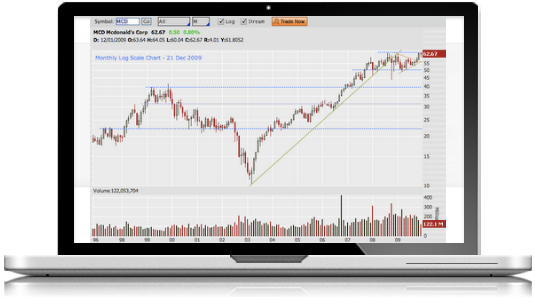 Thank you to all of my loyal readers,
I wouldn't be here today without you.
After 2 years of posting, I have decided to transition ChartSmarter
to a subscription-based model. I'd be honored if you joined me.
Please click the below button for more information. Thank you.
Markets concluded the week on a high note Friday as the major indexes never threatened going into the red. The S&P 500 rose 1.95% and the Nasdaq by 1.7%. Looking back at the last 5 Fridays and one will see the moves on the Nasdaq have been energetic. Last Friday it slumped 3.2%, but the prior two rose by 2.4 and 2.7%. Interestingly the one that preceded the 3 day weekend on 1/15 fell 2.7%. For the week it dropped .6% and YTD it has slipped 13.4%. The S&P 500 declined .8% for the week and now has fallen 8.8% in 2016. This week was the first occasion that the Nasdaq outperformed the S&P 500 in 6 weeks. Of course oil was probably the biggest story of the day rising more than 12%. When OPEC has to talk about cuts, it must really be fearing the price as it is finally hitting their funding for their social programs, and lets not forget Saudi Arabia is now funding a war too against ISIS. It is very premature but perhaps shale technology will prevail if the Middle East and other crude dependent states believe they must begin propping up the price at these levels. Banks were another big story Friday with the XLF motoring higher by more than 4%. Insider buys have been given press, namely Dimon to the tune of $25M. He was not alone as executives at C ZION and KEY among others have been accumulating stock. In Thursdays Game Plan we mentioning the myriad of issues they are taking head on, yet I forgot to mention two more. The dearth of IPOs which to some banks is a substantial part of their revenue. There was not one new issue that came to the market in January. Add to that the possibility of negative rates here in the US, way down the road, as Yellen alluded to in testimony on Thursday, just a couple months after its first rate hike since 2006. The aura of uncertainty still exists, but as we know markets do not go straight up or down, except in the month of January 2016. The only reality is that these times are going to be talked about for a very long time to come. Speaking of financials one finnie that we profiled in this Tuesdays Game Plan is JNS, and below is the chart exactly as it was presented in our daily report. The trigger was never hit but it is certainly one to watch as it recorded its fourth weekly bullish hammer candle now off its 200 day SMA.
For the second consecutive session the Nasdaq outperformed the S&P 500 and perhaps thats a sign that the benchmarks are graveling for a short term bottom. I still think there is plenty of downside, but perhaps long only's can have a temporary glimmer in the sun. The Nasdaq saw positive ground Thursday for a nanosecond, and for the week headed into Friday the Nasdaq is lower by 2.2% and the S&P 500 by 2.7%. Technology was easily the best performing major S&P sector narrowly missing gains, as 2 of the 4 FANG names gained ground today. Even AAPL which has been acting better on an overall tough tape in general was close to the UNCH line today. In a facetious manner I thought perhaps it should be viewed as a consumer staple play, of course from a much lower trajectory from say a KMB, with its steady action and it seems like a product customers purchase regardless of the economic environment (of course I am being silly here, humor is in order in these markets!) Below is the chart how it was presented in this Tuesdays Game Plan. Other industries I will continue to keep my eyes on are the homebuilders which with plunging 10yr yields seem to be attempting to find a bottoming process of their own. Other slightly encouraging signs today were the drag the utilities displayed Thursday (only worse performer today were the financials). I have been pounding the table on the need to see some positive divergence with the Nasdaq needing to show some vigor. Prior to Wednesday the S&P 500 outshined the Nasdaq 8 consecutive sessions. Baby steps, of course with incredible discipline.
Markets started the session Wednesday on solid ground, even with a brief pullback in the futures after 830am as Yellen testimony was released, revealing a reluctance on her part to lower rates in the future or provide anything in the way of possible stimulus. For a change the Nasdaq did outperform as the FANG names provided a cushion. The Nasdaq rose .35% Wednesday and was the first day in the last 8 it outperformed the S&P 500. Benchmarks seemed to be hanging on a thread hoping for some dovish comments which never materialized. Transports continue to show strength in a weak market environment and below id the chart of WAB how it was presented in our Wednesday 1/20 Game Plan. Wednesday it recorded a bullish engulfing pattern with support at the round 60 number, a handle which has provided bids most of the year thus far. Financials at the moment are battling with the round numbers of their own with the XLF trying to maintain altitude above the 20 figure. Tuesday the ETF bounced within 2 pennies of the number and I read this weekend that the sovereign wealth funds have been heavily weighted in financials and consumer discretionary names. Any wonder those two sector seemed to be under relentless pressure? The banks of course are out of favor with this administration, are exposed to high yield in energy and may have to live without the benefits of rising interest rates. Thats a bit more than a wall of worry.
Amazing work in this piece. Truly inspirational! You gotta keep this up. Good luck next week.
On Monday I played 3 of your alerts:  JACK = $110, AVD = $600, and SPW = $700. Today I played 2 more of your alerts: ALL =  $300 and WYN = $280.  THANK YOU!
I know Doug from the Carlin days in 1999.  He's the hardest working technical trader out there and shows no bias in his analysis.  A must read in any market.
Some great setups in @chartsmarter's service tonight. Do yourself a favor and take it for a test drive. You will be glad you did.