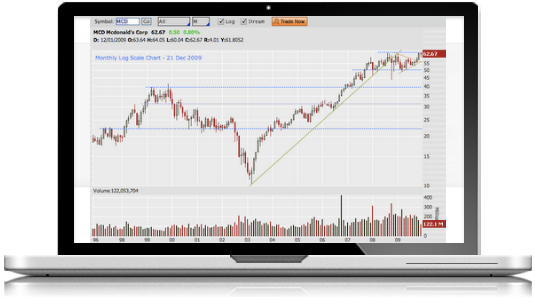 Thank you to all of my loyal readers,
I wouldn't be here today without you.
After 2 years of posting, I have decided to transition ChartSmarter
to a subscription-based model. I'd be honored if you joined me.
Please click the below button for more information. Thank you.
Markets took a battering Tuesday a day after a very strong day to start the week, with both the Nasdaq and S&P 500 losing roughly .9% slicing a very big portion of Monday's gains. This type of volatility is not considered bullish and volume did rise Tuesday creating a double whammy. To show how broad the losses were none of the 10 major sectors gained ground Tuesday, exactly the opposite of Monday as well. Utilities performed best on a relative basis although they of course lost ground on an absolute basis. Making matters worse perhaps was the softness in the top performing healthcare space dropping 1.4% as a whole. The XLV has looked poorly after its 3/20 reversal from all time highs. Since then it is lower 5 of 7 sessions and quickly approaching its 50 day SMA which has given rough support. Leader CELG sliced its 50 day SMA in more than double average daily volume Tuesday dropping 4%. It did the same thing back on 12/23/12 falling 6.5% on its largest volume in over a year. It reclaimed that line the next session. CELG undercut that line last Wednesday in active trade and attempted to recapture that line Monday at the round 120 handle, but was stopped dead in its tracks and fell today suggesting that prior support has now become resistance. Pay attention to the leaders and what they are trying to say.
Markets achieved broad gains Monday as every major sector rose. Energy led the way with a 1.4% gain, but 7 of the top 10 groups rose by basically 1%. The S&P 500 gained 1.2%, reclaiming its 50 day SMA in the process, and the Nasdaq by 1.15%. Looking back at last week we were most impressed with the homebuilders. The ITB last week was basically UNCH down .1% as the averages as the S&P 500 fell 2.7%. Leaders like LEN and RYL have been acting very well and even keeping an eye on the periphery plays could have been very profitable. WHR reclaimed the round 200 number today on a CLOSING basis for the first time since losing it on 3/11 (WHR traded above that round figure several times intraday) dropping close to 3% on heavy trade that session. Below is a chart of another name that derives its strength mostly from the housing sector. This name brings in both the round number and CLOSING theories into play. We recommended a purchase with a retest of a flat base trigger of 164.23 originally taken out on on 3/18 jumping almost 4%. Last Thursdays session recorded a bullish engulfing pattern finding a bounce almost exactly at the round 160 figure and the stop on the trade was 161.50 which was taken out intraday, but not importantly on a CLOSING basis. If this sector can continue to receive nice rotation into it, it could give the market a nice boost.
Each week at ChartSmarter we like to bring to a little insight into what we do on a daily basis. We have been at it for more than 4 years and we love doing it. Each night we detail 7 to 8 of our favorite ideas, both long and short, for the next days session. We do NOT have a chat room, nor are we active "tweeters". We like our business growing by word of mouth. Below is precisely how they were written in our daily reports. For those who would like to see a full copy of our Monday Game Plan, email me at chartsmarterblog@gmail.com. The chemical group has been lagging, however it is beginning to show signs of improvement and the group is a good indicator of how the economy is faring. Lets take a look at a specific name in the group WLK. Below is how it was examined in our Monday 2/9 Game Plan. Stocks that can be bought after bullish harami's are WLK. WLK is a chemical play that is happy to put 2014 in the rear view mirror. The stock is up 7% YTD and by 8% over the last one year period and sports a dividend yield of 1%. It is lower 13 of the last 20 weeks but since the week ending 12/19 where it sprung 13.2% action has been decent. There have been no distribution weeks (down in heavy trade) and this week ramped up to the tune of 14%. WLK also rose above its 50 day SMA which it had been beneath since late last September. It recorded a bullish harami on Wednesday and lets look to enter on a slight pullback at 64. More aggressive investors can enter here.
Amazing work in this piece. Truly inspirational! You gotta keep this up. Good luck next week.
On Monday I played 3 of your alerts:  JACK = $110, AVD = $600, and SPW = $700. Today I played 2 more of your alerts: ALL =  $300 and WYN = $280.  THANK YOU!
I know Doug from the Carlin days in 1999.  He's the hardest working technical trader out there and shows no bias in his analysis.  A must read in any market.
Some great setups in @chartsmarter's service tonight. Do yourself a favor and take it for a test drive. You will be glad you did.