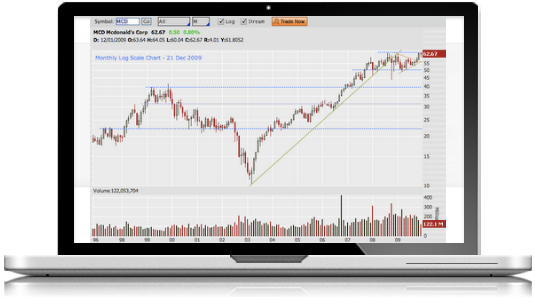 Thank you to all of my loyal readers,
I wouldn't be here today without you.
After 2 years of posting, I have decided to transition ChartSmarter
to a subscription-based model. I'd be honored if you joined me.
Please click the below button for more information. Thank you.
Markets were a bit dull Tuesday as the daily slog continues. Slightly noteworthy may have been the weakness in the Russell 2000 falling .3% and potentially damaging the current flag formation. It needs to get going quickly and the doji candle on Monday may have been some foreshadowing. The Dow which we rarely focus on did touch the round 23000 number and it is has now rose 12 of the last 15 sessions (all three lower days lost less than .15%). The Nasdaq recorded its own doji candle Monday, and remember these are just warning signs, that one could look back on and play Monday morning quarterback. They are useful though and can be used to shave positions and buy back on weakness. As always there are a few things to be concerned about as I read the Barron's this weekend and almost every money manager was bullish. Sentiment as well is a poor market timer but something to be aware of. Looking into individual groups Tuesday, winners were led by healthcare with the XLV higher by 1.3%. The ETF has an unorthodox looking bull flag, if you find a perfect one let me know and I will short it or at least avoid it. A move above 83.50 would carry a measured move to the round 90 number and notice how the flag commenced with a bullish engulfing candle on 8/21. On the other end of the spectrum one cautionary tale is the action in a subsector of the industrials, the transports. The IYT registered a bearish engulfing candle on 10/13 and is nearing a test of a cup base breakout trigger of 175.85, originally taken out on 9/26. Given the timid session Tuesday it was surprising that only 4 major S&P sectors advanced. Lagging today were the financials that fell .5% via the XLF. GS is the second financial to record a bearish reversal after earnings showing a bearish engulfing candle today. C did so last week, and now GS is off a quick 8% from most recent 52 week highs after a bearish evening star pattern was completed on 10/9. We are always on the look out for strong action in somewhat recent IPOs as they are often under followed and can offer superior returns for that reason. Below is the chart of MTCH and how it appeared in our Tuesday 9/19 Game Plan, and it has now advanced 71% since inception almost 2 years ago. Volume trends have been very bullish and it has registered plenty of nice advances including weeks ending 9/1, 9/15 and 10.6 which jumped 18.1, 6.2 and 9.4%. I am a big proponent of the round number theory and this name had some relevance with the very round 20 figure, being stopped there the weeks ending 10/28/16 and again 5/5-6/2/17, before blasting above on a CLOSING basis week of 9/1. It was a bullish ascending triangle as well with lows made near 15 the week ending 3/30 and it already achieved its measured move to 25, but keep in mind the measured moves are like guidelines. This chart is showing just how forceful "love" can be bringing back memories of Huey Lewis's '85 song "The Power of Love".
Markets, dare I say registered yet another lackluster session to begin the week. The Nasdaq rose .3%, the S&P 500 by .2% and the Russell 2000 was UNCH. The Dow behaved best adding .4% and this index which recorded a bearish spinning top candle on Friday is now above that and it now sits nearly 800 handles above its upward sloping 50 day SMA. At this point we are nearly into November and for that reason I think tech will outperform heading into year end as portfolio managers, who do not have the FANG names will need to look like they have and window dress appropriately (of course the number of PMs not holding them at the moment is most likely few). AAPL did help the Nasdaq today rising almost 2% on an upgrade and is now testing the round 160 number and we highlighted this name in our Monday 9/23 Game Plan as a buy off the 150 number which also coincided with a gap fill from the 8/1 session. Looking at individual groups on Monday it was financials, tech and energy that were the best actors with the XLF rose .6%. It did have some issues last week especially after C and JPM reported earnings last Thursday. The ETF still looks promising as it can complete a bullish 3 week tight pattern depending on Fridays CLOSE, with the last 2 weeks both finishing within just .22 of each other. Energy is still proving the naysayers wrong and we mentioned in Mondays Game Plan that it has the potential to break above its own 3 week tight trigger of 69.03, which could also be interpreted as a bull flag formation. A move through 69.03 would have a measured move to 76. Ironic now that crude has seemed to stabilize here recently that the Aramco IPO may be put on the shelf. Lagging today were the utilities and healthcare sectors with the XLU and XLV surrendering .2 and .4% respectively. As the major averages trading on the boring, dull side select names have made some major moves and then paused forming bullish continuation flag patterns. Below is a good example of the consumer electronics play DLB and how it appeared in our Monday 10/2 Game Plan. Keep in mind we have discussed how individuals are shifting from a more traditional retail clothing to one in which their experiences are moved. Whether this is out of necessity or not makes zero difference to us. We just focus on pure stock PRICE action and let others speculate about the real reasons behind the change. We spoke about NCLH recently and DLB is in that overall consumer arena where shoppers are spending their money on things other than flashy Micheal Jordan sneakers. DLB is now trading near 6 year highs and has taken out a bull flag pattern trigger of 58.40 on 10/12 and is now battling with the round 60 number. Last week demonstrated admirable relative strength up 3.4% after the prior 3 weeks fell by a combined 1.5% after the gigantic weekly advance of 15.5% ending 9/15.
Energy has been in the spotlight this week as WTI has regained the very round 50 number after a bear trap Monday which found support at its 50 day SMA. This action where a breakout is made, a small failure then a thrust back above the trigger can be very powerful. The XLE has risen 7 of the last 8 weeks but is finding a roadblock at its 200 day SMA (it has recorded a bullish 3 week tight pattern there with the last three all CLOSING within just .41 of each other). Below we take a look at a couple recent plays we highlighted. The first name is YPF, an Argentinean name whose country is acting very well. The AGT rose 13.2% during a 7 week winning streak ending between 8/18-10/6. The fund is very illiquid but demonstrates how robust the region is. Directly underneath is how we looked at YPF in our Monday 10/2 Game Plan and then a present view. We added a best of breed name FANG here as well. Stocks that can be bought after recent breaks above their 200 day SMAs are YPF. YPF is an Argentinean energy play higher by 35% YTD and 24% over last one year period and sports a small dividend yield of .5%. Was having a hard time getting accurate earnings reporting dates so did not want to publish any. The stock on a 3 week winning streak and this week rose 8% in double average weekly volume (recorded other big weekly accumulation ending 1/13 and 3/17 up 24.1 and 13%). The last 8 weeks all CLOSED above 20 even though 6 were below intraweek (important as that was a prior breakout above a 20.05 trigger on 1/10). Enter YPF here with third consecutive CLOSE above 200 day SMA. Potential cup base shaping with trigger of 26.58 that can be added to.
Amazing work in this piece. Truly inspirational! You gotta keep this up. Good luck next week.
On Monday I played 3 of your alerts:  JACK = $110, AVD = $600, and SPW = $700. Today I played 2 more of your alerts: ALL =  $300 and WYN = $280.  THANK YOU!
I know Doug from the Carlin days in 1999.  He's the hardest working technical trader out there and shows no bias in his analysis.  A must read in any market.
Some great setups in @chartsmarter's service tonight. Do yourself a favor and take it for a test drive. You will be glad you did.