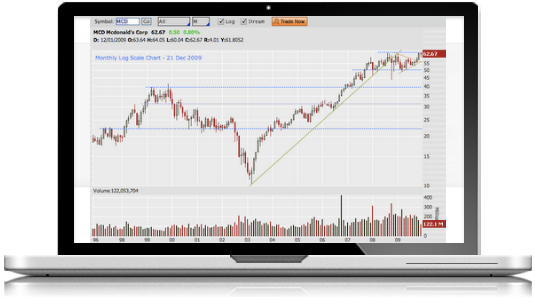 Thank you to all of my loyal readers,
I wouldn't be here today without you.
After 2 years of posting, I have decided to transition ChartSmarter
to a subscription-based model. I'd be honored if you joined me.
Please click the below button for more information. Thank you.
Markets started strong Friday but ended up giving the vast majority of their gains back by the close. For the week the S&P 500 rose 1.1% and the Nasdaq by .5%. The YTD lead the Nasdaq is enjoying over the S&P 500, by a 12.8 to 11.6% margin, is dwindling and should be an interesting race to see who comes out on top. New 52 week highs steamrolled lows with the tally 194 to 10 on the NYSE and 129 to 30 on the Nasdaq. Keep in mind though there were countless intraday reversals to be concerned about. That being said the bulk of the new 52 week highs came from the retail sector and although many attribute that to the falling price at the pump, it is too soon for that to be factored into the equation. Do remember however that stocks tend to look 6 months into the future so the anticipation of a juiced up consumer is taking place. We like to try and find names that most tend to overlook and some that fit that role are MIK and BURL. MIK fresh from coming public once again is higher by 21% the last 2 weeks. No reversal for this name Friday as it went out on highs and is higher 11 of the last 14 weeks. It reported earnings Thursday and rose 1% and also jumped 9.2% on 8/27 after its only other earnings release. BURL is another name in the sector that recently went public and is higher by 63% since inception last October. It is a well managed firm as it has reacted very well to earnings the last 3 times rising 3.1, 5.3 and 15.8% on 9/9, 6/10 and 3/20. More impressive are the technicals as BURL has CLOSED on a weekly basis the last 3 weeks all within 9 pennies of each other.
Each week at ChartSmarter we like to bring to a little insight into what we do on a daily basis. We have been at it for more than 4 years and we love doing it. Each night we detail 8 to 10 of our favorite ideas, both long and short, for the next days session. We do NOT have a chat room, nor are we active "tweeters". We like our business growing by word of mouth. Here are a few examples of ideas we recently examined in our Daily Game Plans, exactly how they were written. For those who would like to see a full copy of our Friday Game Plan, email me at chartsmarterblog@gmail.com. Flags patterns are one of the more bullish patterns that exist and form after decent price jumps. Which are normally gaps associated with an earnings beat, positive drug data, etc. The formation itself occurs after a week or two of very tight trading following the move suggesting sellers are reluctant to part ways with their position. If the pattern occurs near all time highs its significance takes even more meaning. Lets look at a few recent examples.
Markets shook off some very temporary weakness early on and went out on highs for the session. The Nasdaq rose .6% and the S&P by .2%. Going into Friday the Nasdaq is higher by .3% and the S&P 500 by .6%. There seems to be an abundance of "this is going to end badly" chatter and indeed it may, but until those chorus calls simmer down it is probably unlikely to happen. New 52 week highs versus 52 week lows are beginning to narrow which could potentially be a concern. On Wednesday new 52 week lows actually outnumbered new highs by a 50 to 52 margin. The NYSE barely kept its head above water with a tally of 63 new highs versus 52 new lows. The lagging energy group was the best sector performer gaining 1.1%. But some other groups are starting to gather momentum, namely the retail and homebuilding names. WSM gapped up 8.3% after reporting earnings, suggesting that the prior quarters 12% loss on 8/28 was a one off event. After all the stock was as consistent as they get. The 3 previous reports were gains of 8.2, 9.8 and 7.6% on 5/22, 3/13 and 11/21/13. RH is looking strong as it approaches the important round 90 handle. It is attempting to record its second straight robust weekly gain, higher this week by 5.7% and last weeks 6.6% advance. Others flexing there muscles after recent earnings reports are WMT TGT DLTR KIRK. Remember the consumers spending habits make up 2/3rds of GDP, so this could be evidence of a recovery gaining steam.
Amazing work in this piece. Truly inspirational! You gotta keep this up. Good luck next week.
On Monday I played 3 of your alerts:  JACK = $110, AVD = $600, and SPW = $700. Today I played 2 more of your alerts: ALL =  $300 and WYN = $280.  THANK YOU!
I know Doug from the Carlin days in 1999.  He's the hardest working technical trader out there and shows no bias in his analysis.  A must read in any market.
Some great setups in @chartsmarter's service tonight. Do yourself a favor and take it for a test drive. You will be glad you did.