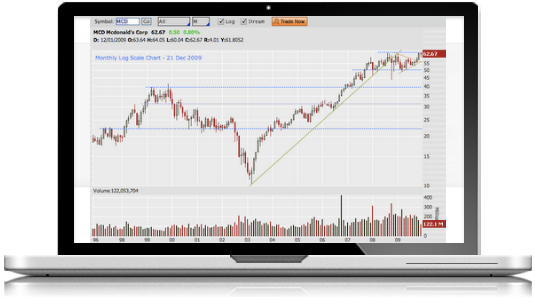 Thank you to all of my loyal readers,
I wouldn't be here today without you.
After 2 years of posting, I have decided to transition ChartSmarter
to a subscription-based model. I'd be honored if you joined me.
Please click the below button for more information. Thank you.
Markets rang in a new week Monday with solid gains as the benchmarks were on the move higher basically from the word go. The Nasdaq snapped a 7 session losing streak gaining .9% and the S&P 500 was not far behind with advance of .8%. The Nasdaq is hoping to avoid its first 3 week losing streak since the weeks ending 1/1-16 which fell 11%. They are not very common with the one prior to that occurring the weeks ending between 6/26/15-7/10/15 and with both instances the following week was constructive (week ending 7/17/15 jumped 4.2% to hit an all time highs and the week ending 1/22 rose by 2.3%). Sectors that led the way Monday were both consumer related, discretionary and non discretionary both rose more than 1%. Interesting that today the markets were strong as oil was struggled, almost the opposite from last week where benchmarks were soft as crude acted firm. Energy and materials were the only 2 major S&P sectors to decline Monday. It was refreshing to see tech outperform, although we need to see that with a bit more regularity, and software play ANSS and the chart below from our 4/22 Game Plan demonstrates our affinity fro the round numbers. The important 90 figure was taken out on a CLOSING basis by a dime on 4/1, but since reclaiming it on 4/15 it has held rock solid. Five of the last 10 sessions traded underneath 90 on an intraday basis, however all CLOSED above. Now look to add to or initiate above a cup base pivot point of 95.10.
Markets finished well off intraday lows Friday, but if one was to take a look at the weekly picture some dark clouds on the horizon have the potential of trouble. The Nasdaq CLOSED mere handles above its 50 day SMA Friday after trading well underneath during the day, akin to the action it witnessed with its 200 day SMA on Wednesday. It lost .6% yesterday, now on a 7 day losing streak, and for the week has given up 2.7%. If one believes price follows volume like myself, a look on the weekly for the Nasdaq paints a worrisome picture. Distribution weeks were present ending 1/8, 1/15, 2/5 and this week lost 7.3, 3.3, 5.5 and 2.7% respectively. To be fair the largest volume week of '16 was a bullish one ending 2/12 which LOST .6% but CLOSED right near the top for the weekly range, a bullish sign. That action was the middle of a bullish weekly morning star pattern, but that seems to be forgotten at the moment. The S&P 500 chart (shown below) which has behaved better than the Nasdaq, has its own issues to deal with. Although it recorded a bullish hammer candle Friday its CLOSE of 2065 confirmed the bearish weekly shooting star from the week prior. The doji candle on 4/20 now looks prescient and the two spinning top candles this Tuesday and Wednesday add to the negative narrative. For the week it lost 1.3% and it still in positive territory on a YTD basis higher by 1%, while the Nasdaq continues to lag 4.6% in '16. We all know markets tend to overshoot both to the up and downside, and the move to 1800 earlier this year was extreme and this current trouble with the round 2100 figure mirrored that just in the opposite direction. Perhaps investors who have been taking money off the table with equity outflows 13 of the past 17 weeks, that many view as a contrarian signal will be rewarded. Looking at sector returns for the week is exactly what bulls did not want to witness with tech surrendering 3% and healthcare falling 2.9%. The best performing group were the defensive utilities as the XLU rose by 2.2% (the only other positive groups were energy and staples up nearly .7%).
Markets slipped Thursday and finished hard upon their lows with the Nasdaq leading the way down unsurprisingly falling 1.2%. The S&P 500 fell by .9% and the Dow which we rarely follow slipped 1.2% and it was the only benchmark of the previously mentioned 3 that did not spend any time at all in positive territory today. AAPL certainly had an impact on the Dow, as well as being the largest company on the Nasdaq, being a cap weighted index and it slumped an additional 3.1% today following the earnings slide on Wednesday. We continue to pound the table that the Nasdaq underperforming the S&P 500 is a bearish scenario, as a healthy, vibrant market will be reflected by enthusiasm within. The tech heavy index is now on a 6 session losing streak and heading into Friday is lower by 2.1% and will most likely have consecutive weeks declining for the first time in 10 tomorrow. The was a flurry of M&A activity, from a diverse set of industries, with the big one in the healthcare sector with ABT buying STJ, and ORCL swallowing TXTR in the tech space and one would have thought that would bring a more joyous mood (CMCSA is taking out DWA in the media group). The S&P 500 for the second straight day touched the 2099 handle but was unable to penetrate the round 2100 figure and for the week thus far has declined .75% and last weeks bearish shooting star candle is now rearing its ugly head, and confirmation would be a weekly CLOSE tomorrow underneath the week ending 4/22's finish of 2073.65. Among the ten major S&P sectors it was tech that slumped the most by 2%. Below is the chart of SYMC that we examined in our Friday 4/15 Game Plan which we were WRONG about and highlights why especially in this current climate it is difficult to hold into earnings.
Amazing work in this piece. Truly inspirational! You gotta keep this up. Good luck next week.
On Monday I played 3 of your alerts:  JACK = $110, AVD = $600, and SPW = $700. Today I played 2 more of your alerts: ALL =  $300 and WYN = $280.  THANK YOU!
I know Doug from the Carlin days in 1999.  He's the hardest working technical trader out there and shows no bias in his analysis.  A must read in any market.
Some great setups in @chartsmarter's service tonight. Do yourself a favor and take it for a test drive. You will be glad you did.