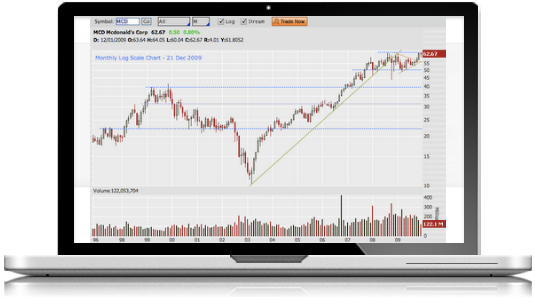 Thank you to all of my loyal readers,
I wouldn't be here today without you.
After 2 years of posting, I have decided to transition ChartSmarter
to a subscription-based model. I'd be honored if you joined me.
Please click the below button for more information. Thank you.
Markets fell Friday with the Nasdaq taking the brunt of the selling off 1.5% and the S&P 500 declining by 1.1%. A very mild late afternoon rally helped the indexes finish off lows for the session. Volume accelerated today adding some concern to the selloff. For the week the Nasdaq dropped 1.3% and the S&P 500 by 1% and the YTD figures have the Nasdaq still maintaining its comfortable margin with a 4.4 to 1.2% advantage. There was no room to hide Friday with all 10 major sectors lower with the utilities "performing" the best down .5%. The other 9 of 10 were down .9% or more. In Thursdays Game Plan we discussed the fact the neither the Nasdaq or S&P 500 had recorded an up or down 1% session in the month of April which suggested to us that the possibility of a top being put in, particularly on the Nasdaq with a 15 year double top, was unlikely. One day is hard to assess but Friday felt heavy. Sure it was an options expiration session which elevated trade but looking at names that have been leaders start to fatigue like a WHR or COST, which are now 13 and 8% off recent all time highs, has us a bit concerned. The retail ETF XRT acted poorly this week lower by 2.6% on big weekly trade to finish at weekly lows for the session and undercutting its key 50 day SMA. The fund contains a more diverse bunch of retail names dominated more by smaller cap names and what is important regarding that is smaller cap names tend to lead at both market top and bottoms. Again one day is certainly not enough to make a trend but it is certainly something to keep an eye on going forward.
Markets were sluggish Thursday and that could be a good sign. We all know the old adage to never sell a dull market. Looking back at the month of April so far neither the Nasdaq or S&P 500 have been higher or lower by more than 1%. As we spoke of yesterday about the slim possibility that we are forming a long term top on the Nasdaq, tops tend to be very volatile and the docile moves recently suggest markets are catching their breath to regain some stamina. Benchmarks were flat today and headed into Friday the Nasdaq is up .2% for the week tacking on to last weeks impressive 2.2% move. The S&P 500 is up .1% and looking for its third consecutive weekly advance. Thursdays winners were consumer staples, financials and energy. Energy is looking for a fifth consecutive weekly advance. Below is a chart of the XLP which is holding up decently despite the fact that 3 of the top 5 holdings in the fund are beneath their 50 and 200 day SMAs (WMT, KO and PG). It would have been 4 of 5 if PM did not record a big gap today. That can be construed as a positive as staples are not the type of sector you want to see thriving. You would prefer to see tech, retail and consumer discretionary names and financials have been perking up. GS is having its own little tug of war at the 200 handle. I think that best of breed name will win that battle and make its way higher.
Markets rose Wednesday finishing off session highs, but nonetheless with respectable gains. Both the Nasdaq and S&P 500 reclaimed some round numbers today as the Nasdaq rose .7% and the S&P 500 by .5%. I have been leaning slightly bearish recently but my tone is beginning to change. One reason is the action in the leading Nasdaq, which has been acting just like a leader should. My thoughts were that we were possibly seeing a very long 15 year double top put in on the tech benchmark with a CLOSING high of 5048.62 on March 10, 2000. Respect must be given to the Nasdaq as it has come back to take out the round 5000 number. The longer it stays up here without retreating the more one has to expect that a top is not being made, but rather a potential pause for a sustained move higher. Tops happen rather quickly, as opposed to bottoms which traditionally occur gradually. Energy once again was the best performing group and the resource may be attempting to alert us that the economy may start to regain its mojo from years past. Lagging was the consumer staples sector, a risk on risk off marriage made in heaven. Speaking of long term double tops, this certainly is not a 15 year example but a relevant one anyway from the energy group. MTDR which came public a little more than 3 years ago is just 2% off all time highs and today was stopped just short of the round 30 handle with an intraday high of 29.90. It also reversed from that figure back on 7/1/14 with a high of 29.94 that session. Will it power through? It is higher by almost 8% this week and the prior 3 advanced 4.6, 9.6 and 17.8%. Gushing returns, pun intended.
Amazing work in this piece. Truly inspirational! You gotta keep this up. Good luck next week.
On Monday I played 3 of your alerts:  JACK = $110, AVD = $600, and SPW = $700. Today I played 2 more of your alerts: ALL =  $300 and WYN = $280.  THANK YOU!
I know Doug from the Carlin days in 1999.  He's the hardest working technical trader out there and shows no bias in his analysis.  A must read in any market.
Some great setups in @chartsmarter's service tonight. Do yourself a favor and take it for a test drive. You will be glad you did.