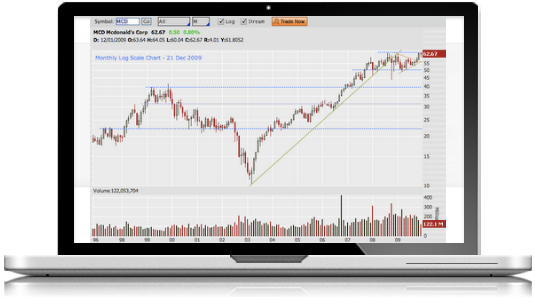 Thank you to all of my loyal readers,
I wouldn't be here today without you.
After 2 years of posting, I have decided to transition ChartSmarter
to a subscription-based model. I'd be honored if you joined me.
Please click the below button for more information. Thank you.
Markets recorded their second very strong gain Tuesday to begin the week demonstrating excellent follow through after 2 months of consolidation. The Nasdaq added .7% and the S&P 500 .6% and once again it was the Russell 2000 the best performer higher by .9%. The Dow which we rarely track although it is the most recognizable jumped 1.1% as many names in the concentrated index have well received earnings reports. The S&P 500 chart now is sniffing out a cup base trigger just above the round 2400 number and its chart has changed its complexion nicely over the last month. The Russell 2000 has broken through its 50 day SMA decisively after failing to do so twice previously in March. Bulls welcomed the laggards Tuesday as the as it was the defensive staples and utilities that lagged with the XLU the only major group to lose value on the session, albeit fractionally. Risk on has come back into vogue with the materials leading the way with the XLB jumping 1.6% and seems to be lifting off from the 52 level which acted as an anchor on the ETF with 8 of the last 11 weeks CLOSING with a 52 handle. Aluminum names contributed greatly to their gain with AA now higher by more than 15% this week so far. Notice it has traded between the round 30 and 40 numbers with 30 acting as support on 2/13 and 40 as resistance on 4/18. Technology was strong, an ongoing development, and once again it was the semis that did much of the heavy lifting. Below is the chart of ADI and how it appeared in our Wednesday 4/19 Game Plan and once again illustrates how candlesticks can be helpful in determining bottoms with good risk/reward scenarios.
Markets started the week with a bang Monday as the Nasdaq jumped 1.2% and the S&P 500 rose by 1.1% and the Russell 2000 sprinted higher by 1.3%. The action was attributed to the French election over the weekend, and as one would prefer to see this type of move by something other than that the PRICE action must be respected. It is rare for an index to record a gap up but today the Nasdaq registered its 5th of 2017 already, and now stands just below the very round 6000 figure. The Nasdaq hit an all time high and the S&P 500 recouped its 50 day SMA. It was obviously a big positive for the benchmark to recapture its 50 day SMA, but there is still work to do as one wants to see that line hold for the rest of the week for starters. There was a risk on flavor today with the financials showing strength with the XLF the best actor advancing 2.2%. The ETF is still underneath its 50 day SMA and has work to do as it potentially looks to be forming the right clavicle in a bearish head and shoulders formation if it is unable to clear the important moving average. Other sectors gaining at least 1% included the industrials, technology, materials and healthcare. Utilities lagged by the XLU still added more than .5%. We did see some M&A activity in the healthcare group with BDX acquiring BCR and some of the names in that group were soft today. That may offer an opportunity in the near future to receive a nice entry on select names. Below is the chart of MDXG and how it appeared in our Monday 4/17 Game Plan. Today it recorded a bearish shooting star at almost 2 year highs, but on a longer term timeframe it is on a current 8 week winning streak. Put you alert in.
Some encouraging signs are in motion regarding the economy las week. We witnessed some decent numbers being put up by the important transports (KSU price action Friday was an exception) as CSX jumped 9.4% for the week and cleared a cup base trigger of 50.41 Friday. NSC rose 4.3%, UNP by 3.3% and CP by 2% as well. Today we take a look into another group which can forecast strength or weakness going forward. Below is the chart of paper giant IP, and how it was presented in our Wednesday 3/29 Game Plan, which may be starting to play catch up with good looking peers PKG and KS which are both 3 and 6% off their respective 52 week highs, whereas IP sits 10% off its own. That has left a comparable attractive dividend yield of 3.51% however. Stocks that can be bought as they pullback into the round numbers are IP. IP is a paper giant down 4% YTD and up 25% over last one year period and sports a nice dividend yield of 3.6%. Earnings momentum lower with losses of 5.6 and 2.2% on 2/2 and 10/27 after gains of .3 and 1.9% on 7/28 and 4/27. The stock is lower 5 of the last 8 weeks and now 13% off recent 52 week highs and notice Mondays hammer successfully retested the bull flag trigger near 49 from 12/1. It recorded a bullish hammer candle on 3/27 at very round 50 number and enter IP on pullback into it at 50.35. One can then add through 50 day SMA and then above 54.35 double bottom trigger.
Amazing work in this piece. Truly inspirational! You gotta keep this up. Good luck next week.
On Monday I played 3 of your alerts:  JACK = $110, AVD = $600, and SPW = $700. Today I played 2 more of your alerts: ALL =  $300 and WYN = $280.  THANK YOU!
I know Doug from the Carlin days in 1999.  He's the hardest working technical trader out there and shows no bias in his analysis.  A must read in any market.
Some great setups in @chartsmarter's service tonight. Do yourself a favor and take it for a test drive. You will be glad you did.