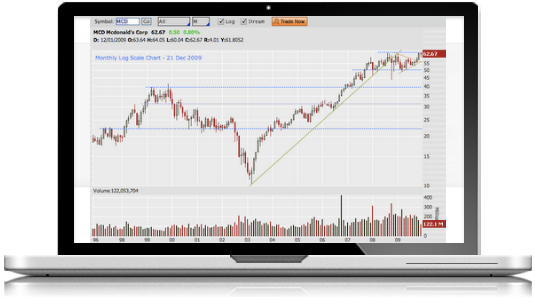 Thank you to all of my loyal readers,
I wouldn't be here today without you.
After 2 years of posting, I have decided to transition ChartSmarter
to a subscription-based model. I'd be honored if you joined me.
Please click the below button for more information. Thank you.
Markets produced very nice follow through after Tuesday's big gain, and once again it was the Nasdaq that assumed a leadership role. The Nasdaq advanced 1.9% compared to the S&P 500's 1.7% and it was a positive to see the Russell 2000 enjoy an advance of 2.2%. Good to see was the participation among the financials which were the strongest major S&P sector as the XLK jumped 2.3%. In fact 8 of the 9 major S&P sectors rose by more than 1.1% and the only exception today was the utilities which gained .3%. The XLU is higher thus far by 1.5% and is enjoying a 5 session winning streak and has moved above the 51 level, which was highlighted earlier in the week. Is this very common V shaped recovery now a function of TINA? Was Brexit just so hyped up to the possibility of a big move to the downside after a very hyped up media campaign to remain? Who cares, all that matters is the price action and we are beginning to see some presence of new groups joining the fray? Healthcare has been assuming its role to the rotation as it is higher by 6% the last 2 session recovering all of the 6/24-27 losses almost precisely. Over the last 6 months the best performers have been the utilities and energy rising 19.1 and 12.7% respectively. So it was good to see the energy group act very well with the XLE gaining 2% today and the dividend yield is juicy at 3.6%. Perhaps going into quarter end there was some window dressing taking place in that space. What I like to look for is names that hold up reasonably well in times of market distress. Below is the chart of MBLY that we highlighted in this Mondays Game Plan and what caught my eye with the stock was the action last Friday when the Nasdaq sank 4.1%, MBLY CLOSED well into the upper half of its daily range and bounced precisely off the round 40 number. On Monday it found support exactly at its 200 day SMA and is now higher by more than 2% from the recommended entry.
Markets rebounded smartly Tuesday with the Nasdaq taking charge higher by 2.1%. To put it in a little perspective however todays 97 handle advance is less than a third of the prior 2 days 315 point slump. The S&P 500 rose 1.8% and the Russell 2000 "lagged" gaining 1.6%. The S&P 500 recaptured its 200 day SMA on better than average daily trade but lighter than the prior two sessions. The Nasdaq now is on the verge of a potential bearish "death cross" and while the S&P 500's 50 day SMA is still well above its 200 day, but the 50 day SMA is now starting to slope lower. I have mentioned this in the past but it is relevant once again, that this type of volatile action is more indicative of tops than bottoms. Bottoms take on a smoother, gradual rounded fashion, and tops sport more erratic behavior. Energy and financials were the top two performing sectors Tuesday rising 2.8 and 2.6% respectively. Healthcare came to life as well Tuesday and below is the chart of MDT and how we profiled the name in this Mondays Game Plan. The more volatile biotechs has a fine session of their own with the IBB jumping almost 4%. Looking on the weekly chart one sees how the round numbers have come into play. The week ending 2/12 recorded an intraday low of 240.03 and Mondays low was 240.30 creating a double bottom (one may call the week endings 3/18's low just below 242 a triple bottom). It is most likely a dead cat bounce and may very well have room to run into the declining 50 day SMA approximately 17 handles higher.
Markets spent the entire session well underwater but did finish mildly off intraday lows. It was not entirely unexpected as 6 of the last 7 times the S&P 500 CLOSED lower by more than 3% on a Friday the following Monday was fell by an average of an additional 2.3%. The S&P 500 did manage to end right at the very round 2000 number, for those who have been under a rock the last few days it is not the 2100 handle we were focusing on recently. The Nasdaq took the brunt of the drop Monday as it slumped 2.4% and its weakness continues as it now trades 12% off recent 52 week highs, double the S&P 500 which is just 6% off its. Both benchmarks are now firmly underneath their 200 day SMAs and it is a time to play defense. The art of picking exact bottoms does not exist and it is safer to look for some bottoming patterns with candlesticks being my favorite before venturing back in. If one needs to deploy cash, the utilities shined once again Monday as the only major S&P sector to gain ground by .9% and we did discuss the potential for a strong move above the 51 number Friday. Looking back on the decline earlier this year the S&P 500 recorded a bullish hammer candle on 1/20 which was retested on 2/11 for good measure before markets caught a good footing. The Russell 2000 completed a bullish morning star pattern on 2/12 before it lifted off. The market is not forgiving and the way it has dismantled some best of breed names should put investors on the sidelines for the time being. Take for example PVH which has lost 18% in just the last 2 sessions alone and is now 30% off recent 52 week highs. It was the energy and materials groups which both fell more than 3% Monday (finnies were not far behind with the XLF dropping 2.8%) which were the worst performers courtesy of a strong greenback. Too many were one one side of the ship there and that trade may need some time to unwind which should continue to put pressure on the risk on names. The UUP however did stop at a declining 200 day SMA Monday which potentially could stall anymore short covering.
Amazing work in this piece. Truly inspirational! You gotta keep this up. Good luck next week.
On Monday I played 3 of your alerts:  JACK = $110, AVD = $600, and SPW = $700. Today I played 2 more of your alerts: ALL =  $300 and WYN = $280.  THANK YOU!
I know Doug from the Carlin days in 1999.  He's the hardest working technical trader out there and shows no bias in his analysis.  A must read in any market.
Some great setups in @chartsmarter's service tonight. Do yourself a favor and take it for a test drive. You will be glad you did.