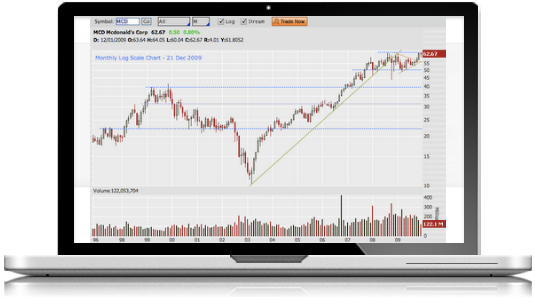 Thank you to all of my loyal readers,
I wouldn't be here today without you.
After 2 years of posting, I have decided to transition ChartSmarter
to a subscription-based model. I'd be honored if you joined me.
Please click the below button for more information. Thank you.
They say its not where you start but where you finish. Markets today displayed hallmark bearish traits going out hard upon their lows. The market has felt heavy and bulls and bears can paint a picture fitting their biases. The bull can say the S&P 500 is just 1% off recent all time highs while the bear will conclude for that reason alone it still has that much more run to fall. By the day it is getting harder for bulls to defend the action in the tech arena. Since the 6/9 bearish engulfing candle on the Nasdaq trade has become wide and loose, another hallmark bearish characteristic. Today that benchmark felt the pain the most with a drop of 1.8% and we like to monitor the candlesticks. We spoke about the engulfing candle on 6/9 and yesterday registered a bearish counterattack name. Of course price action is the most important guide but when a couple candles begin to occur in close succession it speaks loudly. The Nasdaq, S&P 500 and Russell 2000 all are still just above their rising 50 day SMAs and until those lines are broken the bulls still maintain the benefit of the doubt. Looking at individual groups today it was just the financials that managed to gain of the major S&P sectors with the XLK rising a decent .5%, a respectable move considering the overall tape Tuesday. One would be wise to keep a close eye on the financial play below CBOE. Here is how the name was presented in our Wednesday 6/21 Game Plan and today it inched above the very round 90 number and a CLOSE above 90.40 could see a move to the very round par number.
Markets once again clung to the UNCH line Monday, with the exception of the Nasdaq which fell .3%, to start the week and I was a bit cautious as the Nasdaq flipped from decent early gain to a loss and one which felt like it could have easily been a 1-2% down session. I thought technology had righted the ship last week, but perhaps it needs to prove themselves a bit more. One should remained concerned until the highs of that bearish engulfing candle from 6/9 is CLOSED above. The S&P 500 chart is a bit tamer, and not as wide and loose, as the tug of war continues with its bull flag. The tight weekly closes the last 4 have to keep the bulls feeling optimistic. With this benchmark the concern is the amount of time things are taking to develop. Sure one can argue that it is consolidating at all time highs, but as there are price stops, remember that there is such a thing as time stops too. Moves that take to long to break above should be monitored very closely with a bit of skepticism. Looking at individual sectors Monday it was a little suspicious with the utilities and staples among the top 3 best performers, with the financials rounding out the top 3. Energy and technology lagged as the semiconductors seem to have run out of steam. Last week healthcare was a firm leader and names in the space should be watched to see if any follow through occurs. Below is the chart of LNTH and how it appeared in our Thursday 6/22 Game Plan. It is a good example of not taken a leader off your radar, as we profiled the name previously to enter above a bull flag trigger which never panned out. Monday the stock rose more than 4% after a recent initial touch of its 50 day SMA after a recent breakout above a cup base trigger of 14.30 on 5/3.
The internet has had plenty of headlines recently with AMZN looking to takedown WFM a peek into other names in the group can be potentially profitable. ETSY has gained ground 6 of the last 8 weeks since jumping off the round 10 number in early May and three of those weekly gains were very strong, adding 8.4, 18.2 and 11.5% the weeks ending 5/5, 5/19 and 6/23. Today we focus on ZG and directly below is how it was presented in our Tuesday 5/23 Game Plan and then we take a current view. We focus only on PRICE action here, but perhaps the stock is acting well on the back of some good homebuilder news and could be a sign of a strengthening economy. Stocks that can be bought as they pullback toward round numbers are ZG. ZG is an internet play higher by 14% YTD and 47% over last one year period. Earnings have been mixed with gains of 10.3 and 5.6% on 5/5 and 11/2 and losses of 7.6 and 5.5% on 2/8 and 8/5. The stock registered a strong 6 week winning streak ending between 3/31-5/5 which rose 28% and the week ending 5/5 jumped almost 14% in double average weekly volume taking out round 40 number which had been resistance dating back to weeks ending 11/21/14, 2/20/15 and 8/5/16. Should move toward round 50 number which stopped stock cold weeks ending 7/25-8/1/14. For now enter ZG on pullback toward round 40 number at 41.25. Could go on to fill gap from 5/4 session just below.
Amazing work in this piece. Truly inspirational! You gotta keep this up. Good luck next week.
On Monday I played 3 of your alerts:  JACK = $110, AVD = $600, and SPW = $700. Today I played 2 more of your alerts: ALL =  $300 and WYN = $280.  THANK YOU!
I know Doug from the Carlin days in 1999.  He's the hardest working technical trader out there and shows no bias in his analysis.  A must read in any market.
Some great setups in @chartsmarter's service tonight. Do yourself a favor and take it for a test drive. You will be glad you did.