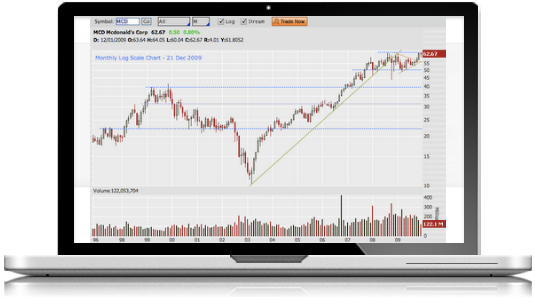 Thank you to all of my loyal readers,
I wouldn't be here today without you.
After 2 years of posting, I have decided to transition ChartSmarter
to a subscription-based model. I'd be honored if you joined me.
Please click the below button for more information. Thank you.
Each week at ChartSmarter we like to bring to a little insight into what we do on a daily basis. We have been at it for more than 4 years and we love doing it. Each night we detail 8 to 10 of our favorite ideas, both long and short, for the next days session. We do NOT have a chat room, nor are we active "tweeters". We like our business growing by word of mouth. Below is precisely how they were written in our daily reports. For those who would like to see a full copy of our Monday Game Plan, email me at chartsmarterblog@gmail.com. In our Wednesday 1/28 Game Plan we looked at agriculture leader AGU. The stock took out a 104.03 cup base trigger on 1/22 and as stocks very commonly do will come back to retest a breakout pivot to assess its validity. One must be quick as it did on 1/29 and the stock is now HIGHER by more than 10 handles from the suggested entry. Stocks that can be bought as they retest prior breakout triggers are AGU. AGU is a best in breed agriculture play along with CF and is higher by 12% YTD and by 19% over the last one year period and sports a dividend yield of 3%. The stock has been under steady accumulation since a big week ending 10/24/14 which rose more than 12%. AGU is higher 9 of the last 14 weeks with all 9 CLOSING at or near the top of their weekly trading ranges, a bullish sign. With continued strength we will look for this name to gravitate back toward all time highs 2 years ago in January of 2013 near 115. Notice how tight the weekly CLOSES were the weeks ending 1/25-2/8/13. A move above those highs could really propel this name higher in 2015. Lets look to enter here or within 1% of a retest of the 104.03 cup base trigger taken out on 1/22.
Those investors hoping for some window dressing on the Nasdaq into month end were slightly disappointed. Seems like managers are being judged on shorter and shorter time frames these days. In all seriousness the damage was hardly noticeable after the run it enjoyed higher 11 of the last 13 days and currently on a 4 week winning streak. The tech heavy benchmark gained .14% for the week while the S&P 500 fell .3% this week. The shooting star we spoke of in our first paragraph in this Thursdays Game Plan on the Nasdaq could still be relevant. Comparing it to a recent shooting star as we are technicians here, the ALK shooting star on 1/23 took a few days before it started to work as it should have. If one looked at the weekly chart the weekly shooting star for ALK, the week ending 1/30, now has the stock down 4 of the last 5 weeks. Some of the high flyer names that went public recently continue to melt lower. GPRO is now off 57% from all time highs. It is now down 11 of the last 13 weeks. BABA is another name not quite so beat up but interesting from a possible long play. The stock is down 29% since its own 52 week/all time high after reversing precisely at the round 120 handle. It is nearing lows made back during the mini October swoon last year and below is a more detailed chart to examine.
As traders we need to be nimble and be unemotional and realize when we are wrong. Being able to adapt is a crucial ingredient to becoming a successful trader. Lets take a look at where we were WRONG recently. THRM supplies parts to the auto sector which has been strong with moves in GM F TTM TM HMC to name a few. Below is how we examined the stock precisely in our Thursday 2/19 Game Plan. Stocks to be viewed as shorting opportunities are THRM. THRM is an auto periphery play that is higher by 14% YTD and 58% over the last one year period. The stock is at a critical juncture here as it rests both on the upper line of a bearish wedge pattern and 200 day SMA resistance forming a cluster of evidence which adds significance to that area. To its credit it has risen nice 3 of the last 4 times reporting earnings higher by 5.4, 8.7 and 10% on 8/1, 5/1 and 3/5 (it dropped 13.4% on 10/30). The stock reports earnings next TUESDAY morning. It is higher 6 of the 9 weeks since a huge 17.8% weekly move the week ending 12/19. None of the up weeks came in strong volume. Lets look to short at 42.
Amazing work in this piece. Truly inspirational! You gotta keep this up. Good luck next week.
On Monday I played 3 of your alerts:  JACK = $110, AVD = $600, and SPW = $700. Today I played 2 more of your alerts: ALL =  $300 and WYN = $280.  THANK YOU!
I know Doug from the Carlin days in 1999.  He's the hardest working technical trader out there and shows no bias in his analysis.  A must read in any market.
Some great setups in @chartsmarter's service tonight. Do yourself a favor and take it for a test drive. You will be glad you did.