Markets Friday resumed their recent habits over starting strong, and finishing weak, classic bear behavior. For the week the benchmarks were little changed with the Nasdaq down slightly, and the S&P 500 up marginally. The Nasdaq recorded a bearish outside day Friday, while continuing to spoon its 40 week SMA. The S&P 500 hit stiff resistance at its 10 week SMA, and came within 2 points of recording its own bearish outside day. Leaders that continue to disintegrate are CF slipped almost 6% on ballooning trade Friday. Its down 5 weeks in a row. AAPL is down 6 consecutive weeks now, falling 20% over that time period. Friday it lost 40 week support. We had some reversals Friday as stocks fell back below breakout triggers (which rarely work in this environment anyway), they traded through intraday. They included cup with handles BLK 192.18, DE 87.23, and CHS 19.53 in a flat base. Remember to close those positions if you entered them. You can always reenter. GLD is now down 6% in the last 4 weeks, and is nearing 40 week support. Look for names in the group that have held up the best if you must buy on weakness. AUY GOLD, and newcomer SAND have piqued my interest. More worrisome signs come from some large cap recognizable names which look to have undergone very recent trend changes. They include ALL WMT COST GE. These times are indeed separating the men from the boys in sectors. Looking deep within the transport sector we have rails. Performing well are CP KSU UNP. Acting badly are CNI NSC CSX. Within the truckers JBHT ODFL are outperforming CHRW EXPD. FDX looks better than UPS. AMGN GILD look much better than CELG BIIB. Pay attention to strength for they can be important tells as market catches some bids. Some bright spots were MHK up 8% this week, each day doing  double average daily volume. POL was up 7% on the week.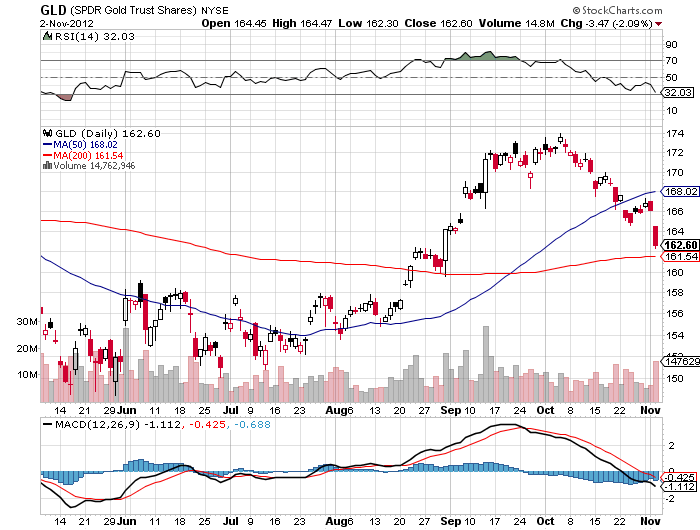 Stocks that can be bought as they take out the following specific triggers on firm trade are flat bases FIS 34.95 (Good RS Fri.), ADBE 34.65  (Up Fri. and 7 days in a row now), SAP 73.96, CHS 19.53, DOX 33.89, KSU 84.05, RJF 39.05, PSX 48.32, KKR 15.78, ADI 41.89, AMP 60.57. 3 week tight trigger is MTB 105.43. Cup with handles are GME 24.59, GPOR 34.14, PGR 23.29, ABV 42.22, BLK 192.18. Double bottom is IR 47.41.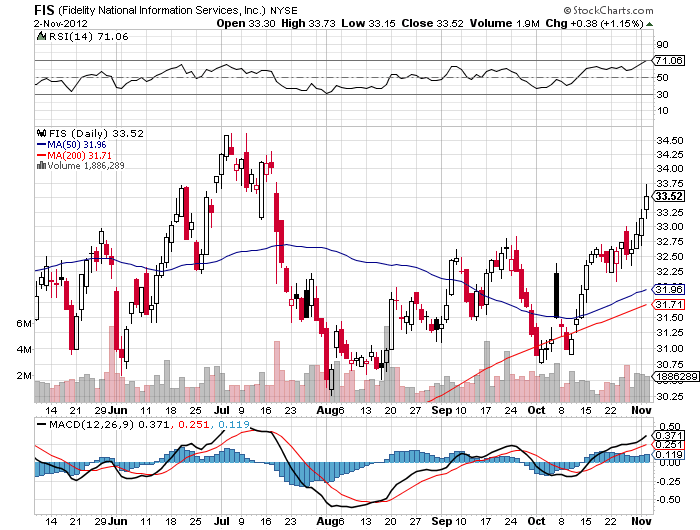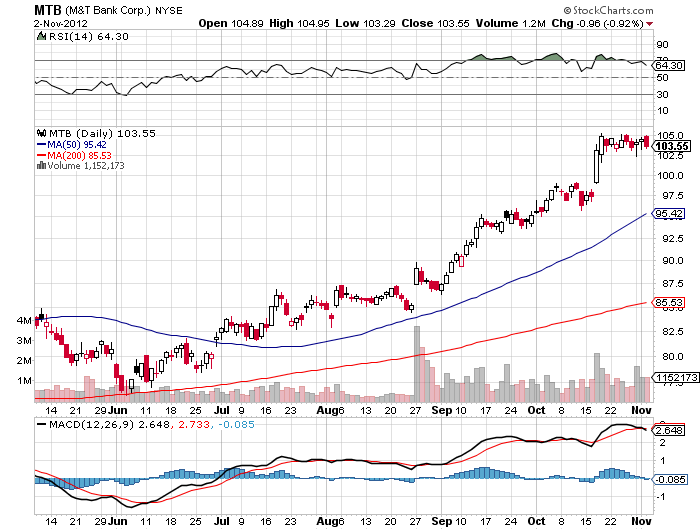 Stocks that can be bought as they retest prior breakout triggers are PKI HIG MAT. PKI took out a 31.02 flat base trigger on 10/26. The week PKI broke out, viewable on the weekly chart, was a big bullish outside week in double that average weekly volume. TMO in the electronics group is also acting well. HIG took out a 20.79 cup with handle trigger back on 10/5. It hails from the insurance group which has been somewhat soft since Sandy, but some are acting well like HCC. TRV one of best in breed in the group has fallen 7 of the last 8 days finding support Friday. Will that MA prove to be insurance against a further decline, pun intended. MAT took out a 36.35 flat base trigger 10/16. It has been trading relatively tight since that breakout. I am contemplating a pair in the group with long MAT above that trigger, and short HAS which has been performing poorly and as long as it remains below its 200 day SMA.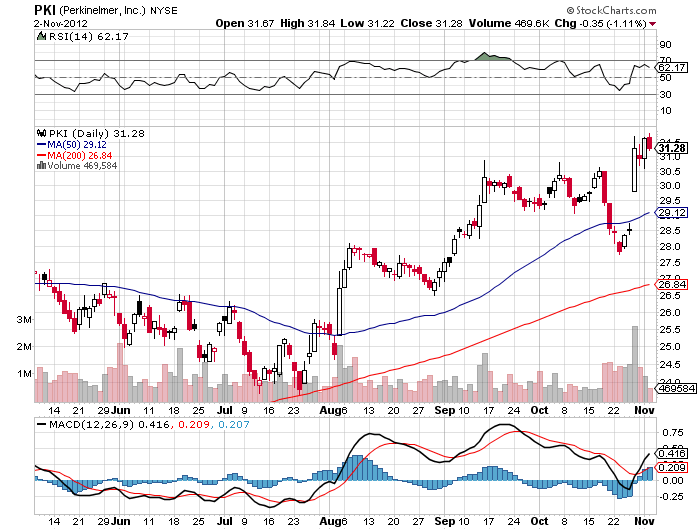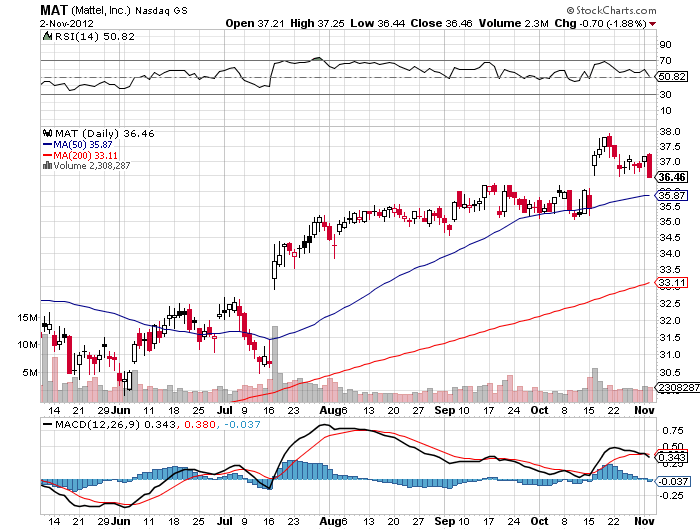 Stocks that can be bought as they reclaim their 10 week SMAs and their buy stop spots are URBN 37.85, STI 28.20, ATU 29.15, RPM 27.90, ASNA 20.90. Stocks that retook their 10 week SMAs Friday were TYC TFM FMCN SBUX CTB. Stocks that can be bought as they reclaim their 40 week MAs are UNM 21.25, SQM 58.45, CNC 40.15.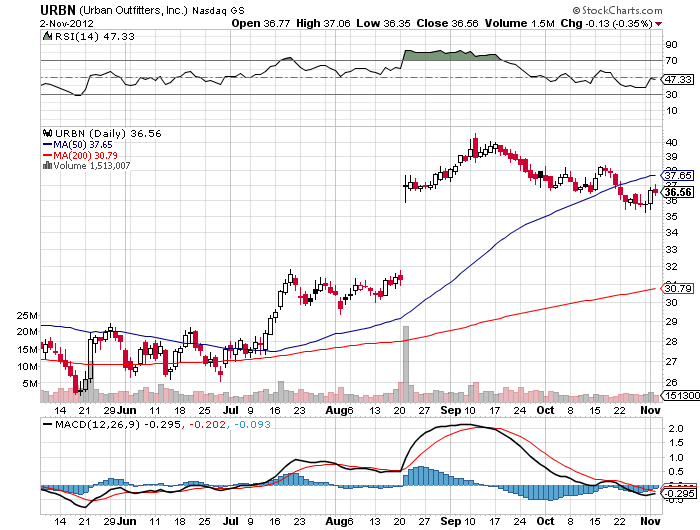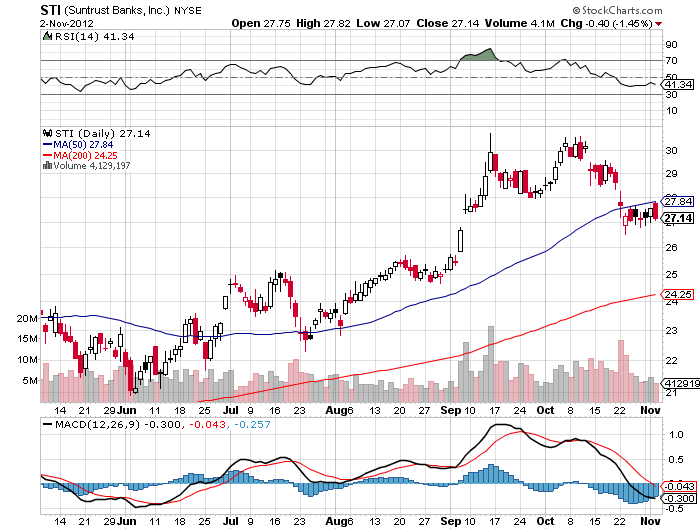 Stocks that can be bought at 10 week support are AMGN 85, LBTYA 59, CVG 16, FNF 21, WRB 38. Stocks that met 10 week support Friday were APH ALKS PCL LUK IP BKD TRV CLX GOLD CBD EBAY. Stocks that can be bought at 40 week support are ANV 31.75, SGEN 22.80. Stocks that found 40 week support Friday were STLD NCR JEF XRAY TX TS CBST DNKN BRO COL.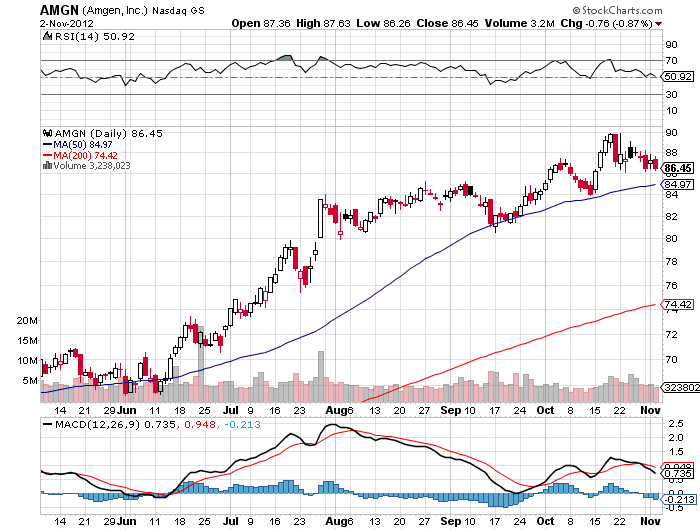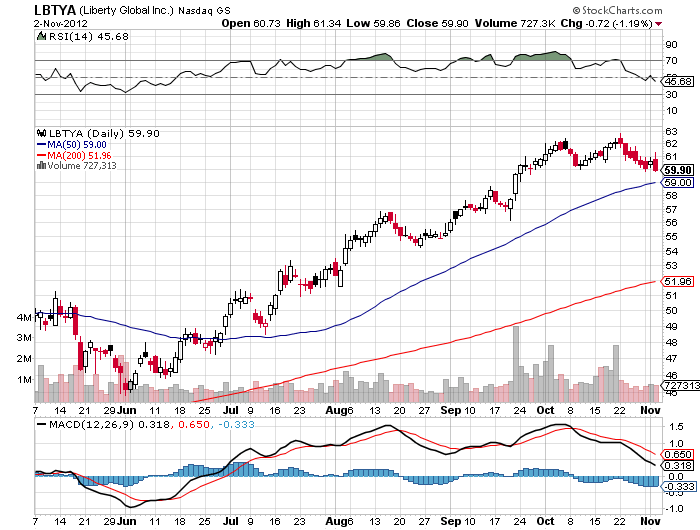 Stocks that can be shorted as they lose 10 week support and their sell stop spots are MHP 53.75, UPS 72.75, NEE 68.75. Stocks that lost 10 week support Friday were WOR SNPS SNI RKT MDAS MPC IAG AIG. Stocks that can be shorted as they lose 40 week support and their sell stop spots are CELG 71.75, FRAN 27.60. Stocks that lost 40 week support Friday were HAS DAR BMY CHK EC WWWW.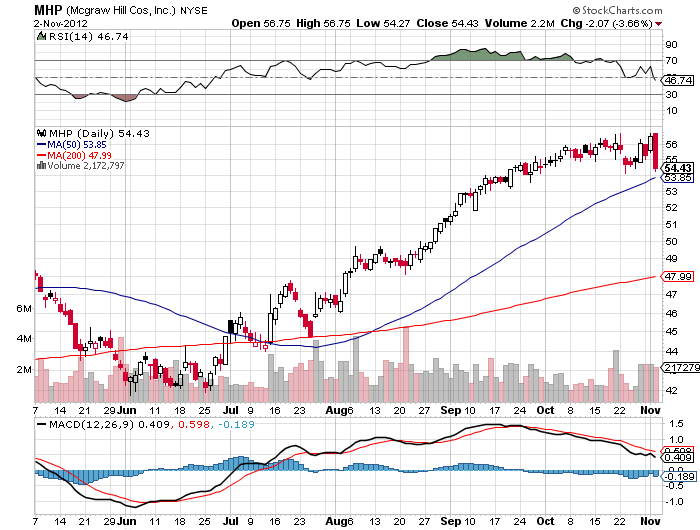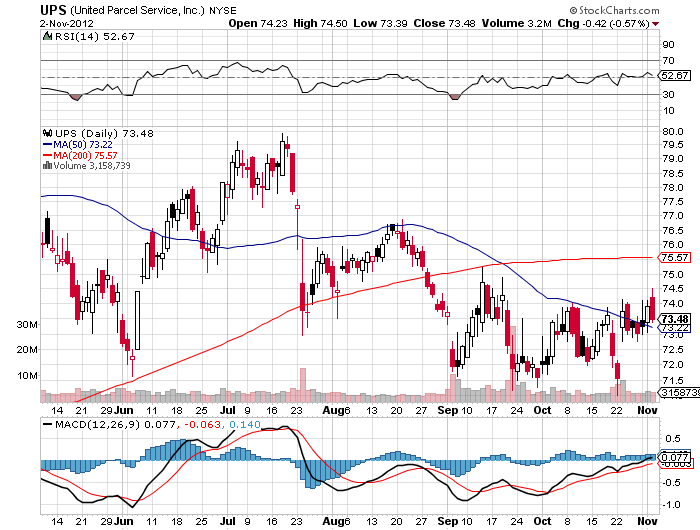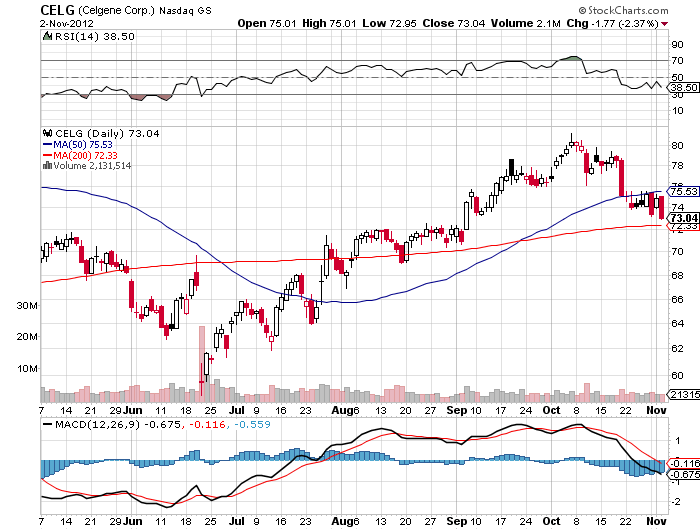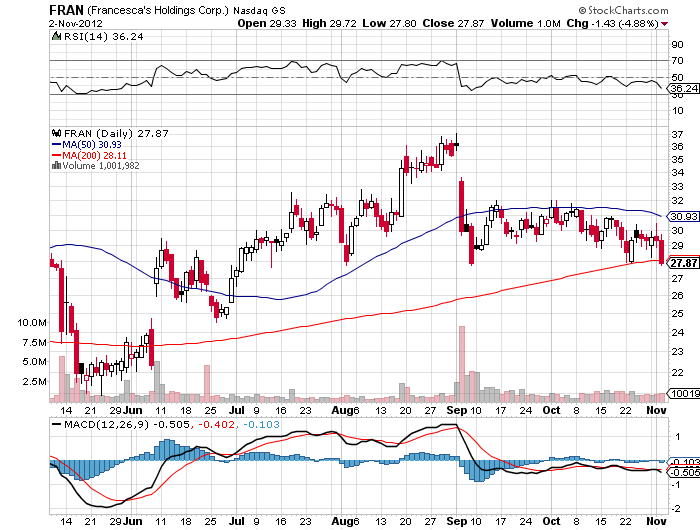 Stocks that can be shorted at 10 week resistance GE 21.95, EL 61.50, COST 98.80, SHW 146.30, DTV 52. Stocks that met 10 week resistance Friday were JAH XLNX AXP KO FMC PFE MDT DIS SJM TMK PFE ASNA ESRX NWS MTH KMB AEO NKE USB CRI LULU. Stocks that can be shorted at 40 week resistance are SCSS 28.10, MAR 37.50. Stocks that met 40 week resistance Friday were ARUN JOY CNC DHR IBM BEAM SWK TXT SBH SBUX FOSL VCLK.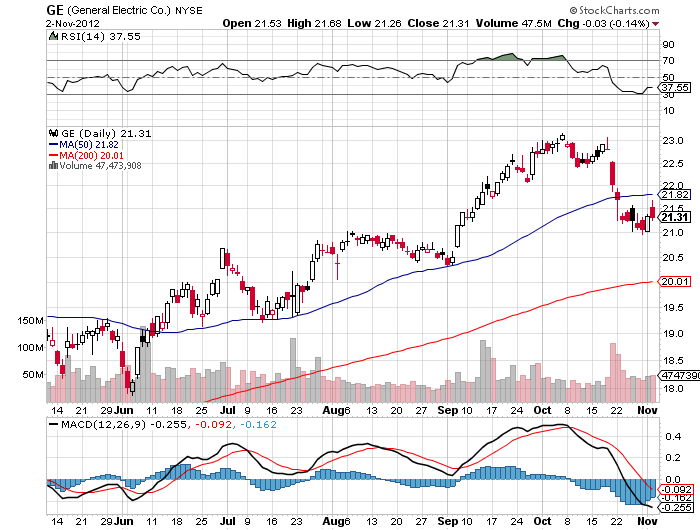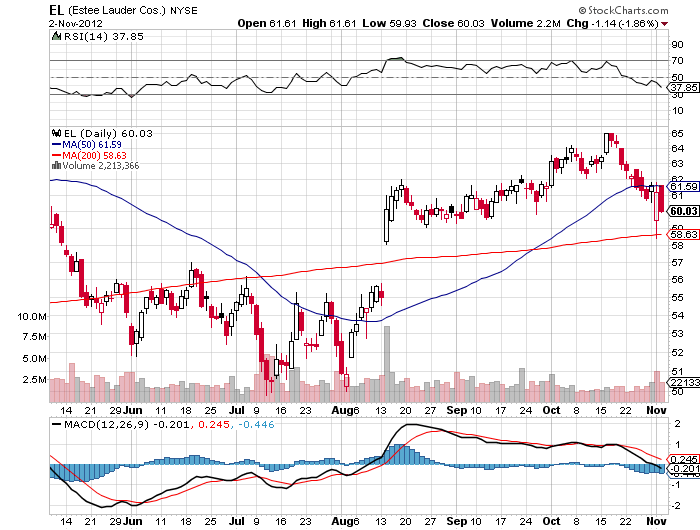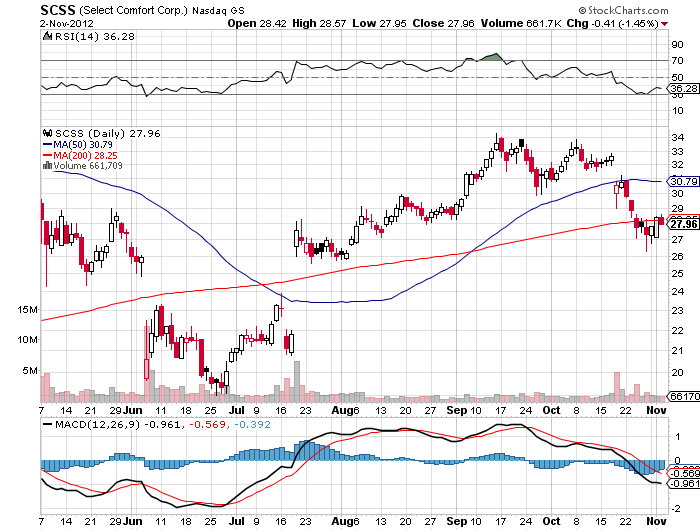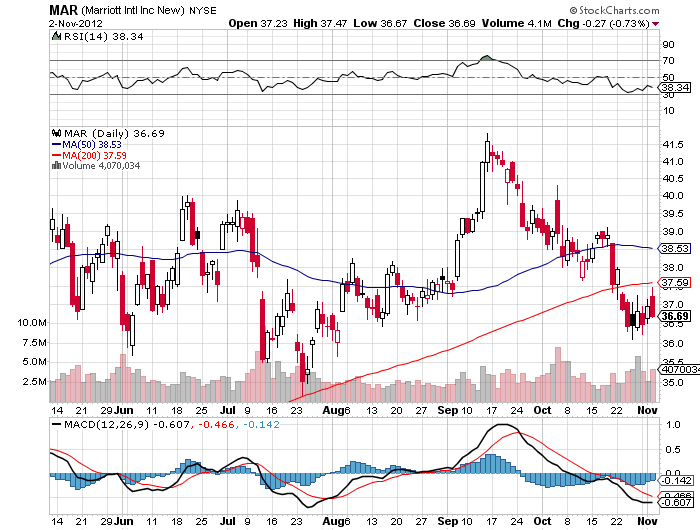 Good luck.
The author owns ITW.