Markets recorded a lackluster day today as both benchmarks the Nasdaq and S&P 500 grapple with their 10 week SMAs. The S&P 500 traded in a narrow 6 handle range. The Nasdaq continues to also deal with the round 3000 number. Breakouts were scarce as MYL took out a 3 week tight trigger of 27.64. Stocks that took out pivots today on light trade, and not to be ignored, because volume can arrive in the net couple sessions were WLK ATU. WLK took out a 76.35 flat base trigger, and ATU inched past a 29.18 double bottom trigger. MPC traded just how you would like to see a breakout perform post breakout, advancing 2%, after Fridays 60.14 flat base pivot. I am seeing lots of buy points developing, more so than I have in a long time and I am not sure that is too much of a good thing. I do remain bullish however until the charts tell me otherwise. Two groups I am watching are the chemicals and medical device makers. The chemicals had the nice move by WLK today, and ARG is just .04 from its 91.40 cup with handle trigger, and LYB followed yesterdays move through a 52.51 short consolidation pivot, by gaining another 1% today. The medical device makers are acting well despite the impending Health Care Act taxes imposed upon them starting January 1. SYK is sitting near its 55.18 cup with handle trigger, and ZMH is in the midst of its own 67.38 cup with handle trigger. Have to respect strength.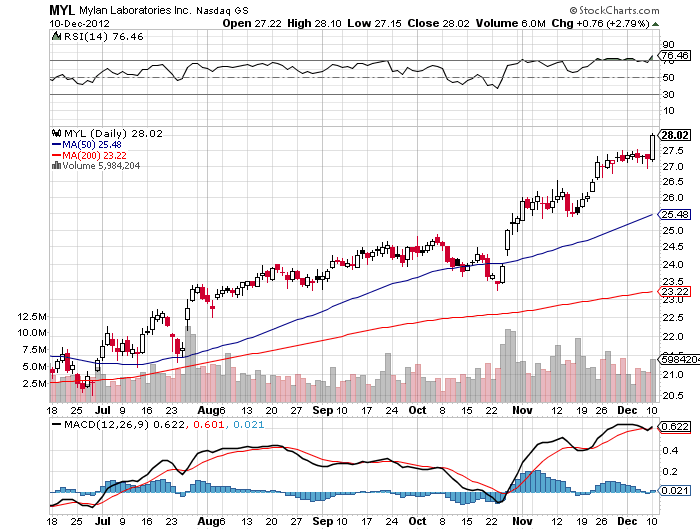 Stocks that can be bought as they reclaim the following specific triggers on firm trade are flat bases NWS 26.06, TTM 27.10, SRE 72.42. Cup with handle is JBHT 60.58. Other flat bases are ABC 43.57, QCOM 65.05, TRN 34.40, SYMC 19.64, SI 105.24, DISCA 62.46, FAF 25.08, RY 59.93, ACGL 45.26, PHG 26.48. Other cup with handles are ZMH 67.38, COL 57.49. Double bottoms are CAM 56.62, VRX 59.10, TMK 52.46. 3 week tight pattern is ALK 43.17.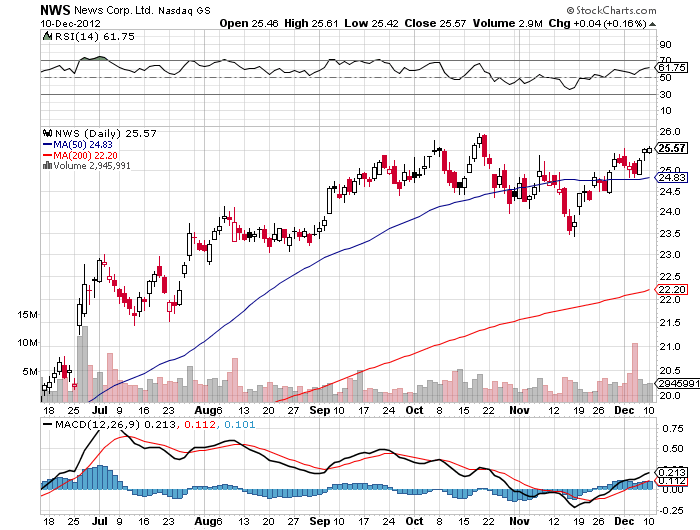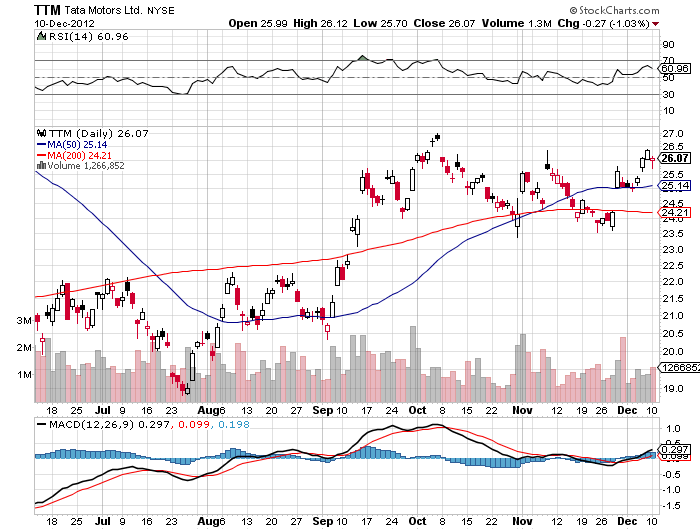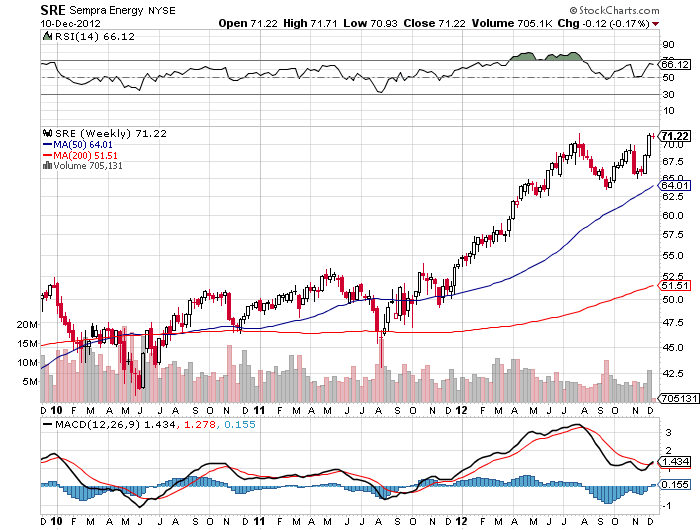 Stocks that can be bought as they retest prior breakout triggers are TV IBN PWR. TV is right back at its bullish 24.98 flat base trigger in took out Friday. It hails from Mexico, a region I like very much as evidenced today by its 69.11 flat base breakout to a new all time high. DIS CBS in the group are in the process of repairing their charts. IBN took out a 42.59 flat base trigger on 12/5. It is an Indian bank where fellow competitor HDB is resting comfortably above its own 39.42 flat base trigger it took out 11/21. Foreign finnies are acting just as well, if not better than our domestic banks, as the likes of HBC BSMX, and an old favorite of mine, CIB are depositing nice profits. PWR took out a 26.17 flat base trigger back on 8/3. FLR in the group is approaching a nice looking double bottom trigger point of 58.75.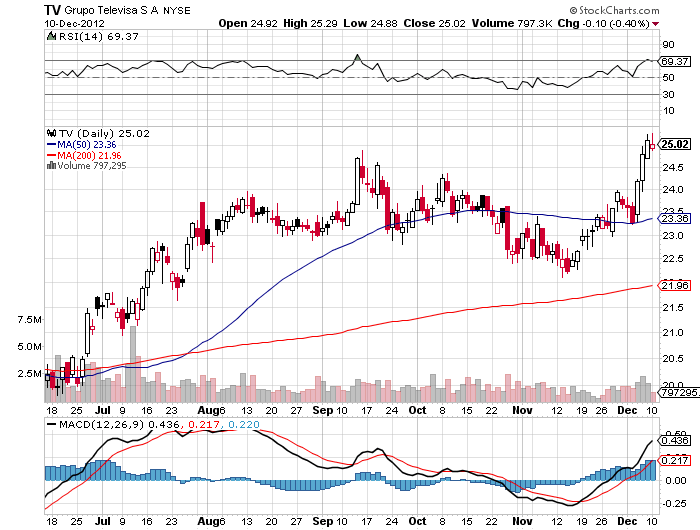 Stocks that can be bought as they reclaim their 10 week SMAs and their buy stop spots are GE 21.65, MRK 45.30, MDAS 17.25. Stocks that can be bought as they reclaim their 40 week SMAs and their buy stop spots are ADSK 34.75, EXPD 39.10. Others that can be bought as they retake their 10 weeks are DIS 50.30, LINTA 19.60, WMT 73.20, STI 27.85, ABT 66.50. Others that can be bought as they retake their 40 weeks are ITUB 16.25, SPW 69.30, ROC 48.20.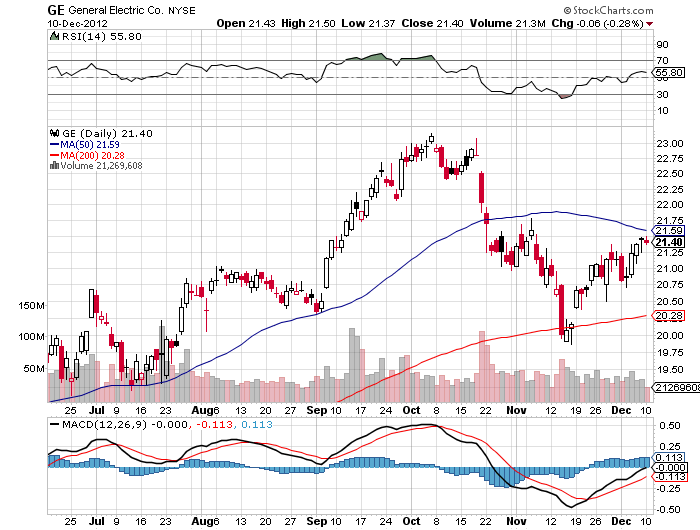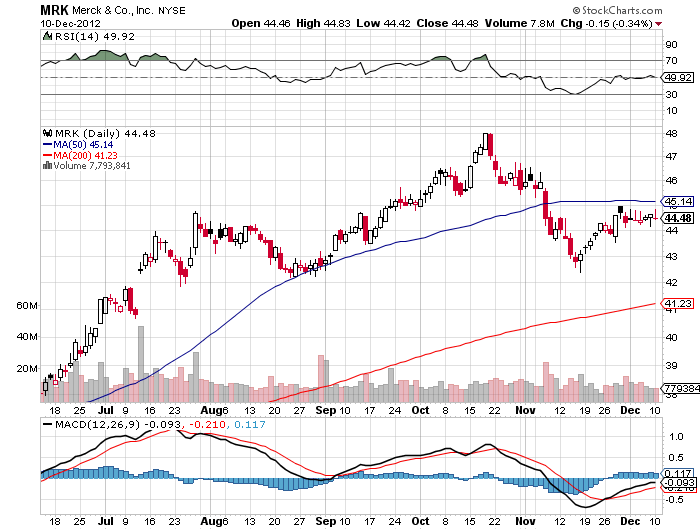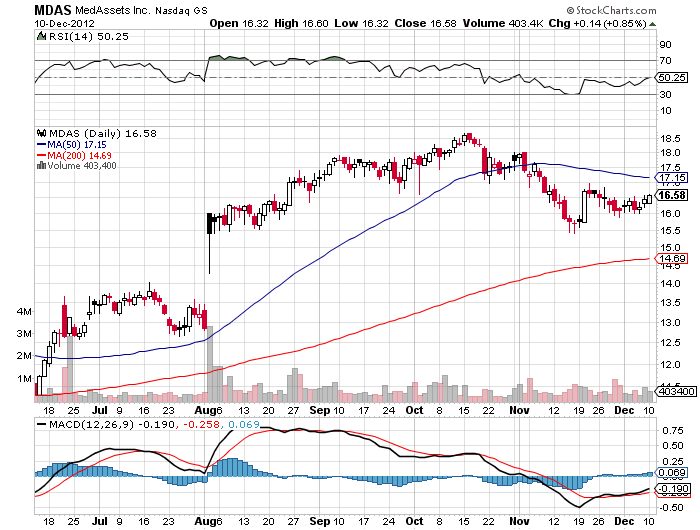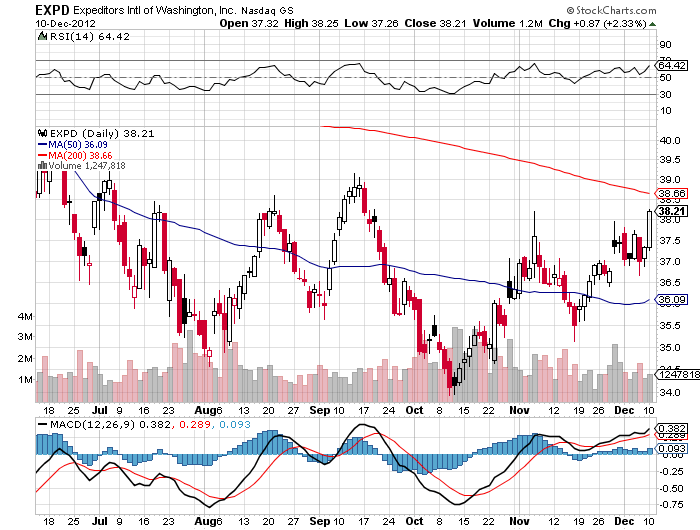 Stocks that can be shorted as they lose their 10 week SMAs and their buy stop spots are FBHS 28, CL 106.40 EXP 50.70. DTV can be shorted as it loses its 40 week SMA with a sell stop of 48.75. I was bullish on DTV not long ago if it could reclaim its 10 week SMA, but as traders we have to keep flexible, and change and adapt promptly to markets conditions.
Good luck.
The author owns BSMX NRG. Their will be no Game Plan posted for Wednesday.