Markets were plenty naughty this week, as Santa failed to deliver any joy. Both the Nasdaq and S&P 500 fell all 4 days this week, and both about 2%. The Nasdaq recorded a bearish inside day, where the recent trend (lower) tends to follow. It lost both its 50 and 200 day SMAs this week. The S&P 500 lost 10 week support Friday but did remain above psychological support of 1400. For the year however both remain up in the low double digits. Being the optimist I am, it could be very easy to point out the misery that exists currently, but I will try and scour through the gloomy tape to discover opportunities. Quite simply equities from abroad look most attractive. FMX was up almost 2% Friday, and above par and its 98.20 flat base trigger breakout from 11/20. TTM (I am long) was up 3% this week, and comfortably above its 27.10 flat base trigger it took out 12/17. TM was up 1.5% this week, and is now residing 5 handles above its own cup with handle breakout at 86.94 on 12/18. CHL TSM, I think you get the picture. FXI continues to trade very tight and bullish. The last 3 weekly closes were within 31 cents of each other (to be fair it did that as well for 3 weekly closes between 2/17-3/2 where it traded within a range of 11 cents). Can JOY be viewed as a potential China play near 60, at 200 day support which is seems cozy trading above?  Among retail which has been decimated recently (RTH is below is 200 day SMA for first time in over a year), I see PVH bucking the trend. If things turn around in the sector, which I am not of the belief it will (but my opinion means nothing, the tape supersedes all), this one can advance smartly. It continues to hold its Halloween gap, and 10 week support here. Make no mistake however, things are treacherous out there. Stay nimble and as always accept only small losses. Regarding the employment situation, is there anything more accurate out there than the PAYX chart. Down almost 8.5% in the last 2 weeks. Stocks do not lie.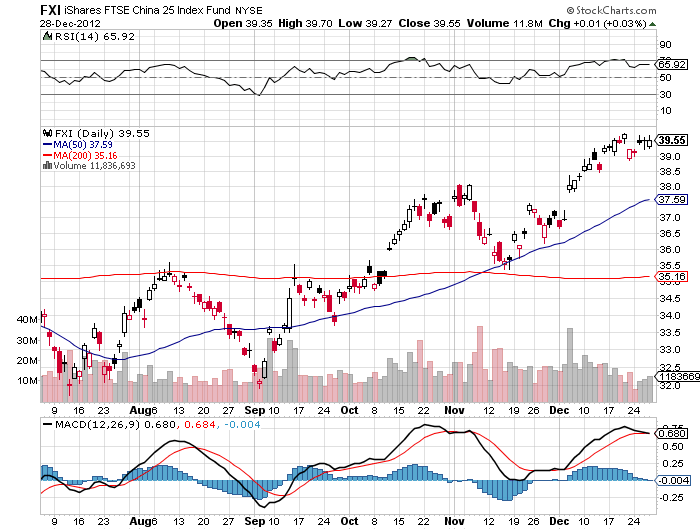 Stocks that can be bought as they take out the following specific triggers on firm trade are cup with handles AET 47.16, TER 16.98, DHR 56.68. Flat base is MSI 55.57. Other cup with handles are CNI 92.64, BEAM 62.29, AIG 35.92, VCLK 20.25, BRKR 15.77, TEN 34.80, NLSN 31.10. Other flat bases are CDNS 13.89, FAF 25.08, BECN 33.49, ODFL 35.23, LMT 96.02, CBI 45.96. 3 week tight triggers are FISV 81.36, CHMT 21.66. 5 week tight is NWL 22.59, and MPWR has a cup base trigger of 22.13.
Stocks that can be bought as they retest prior breakout triggers are KR VMC SI. KR took out a 25.54 cup with handle trigger on 11/29. That pattern is best viewed on the weekly and started it late July 2011. Remember the longer the base, generally the greater the chance at success. That pivot also corresponds with 10 week support. It is now best in breed in the group as WFM TFM have faltered a bit. SWY looks interesting in the group as it has recently reclaimed its 200 day SMA and is trading tightly around it. VMC took out a 50.09 flat base trigger on 11/29. If the housing boom can continue to gain steam in 2013 this one can benefit. Other stocks in the group acting well are CX, which retested its own 9.58 flat base trigger breakout from 12/17 and held nicely on a horrible tape. MLM in the group is just below its prior 93.81 flat base trigger it took out on 12/17, recording an outside day in the process. SI took out a 105.24 flat base trigger 12/11. It is obviously a European company, where that region seems to be firming up better than our stocks here domestically. Go figure.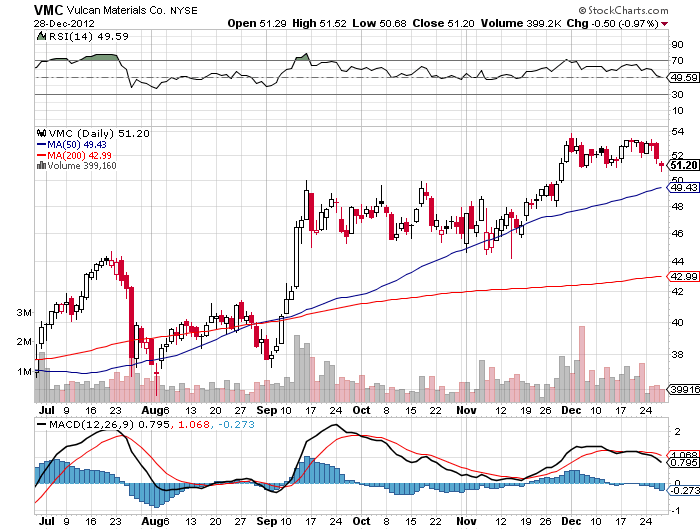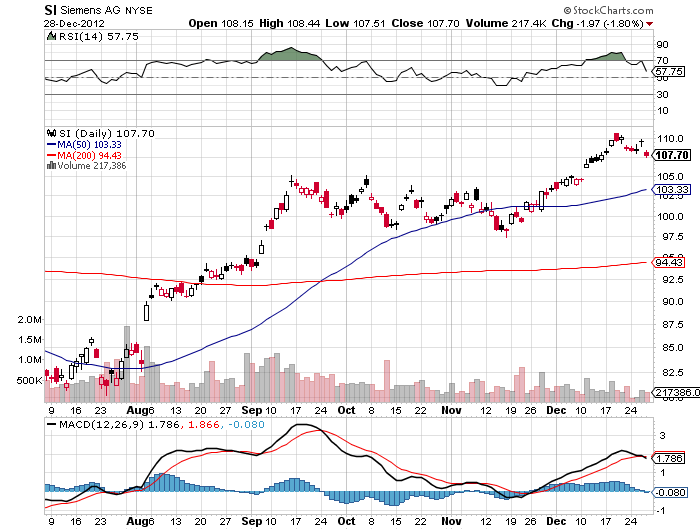 Stocks that can be bought as they reclaim their 10 week SMAs and their buy stop spots are CNK 25.75, AEO 20.55, FIS 34.80. RRC can be bought with a buy stop above its 200 day SMA at 63.90. Others that can be bought as they retake their 10 weeks are LGF 16, CBD 45.70, TOL 32.40, LL 53.25. BWA can be bought as it retakes its 40 week at 71.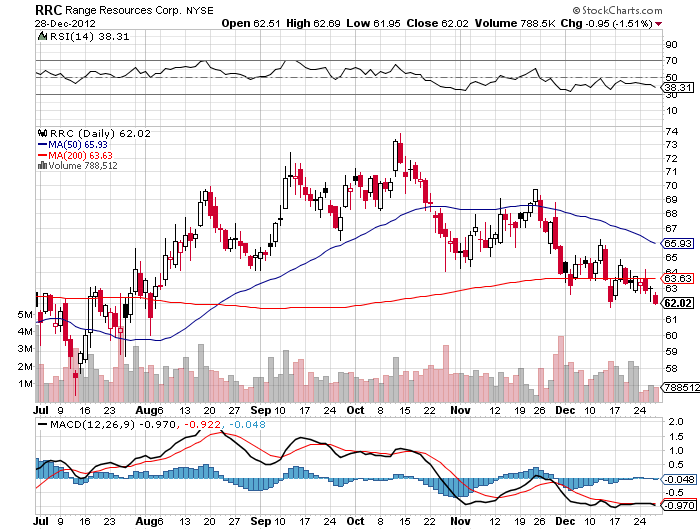 Stocks that can be viewed as shorting opportunities are MAT AON DVA. MAT, which recorded a 36.35 flat base breakout on 10/16 now seems to be faltering. Apparently winners in this space are almost non existent as HAS, and even DIS have been performing poorly. MAT is now down 7 days in a row, and I would look to short at 10 week resistance near 36.65. AON has been sporting a lot of distribution as of late, being down 4 of the last 5 weeks. It has been up just 7 of the last 25 days as well. A short entry near 10 week resistance of 56 seems prudent. DVA has been down now 4 of the last 6 weeks, with two of those in enormous trade (weeks ending 11/30, 12/7). It is encountering 10 week resistance issues the last 3 days, and stay short as long as that 10 week remains stubborn, and look for a move to its 200 day SMA over the near term.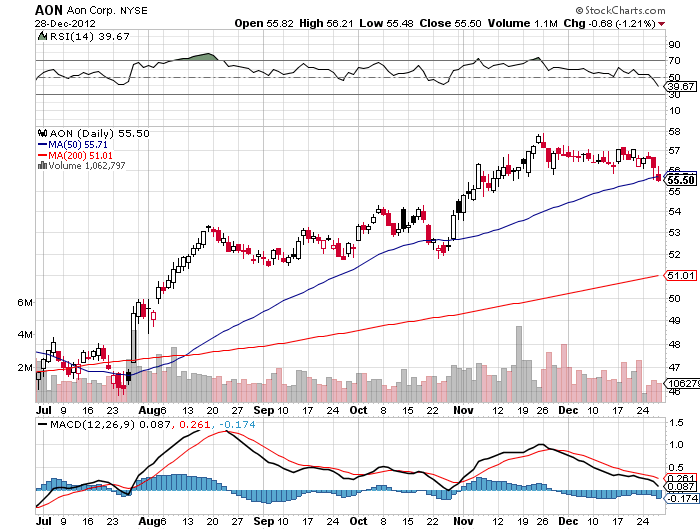 Good luck.
The author owns BSMX NRG TTM INXN.