Markets enjoyed their best weeks in more than a year, as both the Nasdaq and S&P 500 rose more than 4.5%. You can make the case that the S&P 500 broke out of a double bottom with handle base just above the 1448 level 1/2. The Nasdaq looks mighty impressive as it tightly digests its own 3% bullish gap up that same day. More breakouts came Friday as HUN CBOE took out flat base triggers of 17.27 and 31.05 respectively. AGO took out a 14.90 double bottom with handle trigger as well. Some bigger names like UNP took out a 129.37 flat base trigger on soft trade, but can confirm the breakout in the coming days, potentially mirroring the moves of LCC KSU. LCC took out a cup with handle trigger of 13.85 on 1/2, and volume confirmation came Friday. KSU took out a double bottom with handle trigger 1/2 also, with volume validation coming the next day. Looking back on the spectacular week, the group that impressed me the most were the financials. Rarely will bull markets exist without their participation. XLF had a banner week rising almost 5.5% to levels not seen since February 2011. BK recorded a very bullish reaction Friday to a downgrade, registering an outside day and rising almost 3%. ZION took out a 22.03 cup with handle pivot, and GS JPM are now resting at fresh 52 week highs. AB took out a short flat base trigger Friday as well at 18.39. Will the market continue to deposit gains, pun intended in 2013? A look back at the first week of trading for the Nasdaq going back 3 years, shows gains in 2010 of 2.12%, 2011 1.9%, 2012 2.65%. Markets yearly gains in those corresponding years were 17%, -2%, 16%.
Stocks that can be bought as they take out the following specific triggers on firm trade are flat bases MTB 105.43, OII 58.63, SLM 18.09. Double bottom is WSM 46.99. Other flat bases are LMT 96.02, BAX 69.01, LINTA 21.05, CIB 69.60. Other cup with handles are VCLK 20.25, NKE 53.22, CNI 92.62, VIP 11.05, XYL 27.77. FISV has a 81.36 3 week tight trigger.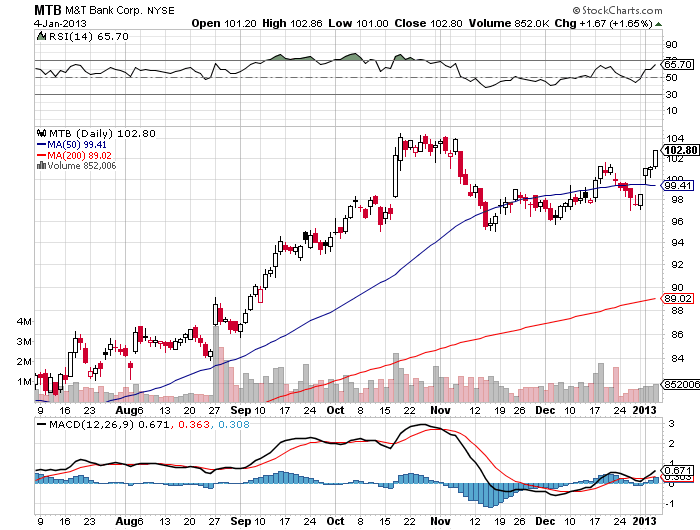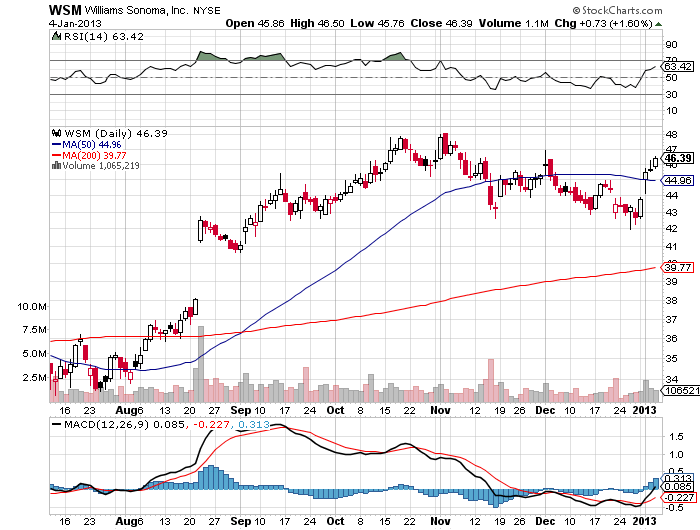 Stocks that can be bought as they retest prior breakout triggers, which is not uncommon, are ABC MGA AKAM. ABC took out a 43.57 flat base trigger on 12/17, in a long 17 month pattern. It has been up 5 of the past 6 weeks, 4 of them in better than average weekly volume. It now rests at an all time high, which peer mates MCK HSIC are as well. MCK is just below par, and above its most recent cup with handle breakout pivot of 96.18 it took out 12/11. MGA took out a 49.70 flat base trigger on 12/17, but volume confirmation came on Friday. The group as a whole is really getting its act together as F as has risen 21% over the last 3 weeks, in bulging volume each one. I still own TTM, which now has the appearance of building a handle on its cup base. It needs 3 more days to complete it. AKAM is right at its 40.42 flat base trigger it took out 12/18. Dating back to April 2011, there had not been a close above the 40 level on the daily or weekly chart until the breakout day. And the round 40 handle has been defended well ever since. RAX ARUN in the group are looking very impressive, with ARUN resting just above the 21.69 cup with handle trigger it took out 1/2. Look for volume confirmation in the coming days on ARUN.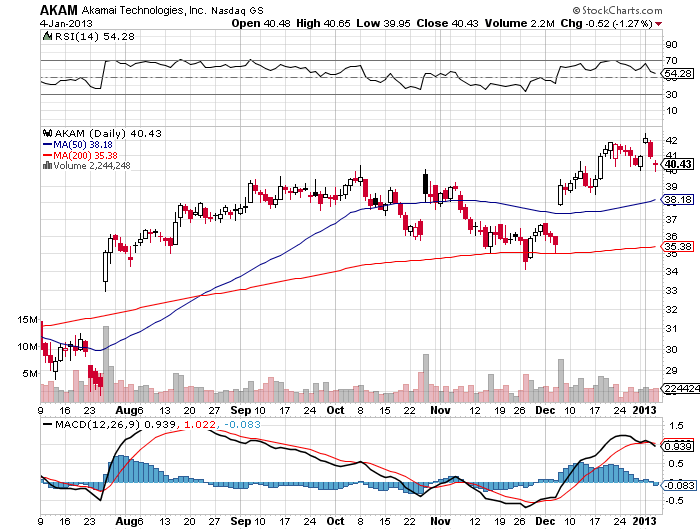 Stocks that can be bought as they reclaim their 10 week SMAs and their buy stop spots are GPS 33.35, CNX 33.20. Stocks that can be bought as they reclaim their 40 week SMAs and their buy stop spots are RHT 55, HXM 14.15, PNC 60.90. AN CLX G retook their 10 weeks Friday, while ADM IPI regained their 40 weeks.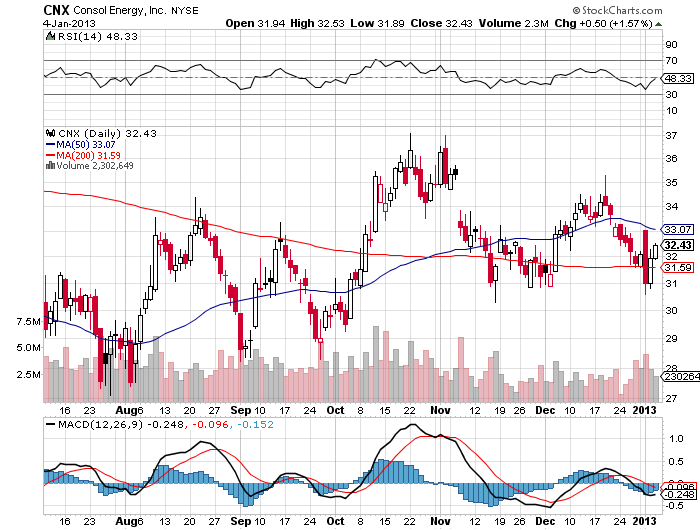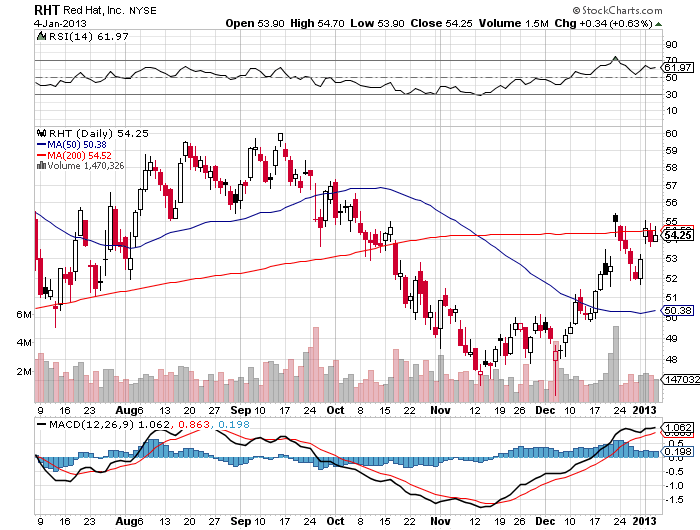 Stocks to be viewed as shorting opportunities include LTD GME UA. LTD which has been sporting a wide and loose chart, which is more failure prone. It has been lower for 5 consecutive weeks, and has met 200 day SMA resistance for the last couple sessions. Take a shot at shorting into strength near 10 week resistance at 46.10. GME has witnessed lots of distribution as of late. It is still just above its 24.59 cup with handle breakout pivot on 11/16, but that is looking tenuous now. Short near 10 week resistance at 25.25, with a stop at 26. UA, which has played the role of NKEs redheaded stepchild, hit strong 10 week resistance today in heavy volume. The stock is down more than 19% (almost its own personal bear market) from its 52 week high, while NKE is right at its own 52 week high. Short at 10 week resistance near 51.30, with a tight stop. Cover a dollar higher, for if its 40 week SMA is taken out above 52, a potential double bottom trigger develops.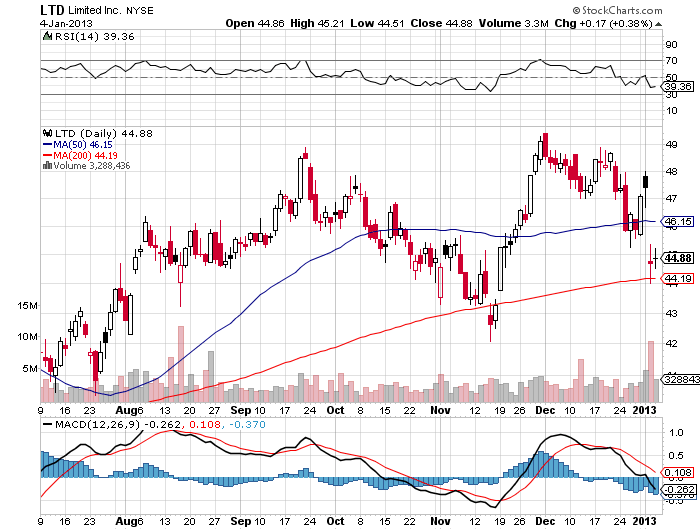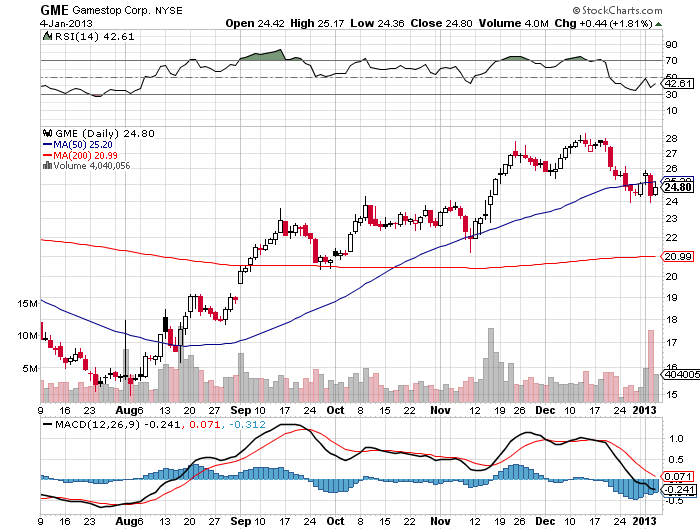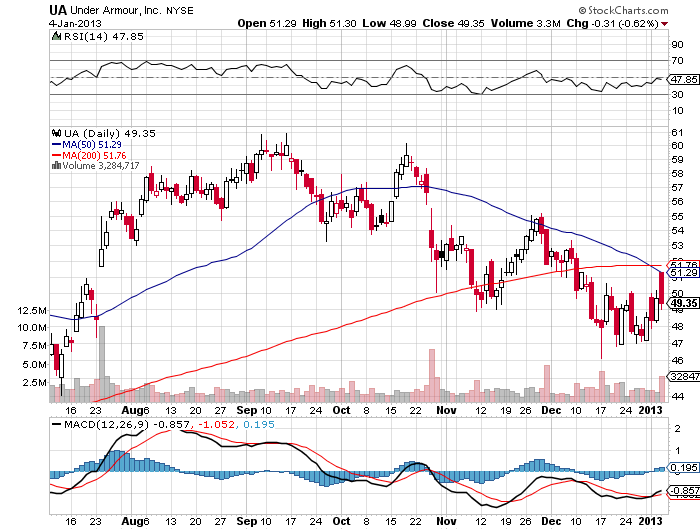 Good luck.
The author owns BSMX NRG TTM INXN. We were stopped out of CDNS for a 30 cent loss. A stock that breakouts and immediately behaves as poorly as this one did deserves to be shed. You can always reenter, but remember the best breakouts work right away, especially in this type of bullish environment.