ChartSmarter recently moved to a subscription model.  Please visit the Membership Information page to learn more about the membership options.  Thanks again to all of my loyal readers – I couldn't do this without you.
Markets had their frist winning session of the week. A look at the weekly chart on the Nasdaq shows just how tight the trading has been, especially after all the volatility we have encountered as of late. The bullish day recorded a few  mild breakouts. PFE took out a 26.19 flat base trigger, and WM edged past a 34.55 double bottom with handle pivot. Both came in soft trade, so look for volume confirmation in the coming days. An example of that occurring today was the volume confirmation with XL  today, from its 25.88 flat base breakout last Friday. I am increasingly becoming fond of international stocks as of late. Today looking southward to Brazil BRFS took out a 21.80 cup base trigger in a 9 month base. VIV looks to be undergoing a trend change. In Mexcio, we have been fans of FMX , which hit an all time high today, after last months 98.20 flat base breakout on 12/3. Volume confirmation came a a week later on 12/10. TV is within a couple handles of an all time high it hit in early 2007. Its performed admirably since pushing past a 24.98 flat base trigger on 12/7. Becoming country specific, Russia, via the RSX is one day away from completing a bullish cup with handle formation. Viva Brazil, Mexico and from Russia with love.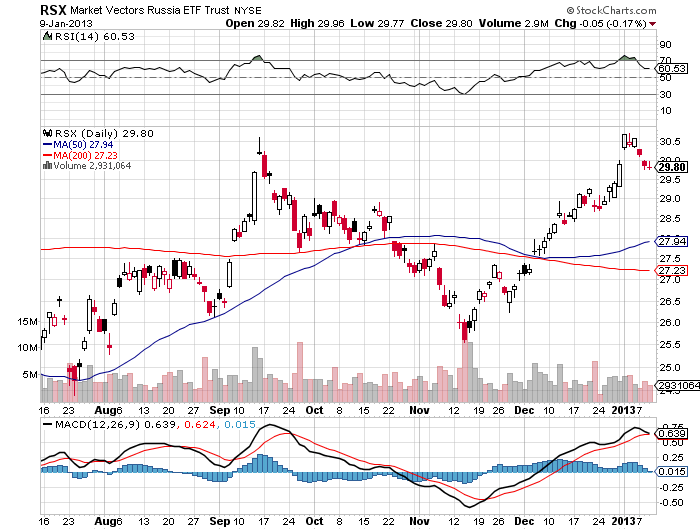 Stocks that can be bought as they take out the following specific triggers on firm trade are cup with handles TKR 50.75, SWK 76.06. Flat base is ALL 42.91, and AMCX 54.14 in a double bottom base. Other cup with handles are VCLK 20.25, HRS 50.45, NKE 53.22. Other flat bases are NBL 105.56, SLM 18.09, BAX 69.01, JAH 55.87, AXP 61.52, MTB 105.43, PIR 21.34. Other double bottom is WSM 46.99. WFC has a double bottom with handle trigger of 35.29.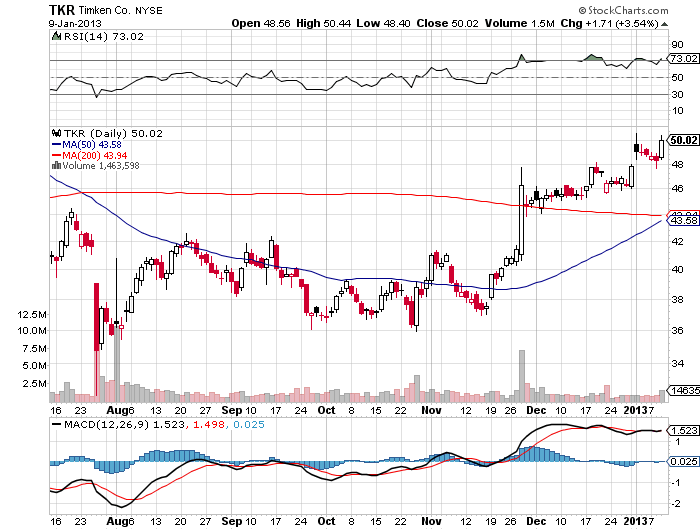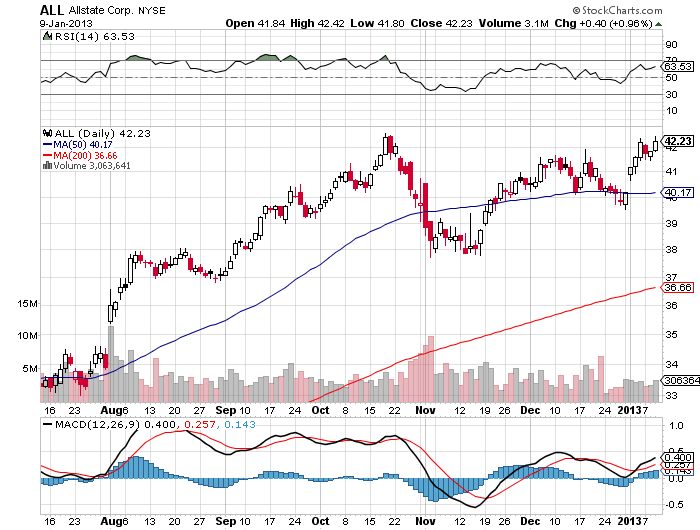 Stocks that can be bought as they retest prior breakout triggers, which is not uncommon (KSU tested it 84.26 double bottom with handle yesterday), are HDB CBOE KKR. HDB took out 39.42 flat base trigger on 11/22. The stock hails from the strong international banking center. It just closed at 10 week support today at 40, which can be considered as being in "buying range"as well. That occurs when the stock tests 10 week support for the initial time following a breakout. IBN, its country peer is hovering above its prior 42.59 flat base trigger it took out on 12/5. CBOE took out a 31.05 flat base trigger on 1/4. The stock has benefited from the merger announcement of group mate NYX. FISV in the group hit an all time high today taking out an 81.36 3 week tight trigger. Look for stronger volume going forward. KKR  took out a 15.55 flat base trigger on 1/2. BLK AB both have taken out recent triggers in the group of 209.47 and 18.39 respectively.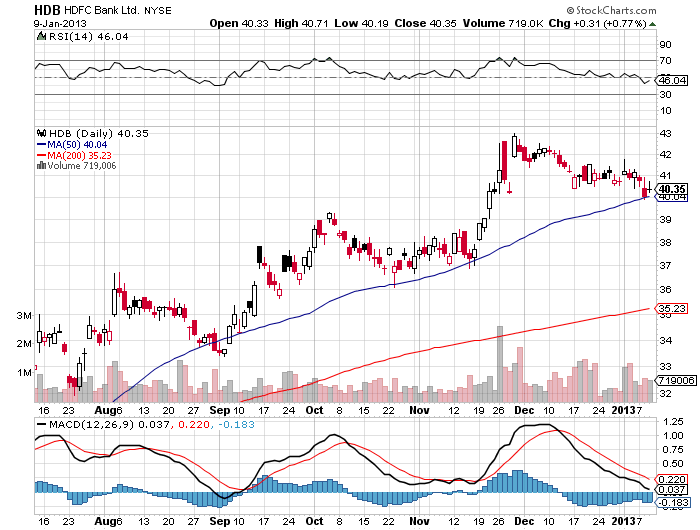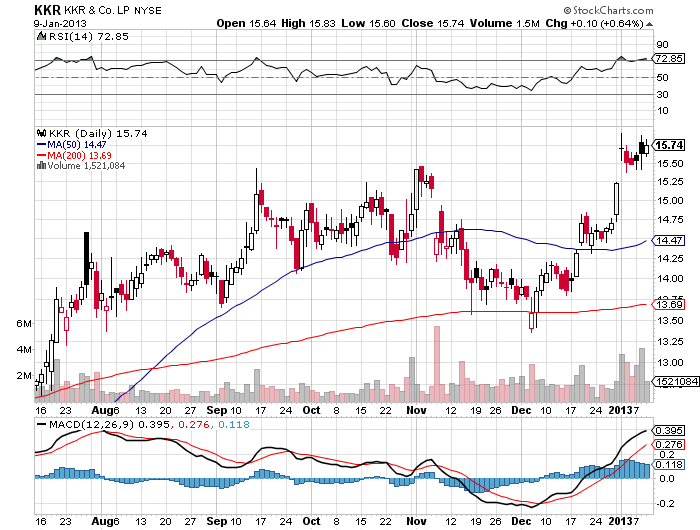 Stocks that can be bought as they reclaim their 50 day SMAs and their buy stop spots are KR 25.80. Stocks that can be bought as they reclaim their 200 day SMAs and their buy stop spots are BBT 30.50, ARCO 14.35, WMS 18.90, SAVE 19.40. Others that can be bought as they reclaim their 200 day SMAs are VMW 95.50, WWWW 16.25, SIMO 15.10, AUY 16.85.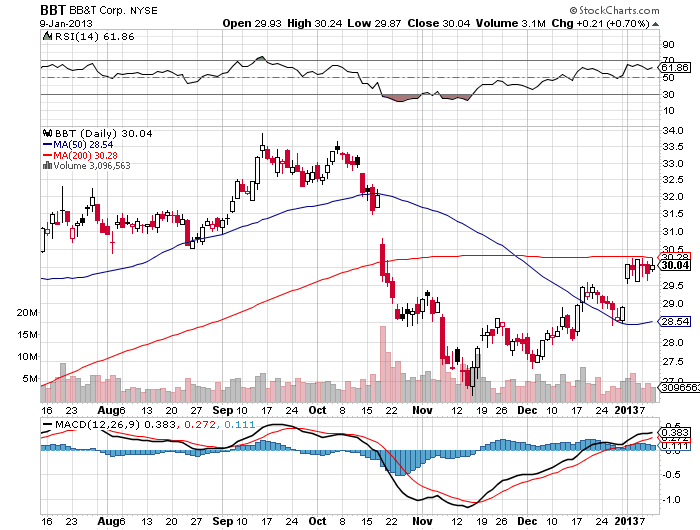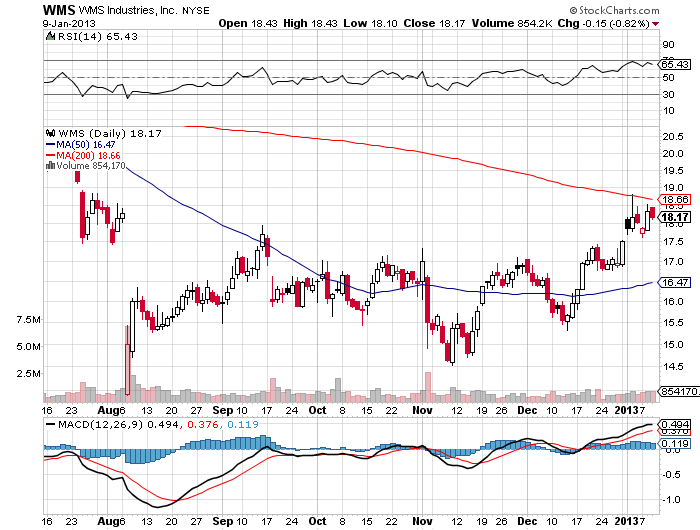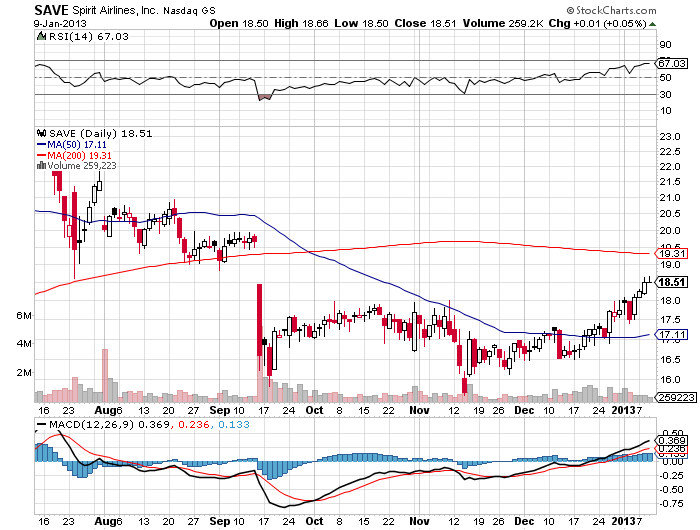 Stocks to be viewed as shorting opportunities include CHS PBR SWN. CHS has been demonstrating distribution on its daily chart. Today it slumped % on a lukewarm tape. Look to short into any strength back near 50 day resistance at 18.45. Make sure it closes below that aforementioned pivot. PBR has been a real energy laggard. It has met persistent 50 day resistance the last couple of days, and I could endorse a short here, with a stop above 20.30 on a closing basis. SWN  is resembling the look of a head and shoulders pattern. I am personally bullish on natural gas, but this could be shorted below its 200 day SMA with a sell stop below 31.75. Only hold the position if the stock closes below that long term trend line.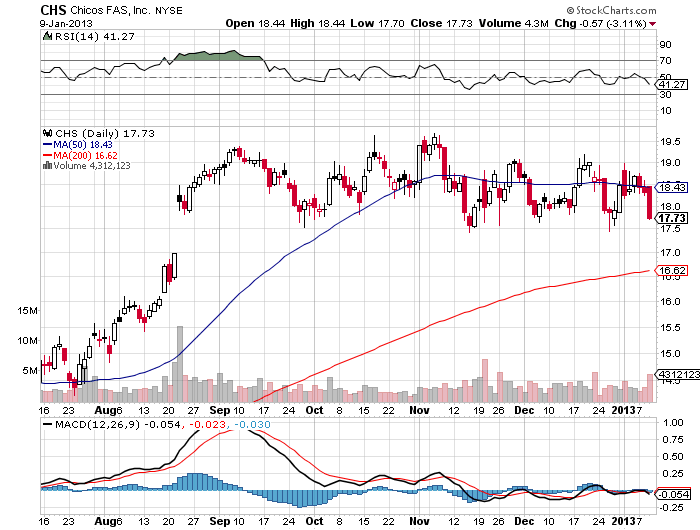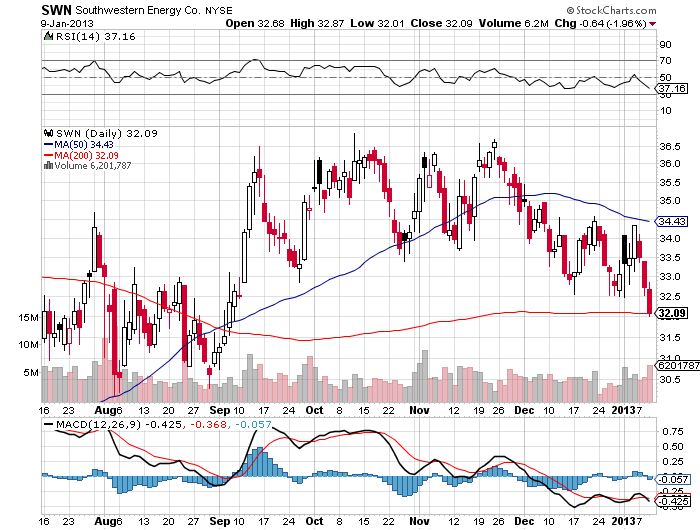 Good luck.
The author owns BSMX NRG INXN. I sold TTM at 30.45 near the close , which I purchased 12/17 at 27.26 as it took out a 27.10 flat base trigger for an 11% gain.