ChartSmarter recently moved to a subscription model.  Please visit the Membership Information page to learn more about the membership options.  Thanks again to all of my loyal readers – I couldn't do this without you.
Markets ended the week ahead of the long weekend up for the third consecutive week. The S&P 500 rose almost 1% for the week compared to the Nasdaq's .3%. Both benchmarks are now up every week this year, and the S&P 500 edges out the Nasdaq on YTD performance as well by a 4.2% to 3.8% margin. Each day this week the markets have been making it a habit of going out on the highs, rejecting early weakness more than a few times. Classic bull market characteristics. Friday brought some more breakout fuel to the rally fire with ROC taking out a 52.07 cup with handle trigger, COV a 60.91 flat base trigger, and WTR a 26.76 cup with handle trigger. Strengthening sectors seeing some rotation into them this week included the transports, and internet groups. Heavyweights KSU NSC report earnings Tuesday. The 800lb gorilla (losing weight rapidly) reports on Wednesday. The stock mired in its own personal bear market, down 30% from recent highs, comprises more than 8% of the Nasdaq. You have to come away impressed with the YTD performance of the Nasdaq, shrugging that statistic off. Comparing some household, individual names that we came across charting, are KO PEP. For those of you old enough to remember the Coke/Pepsi challenge back in the day, KO always won hands down in my opinion. The stocks are telling a different story decades later however. PEP up 10 of the 12 trading days this year, is carving out the right side of its base nicely, while KO is perhaps losing some fizz, is trying to play catch up. Karma in the Coca Cola?
Stocks that can be bought as they take out the following specific triggers on firm trade are flat bases BUD 91.31, HLS 25.09, cup with handle is NRGY 20.53, and 3 week tight trigger is TV 28.18. Other flat bases are CLR 84.29, KRFT 48.10, MTB 105.43, LMT 96.02. Other cup with handles are HRS 50.63, TS 43.06, ST 33.96, APC 79.03, TKR 50.75, IPG 12.08, CCK 38.62, SUSQ 11.32, TWTC 26.99, VCLK 20.25.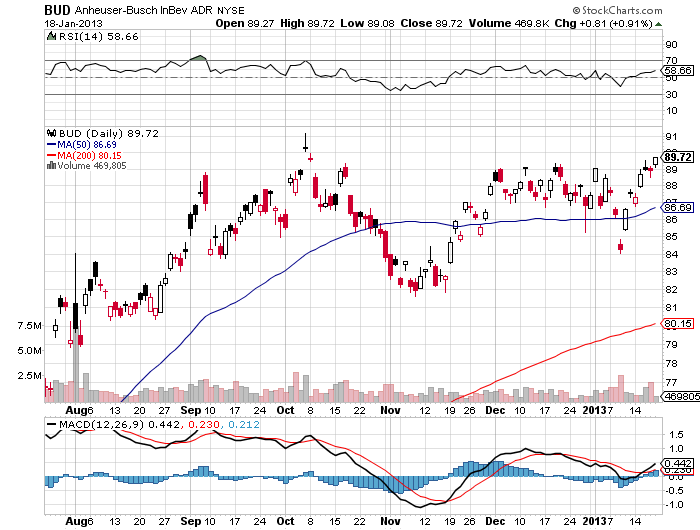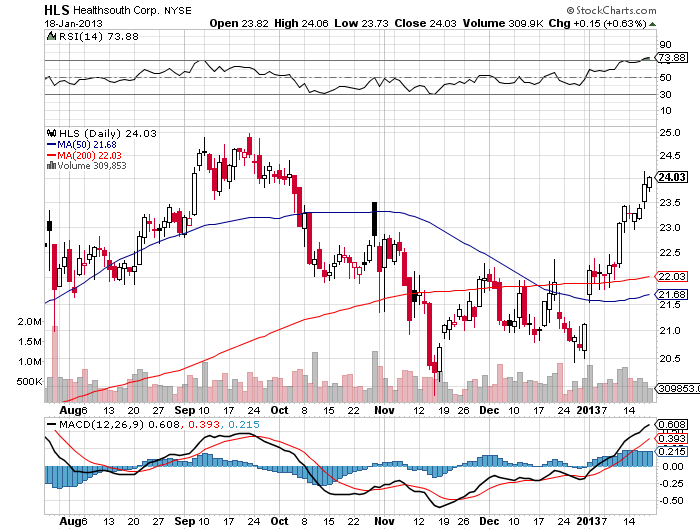 Stocks that can be bought as they retest prior breakout triggers are PFE LCC ODFL. PFE took out a 25.89 cup with handle trigger on 1/2. Volume was slightly above average that day, and large, mega cap companies can be excused somewhat on the volume threshold. Stocks in the group have been acting mixed. LLY finished just past a 53.63 cup with handle trigger Friday. Volume was non existent. JNJ edged past a 72.84 flat base trigger Friday as well, with decent volume. BMY and MRK have been laggards, but are trying to cure themselves, pun intended, by building double bottom triggers of 34.65 and 45.59 respectively. LCC took out a 13.85 cup with handle 1/2. Airlines as we know have been in the news with the BA 787 issues. But the pure play stocks in the group have all been acted well. ALK is trading ahead of its 43.17 3 week tight trigger it took out 12/11. LUV flew past a 9.92 flat base trigger on 12/11, and DAL took out a 12.08 cup with handle trigger 1/2 with volume confirmation the following day. ODFL hails from the solid transport group and took out a 35.23 flat base trigger 1/2. The stock rose almost 2% on the week on big volume recording a bullish outside week in the process, and survived two downgrades during the week as well. Impressive.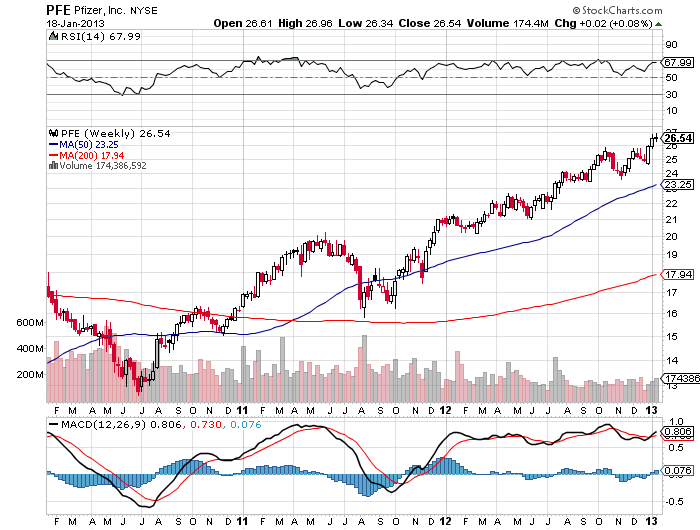 Stocks that can be bought as they reclaim their 50 day SMAs and their buy stop spots are CNX 32.45, AUY 18.00. Stocks that can be bought as they reclaim their 200 day SMAs and their buy stop spots are SBH 25.90, TPX 36.50, QLIK 22.50. Others that can be bought as they retake their 10 weeks are AOL 31.25, DDS 82.40, CBD 45. Others that can be bought as they retake their 40 weeks are CXO 90, JBL 20.20. BHI retook its 200 day Friday.
Stocks to be viewed as shorting opportunities are SWI CHL SLM. SWI was down everyday last week. The chart was resembling a bullish cup with handle trigger, but that handle is starting to look a little faulty. The chart has also become wide and loose, which is typically failure prone. Look to short with a sell stop below its 50 day SMA, and for it to close below 53.75. CHL is now below its 58.12 cup with handle trigger it took out on 12/20. Until its positive finish Friday it was down 5 straight days as well. Look to short at 50 day SMA resistance just above 57, if it holds on a closing basis, took look for a test of its 200 day SMA near 55, which it has visited 4 times since late May of last year. SLM was forming a bullish flat base trigger of 18.03. That seems now to have been interrupted after reporting earnings Wednesday. Look to short at 50 day SMA resistance if its holds on a closing basis at 17.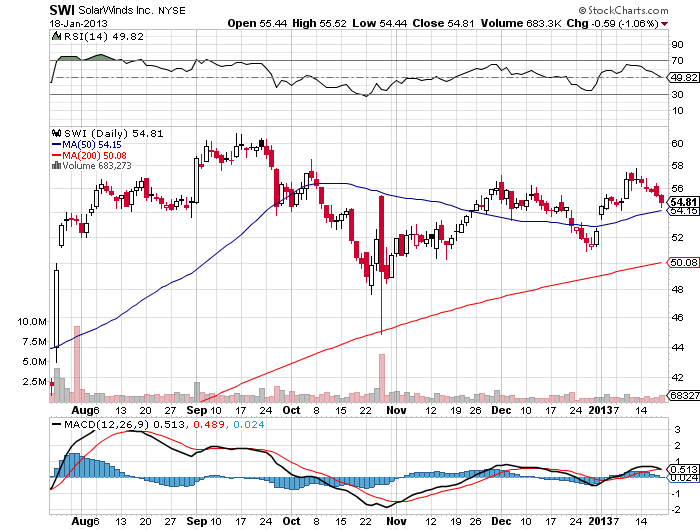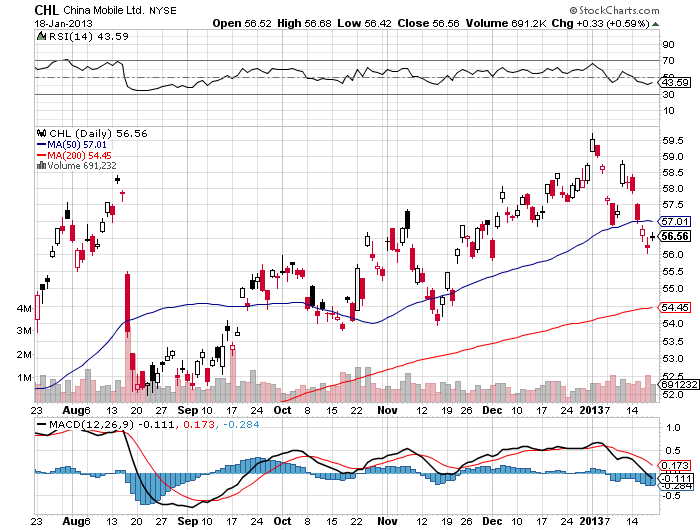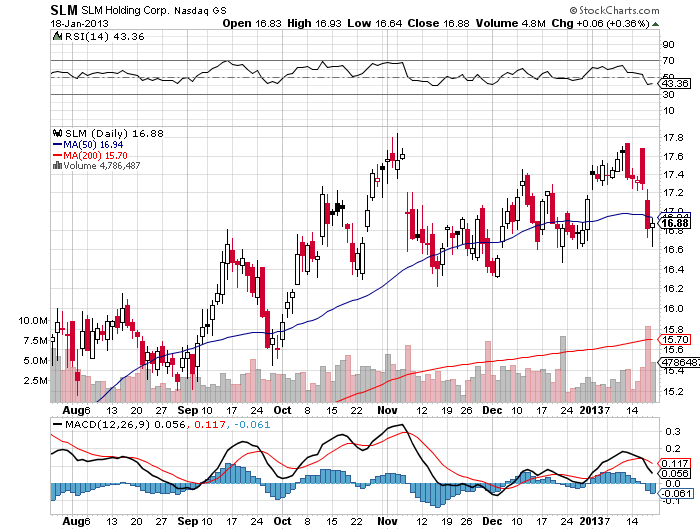 Good luck.
The author owns NRG DNKN. NRG cleared a 23.84 cup with handle trigger Friday on tepid trade. Look for volume confirmation if you want to enter in the next couple sessions. DNKN did clear its 35.25 cup with handle trigger Friday. Volume was above average on Friday and for the week. We will maintain our 34.55 stop on the trade.