ChartSmarter recently moved to a subscription model.  Please visit the Membership Information page to learn more about the membership options.  Thanks again to all of my loyal readers – I couldn't do this without you.
At the expense of sounding like a broken record, markets overcame early weakness to finish upon their highs. Perhaps complacency is setting in, but until the music stops, keep dancing. The hardest thing to sometimes do is to hold onto to winners as they advance, resisting the urge to take gains. Today we witnessed a couple more breakouts which are essential to market strength, coming from STX taking out a 35.81 flat base trigger, and KT an 18.04 double bottom pivot. Some took out triggers, but did so on weak trade. They include agriculture plays CF which advanced past a cup with handle trigger of 219.88, and AGU which took out a 108.52 flat base trigger. After the close, we had earnings from a few heavyweights which could impact at least the start of trade Wednesday. IBM GOOG, as this is written were higher by 4%, and CREE BY 14%. GOOG has carved out a 745.10 cup with handle trigger, and IBM has now taken out its 200 day SMA to the upside in after hours trading.
Stocks that can be bought as they take out the following specific triggers on firm trade are flat bases TAP 46.45, IRM 35.58. Cup with handle is TEF 14.83, and double bottom is HAS 39.11. Other flat bases are CLR 84.29, KRFT 48.10, MTB 105.43, LMT 96.02, HLS 25.09, BUD 91.31, AZN 49.37. Other cup with handles are HRS 50.63, TS 43.06, NRGY 20.53, IPG 12.08, VCLK 20.25, CCK 38.62, ST 33.96.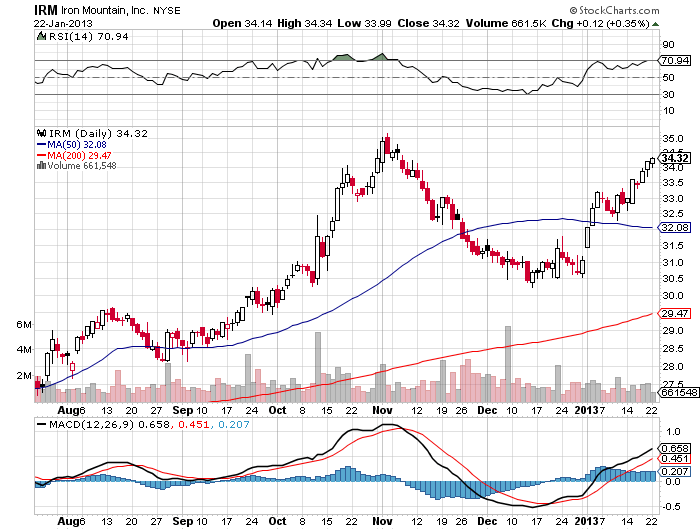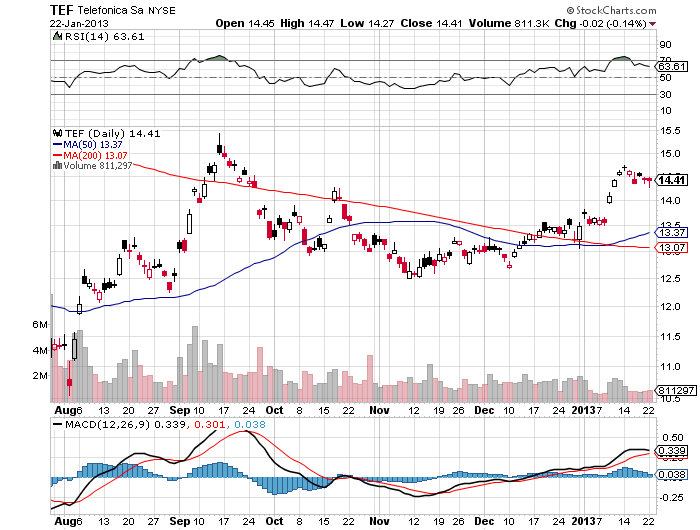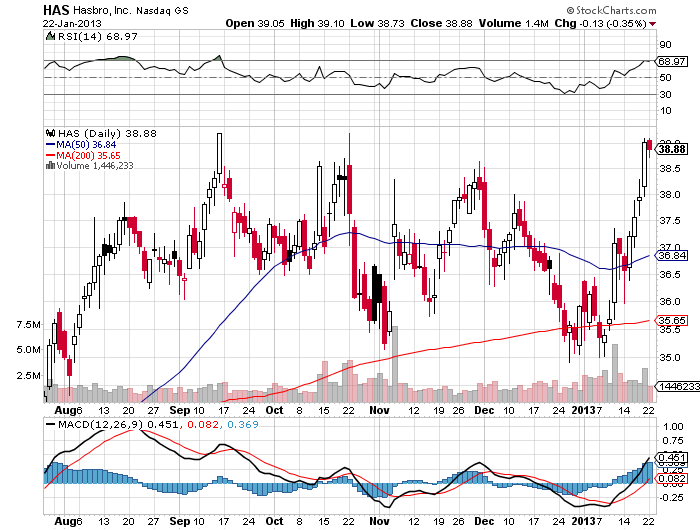 Stocks that can be bought as they retest former breakout triggers are INFY OHI RGLD. INFY took out a 50.09 flat base pivot on 1/11, on an earnings reaction. The stock has now held its bullish gap up for at least 4 days, which is a rule we like to follow to determine that the gap up is legitimate. It hails from India, where group mate CTSH has acted very well, and the country itself is performing handsomely, with ETF PIN just below a good looking 19.65 flat base trigger. OHI took out a 25.10 flat base trigger on 1/17, with volume confirmation coming the following day. Stocks in the sector doing well include PLD which is well ahead of its double bottom with handle trigger of 36.90 it took out on 1/2. REITs in other sectors continue to do well too with SKT nicely in front of its 34.19 flat base trigger it took out 12/27/12. RGLD which hails from the gold sector took out a 81.07 flat base pivot back on 8/21/12. The stocks pattern displays a nice bottoming pattern with support along the way at its 200 day SMA. If you want to play this one against its 200 day SMA close to 79, you are looking at some sweet risk/reward. 2 handles to potentially a move toward par, nearly 20 points away.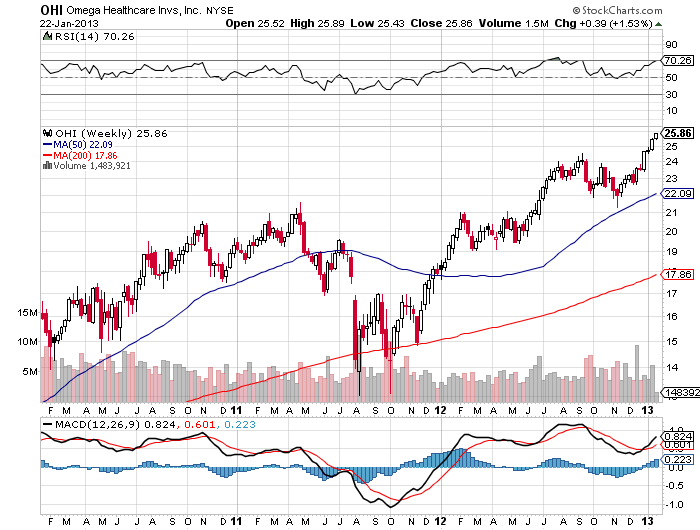 Stocks that can be bought as they reclaim their 50 day SMAs and their buy stop spots are DEO 118 (shrugged off a downgrade today), AFL 52.75. Stocks that can be bought as they reclaim their 200 day SMAs and their buy stop spots are DLB 32.20, VNTV 21.75, WWWW 16.30. Others that can be bought as they reclaim their 50 days are AOL 31.25. Others that can be bought as they reclaim their 200 days are JBL 20.20, QLIK 22.30, SBH 25.90. CNX retook its 50 day today, and UNH SAVE AVP retook their 200 days today.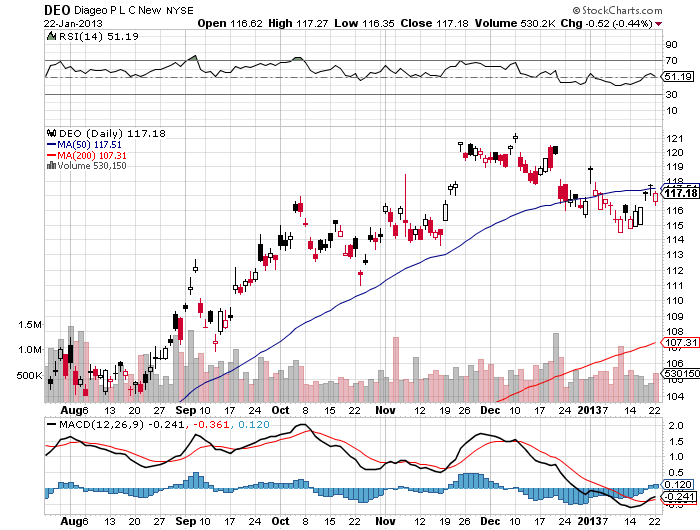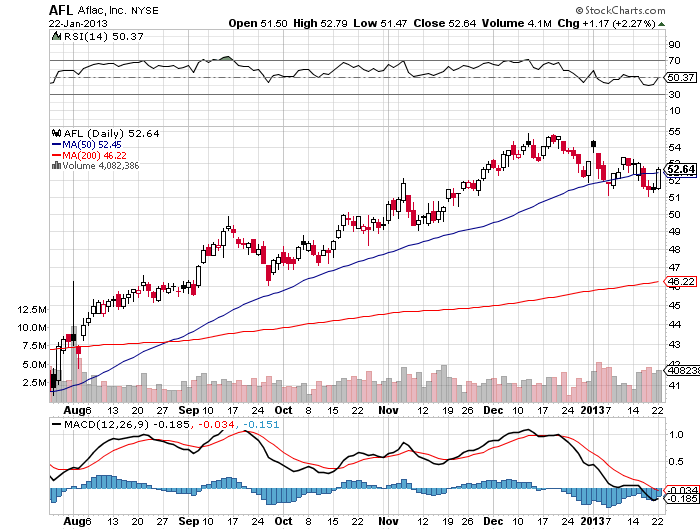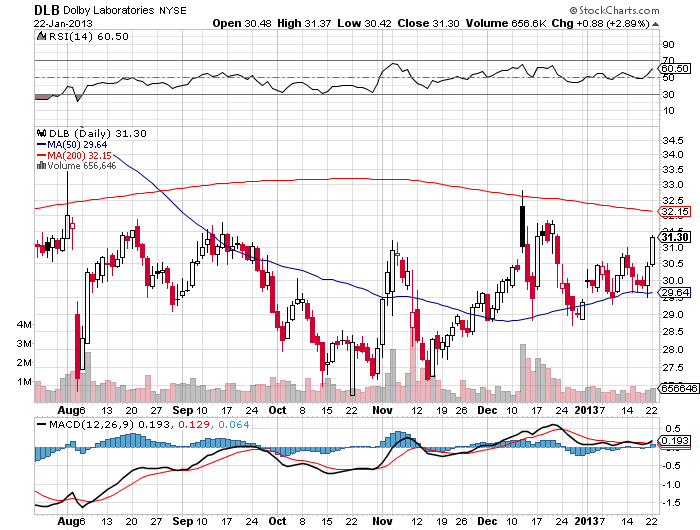 Stocks to be viewed as shorting opportunities are WSM SNPS DDS. WSM took out a 46.99 double bottom trigger 1/15 on very tepid trade. A red flag. The stock has now lost ground 4 straight days (as the S&P 500 has risen 4 consecutive days) and has met pesky 50 day SMA resistance. Look to short at 50 day resistance at 44.90, as long as it holds on a closing basis. SNPS has been wavering now and has under performed many of its tech peers. A look at its weekly chart looks decent, but on its daily the stock has quietly been under going some distribution. It lost 50 day SMA support on big trade, and lets short this at 50 day resistance at 32.30. DDS also lost 50 day SMA support today. Ever since a bearish reversal the first trading day of the year, the stock has been encountering problems. Lets short this one near 50 day resistance, as it has remained stubborn most of this new year at 82.20.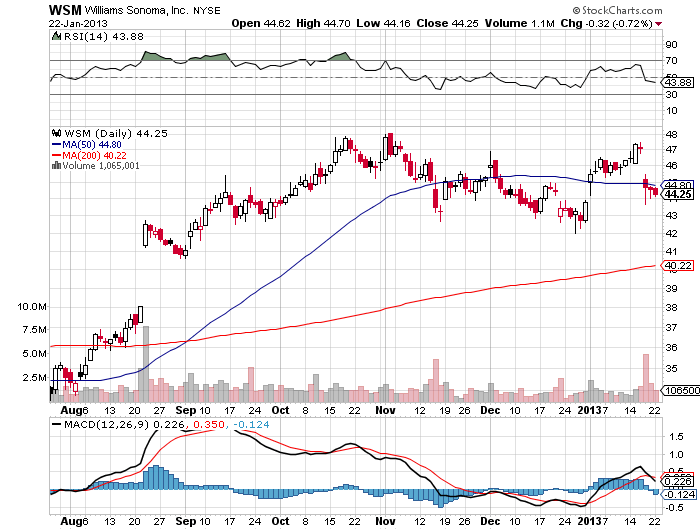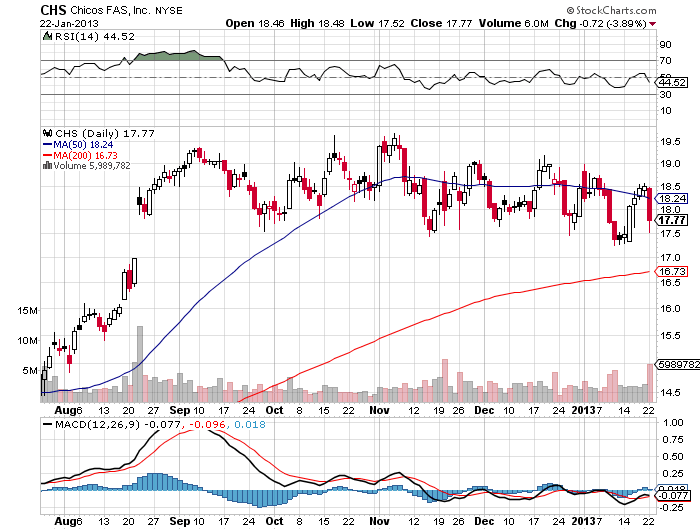 Good luck.
The author owns NRG DNKN AUY. We bought AUY at 18.06 as it reclaimed its 50 day SMA. Stop will be 17.55.