ChartSmarter recently moved to a subscription model.  Please visit the Membership Information page to learn more about the membership options.  Thanks again to all of my loyal readers – I couldn't do this without you.
Markets were mixed today, with the Nasdaq falling quite hard follwoing AAPL's miss last night. The S&P 500 eked out a very fractional gain, but did encounter trouble at the big round 1500 handle. Breakouts do continue to happen each and everyday it seems, and today brought cup with handle breakouts from PCAR THO, with pivots of 47.26 and 41.80 respectively. AZN rose past a 49.37 flat base trigger, and AVT took out a 33.58 double bottom pivot. TUP received volume confirmation today on yesterdays 67.92 flat base breakout pivot. I am starting to get mixed signals about this bull run, but my opinion means little. Remember its the tape that is omnipotent, and now we are ultimately judged. But although we continue to see a multitude of breakouts, more and more reversals are occurring. Today PAG turned back after taking out a 32.46 cup with handle trigger. ASH backed off after briefly running past a 86.76 3 week tight trigger. Leaders LMT ALK QIHU all had bearish outside reversals today. But we can not ignore the very benign action in the trannies. IYT is up 14 of the last 17 days, and volume the last 6 sessions has been monstrous. UPS had volume confirmation on its 80.63 flat base trigger it took out Tuesday. JBHT screamed higher by 7%. To sum up on a lighter note, HRL took out a 35.00 3 week tight trigger on limp trade. Is this market spammed?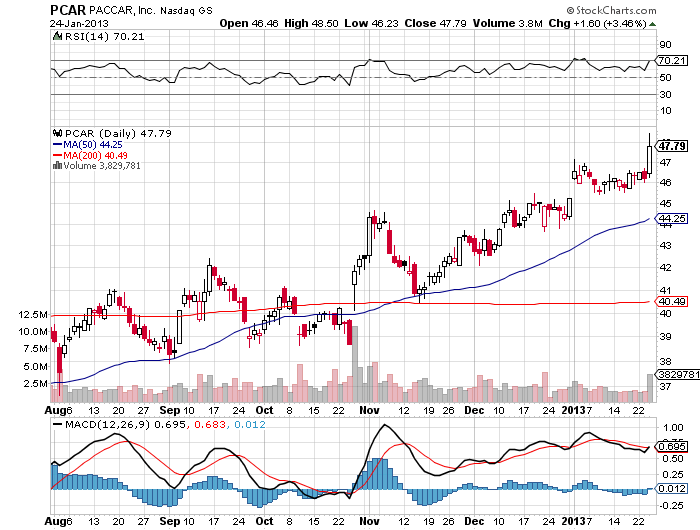 Stocks that can be bought as they take out the following specific triggers in firm trade are flat bases DVA 116.60, CB 81.90, ITUB 17.93, SF 36.54. Cup with handle is SMTC 30.22. Other flat bases are KRFT 48.10, MTB 105.43, HLS 25.09, IRM 35.58, BUD 91.31, TAP 46.45. Other cup with handles are HRS 50.63, TS 43.06, NRGY 20.53, TEF 14.83. 3 week tights are TSM 18.45, ASH 86.76, ADBE 38.88. Double bottoms are HAS 39.11, RRC 69.84, MRK 45.59.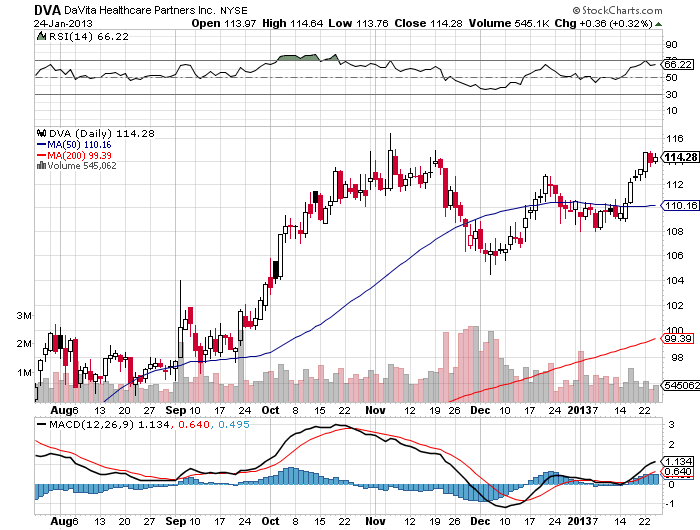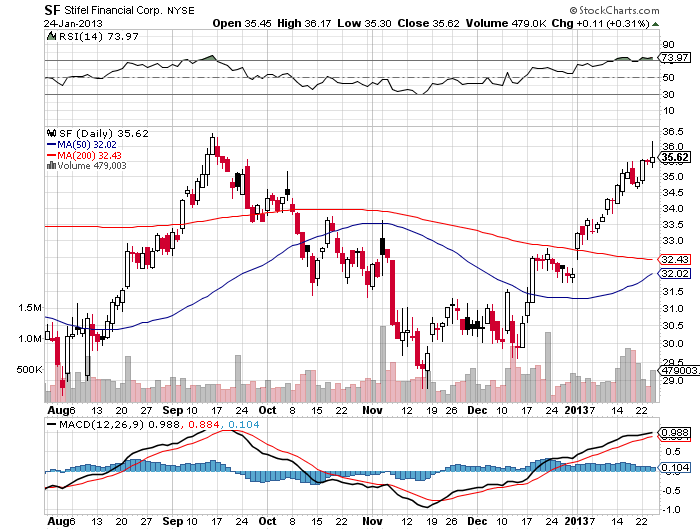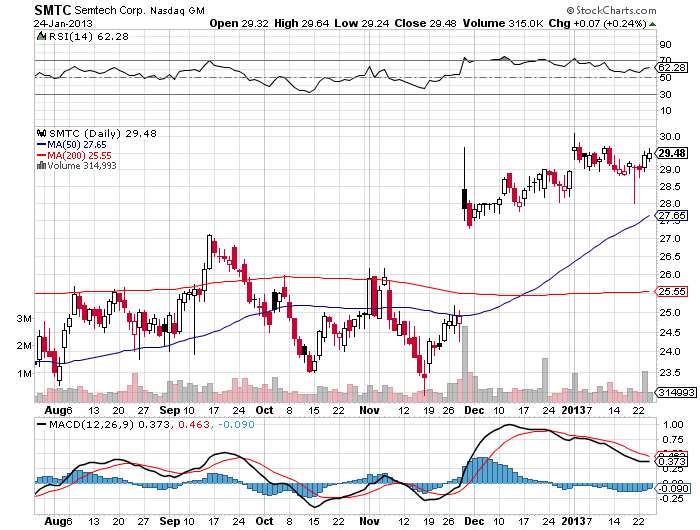 Stocks that can be bought as they retest prior breakout triggers are PIR FRC SI. PIR took out a 21.34 flat base trigger on 1/15. The retail group is sporting very few leaders right now, but PIR is certainly one of them. Others acting well are PVH which continues to trade very tightly near all time highs, and KORS which is trying to form a nice looking flat base pivot here. FRC took out a 35.16 cup with handle trigger on 1/16 following a nice earnings report. That is one less thing to worry about, in the midst of earnings season. The banks have been acting very well, both domestically and internationally. One I continue to watch and hope to get a chance to purchase a retest of is BK, which took out a 25.45 flat base trigger on 12/18/12. SI reported today and fell almost 3%. It took out a 105.24 flat base trigger on 12/11/12. That trigger almost coincides with its 50 day SMA, so that should provide some comfort. Volume was not substantial which you would think would accompany a bad miss.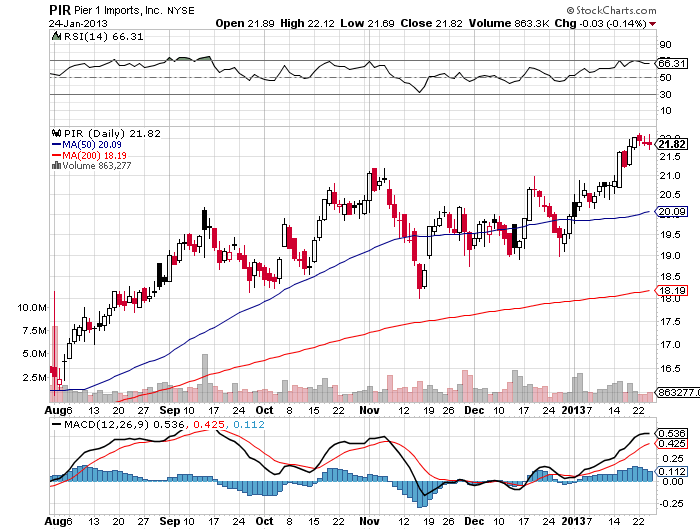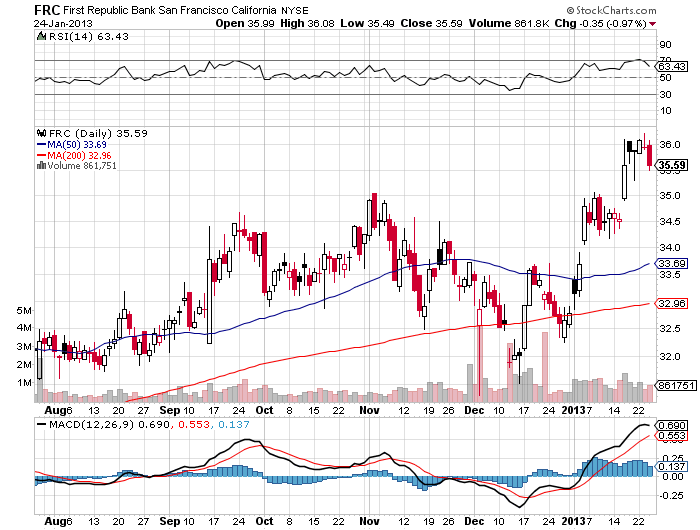 Stocks that can be bought as they reclaim their 50 day SMAs and their buy stop spots are BIIB 148, HAIN 57.25, HDB 40.80, CAKE 33.70. Stocks that can be bought as they reclaim their 200 days are JBL 20.20, DLB 32.20, VNTV 21.70, QLIK 22.30.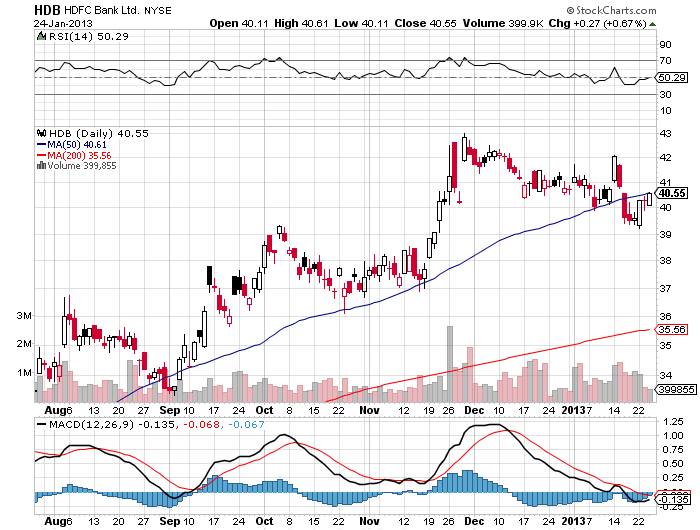 Stocks that can be viewed as shorting opportunities are LF DKS EVER. LF had a very large 30% correction in a short span last November on big trade. Something that sharp needs to be taken notice of. It looks like a short below its 200 day SMA with a sell stop of 9.40. It could also be a double bottom with handle formation as well, so demand a close below that 200 day SMA. DKS also looks as if it could be in the midst of a double bottom with a potential trigger of 50.91, but it hails from the weak retail sector. The chart has been wide and loose, which is more failure prone as well. And one of its biggest suppliers UA, has been a real dog as of late, down 4% today. Look to short below its 200 day SMA with a sell stop at 47. EVER looked like it was forming a sweet cup with handle until todays 5.5% downward debacle. Lets try and short below todays low at 14.50.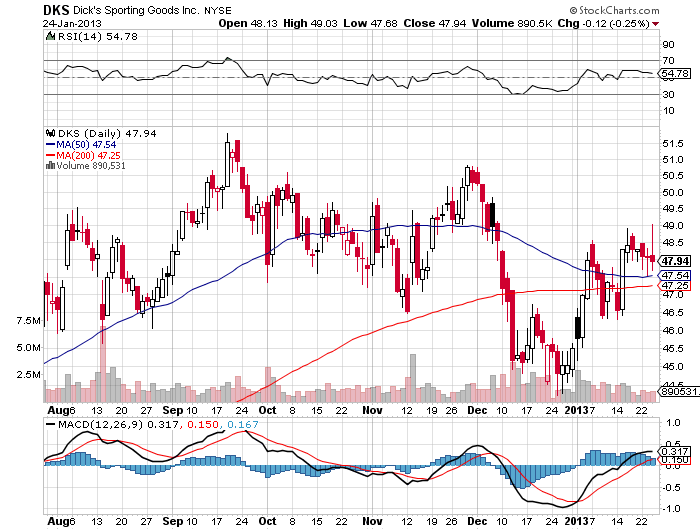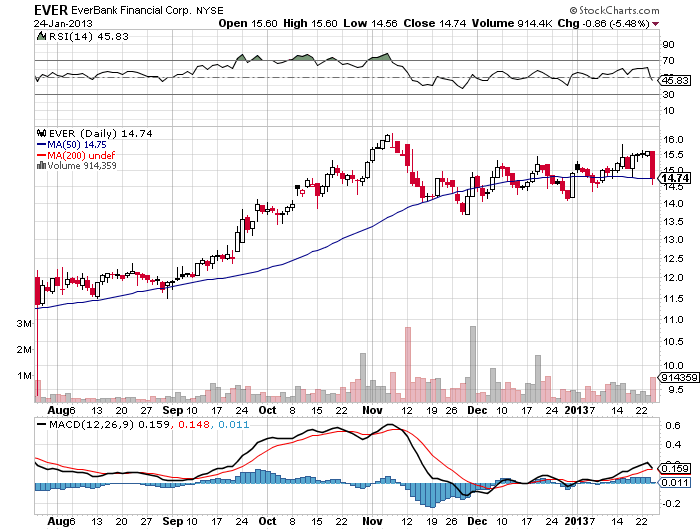 Good luck.
The author owns NRG DNKN. We bought ARUN as it took out a 22.91 cup with handle trigger this morning, and was stopped later in day at 22.36. We were also stopped on AUY at the open. A tough day for sure, and no way to sugar coat it.