ChartSmarter recently moved to a subscription model.  Please visit the Membership Information page to learn more about the membership options.  Thanks again to all of my loyal readers – I couldn't do this without you.
Markets briefly displayed some fortitude early on in the session following some surprising economic news at 830am, but finished near their lows for the session. As technicians we pay some, albeit little, heed to the fundamental noise. More concerning is the reaction the tape demonstrates in digesting the message. Markets closing on their lows is not a big vote of confidence, however, it could have been worse following the GDP contraction reported. More alarming to me is the action of stocks reversing intraday, following an attempted breakout. Today TOT reversed after taking out a 55.17 flat base pivot. CLR did the same after drilling past, pun intended, a 83.81 cup with handle. They were not huge reversals and could they go on to break out in the next couple days? Sure, but the prospects are faltering. Remember the best breakouts work right away. Legitimate breakouts were basically non existent Wednesday. SMTC should get the "close but no cigar" award, as it closed two cents below a 30.22 cup with handle trigger. Volume was accompanying the move, and will be watched Thursday to see if it can finish what it started today.
Stocks that can be bought as they take out the following specific triggers on firm trade are flat bases TWTC 27.96, DDS 85.57, OMC 54.86.
Cup with handle is ABT 34.04.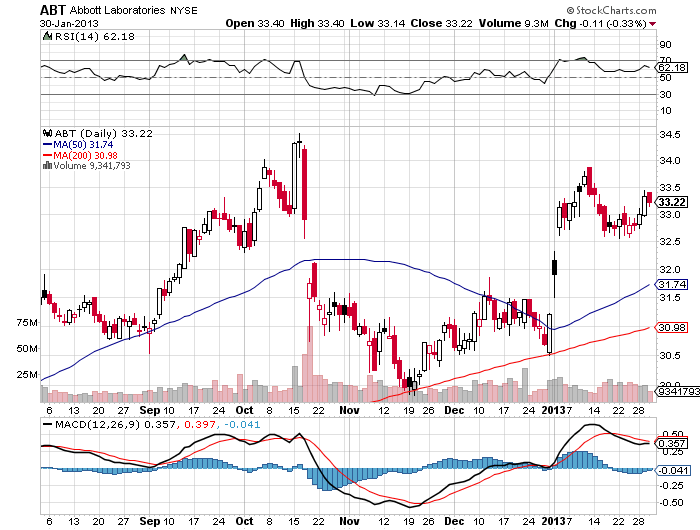 Other flat bases are TRIP 47.10, KRFT 48.10, BGS 32.94, BFB 66.96, IRM 35.58, HCP 47.85, TAP 46.45, PRU 60.08, KORS 58.72. Other cup with handles are TS 43.06, NRGY 20.53, TEF 14.83, GPN 50.83, WLL 49.22. Other double bottoms are MRK 45.59, RRC 69.84. Other 3 week tight patterns are TSM 18.45, WOR 28.70, and ADBE has a 4 week tight pivot of 38.88.
Stocks that can be bought as they retest prior breakout triggers are WRB XRAY MOS. WRB took out a 40.49 flat base trigger on 1/22. It hails from the insurance group which has been behaving quite nicely. Stocks in the sector holding their own include CB which has carved out the right side of its flat base and has an 81.90 pivot point. TMK has traded nicely also since taking out a 53.08 cup with handle trigger on 1/3. TRV continues to trade very tightly as well following a recent gap up.
XRAY took out a cup with handle trigger of 41.00 on 1/24. The dental group has been acting well, with stocks such as SIRO PDCO in the group smiling brightly, pun intended. SIRO, is a bit on the illiquid side, however it had a very clean, strong breakout from a flat base pivot point of 59.28 on 11/16/12. ALGN in the group is rounding out its bottom and looks poised to make a run to potentially reclaim its 200 day SMA to the upside.
MOS took out a 60.16 cup with handle trigger on 1/24 in sprouting trade. The agriculture group has performed pretty impressively as of late. CF, which used to be the undisputed leader in the group, but now plays a co role in that department. It took out a 219.88 cup with handle trigger on 1/22. AGU took out a 108.52 flat base trigger of its own on 1/22 too, with volume confirmation coming the couple days after that. Being the prepared trader that I am, MON is potentially finalizing a 3 week tight trigger depending on this Friday's close. Remember the pattern forms when a stock, after a recent breakout, runs up and for 3 consecutive weeks finish the week within 1% of each other. Add 10 cents to the high of the 3 week pattern for your pivot.
Stocks that can be bought as they test their 50 day SMAs after recent breakouts, where it is a good time to initiate a position if you missed the breakout itself are ECL PKG CSCO. ECL took out a 69.06 flat base trigger back on 10/17/12. Look to buy as it retests and holds (must close above) its 50 day SMA at 71.75.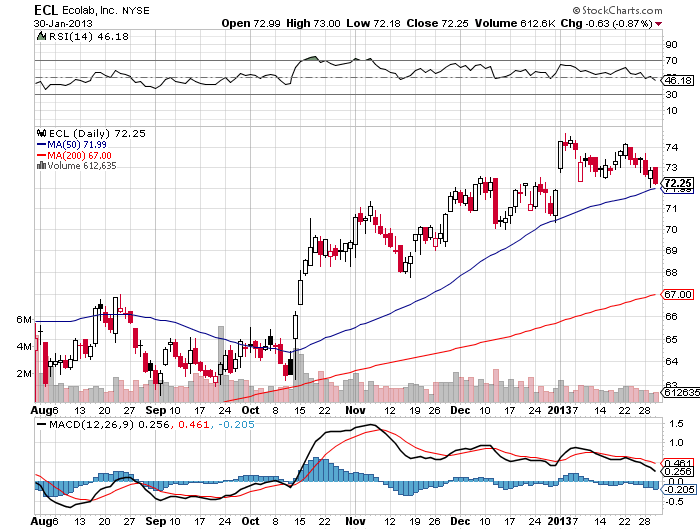 PKG took out a 36.78 flat base trigger of its own on 11/28/12. Purchase as close to its 50 day SMA at 37.70, and demand a close above that moving average.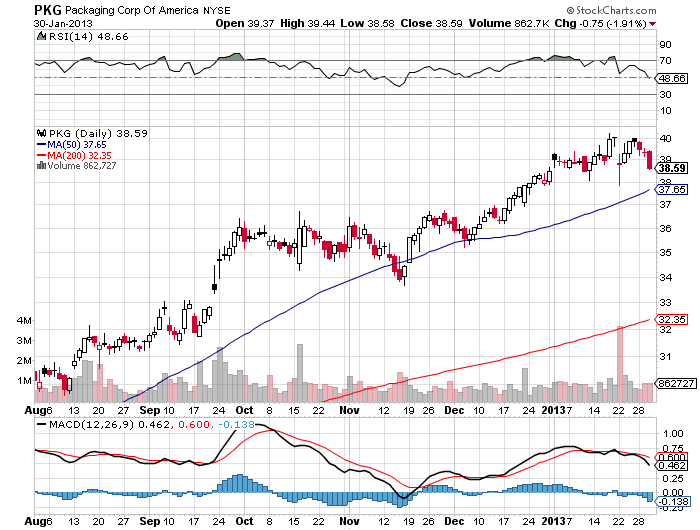 CSCO took out a 19.85 flat base trigger back on 12/14/12. It is closing in on a test of its own 50 day SMA at 19.90.
As many stocks are well extended from both their 50/200 day SMAs, I added the paragraph above. Remember you can put buy stop spots in on CAVM at 32.85, and MYGN at 28, as they reclaim their 50 day SMAs. MDRX can be bought with a buy stop at 11.50, as it reclaims its 200 day SMA.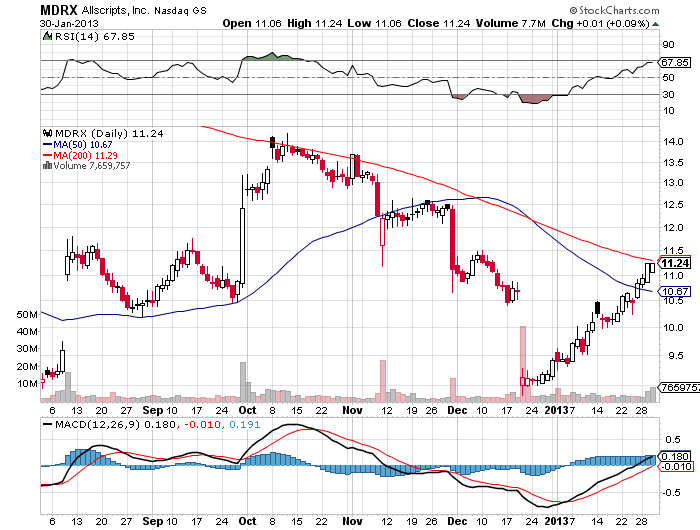 Stocks we are viewing as shorting opportunities are DSW INXN VFC. DSW was giving the appearance of rounding out a 72.10 flat base trigger. It has now closed down 5 of the last 7 days, and is clinging to tenuous 50 day support. The daily chart sports wide and loose action which is failure prone. Look to short below its 50 day SMA with a sell stop of 65.60.
INXN received a Citi downgrade yesterday, and the chart has been witnessing some distribution as of late. It looked solid after taking out a 22.95 double bottom trigger on 12/18/12. Perhaps it can be given the benefit of the doubt but I can not argue with those who would stay short this name as long as it remains below 23.25. It is currently grappling with 50 day SMA resistance.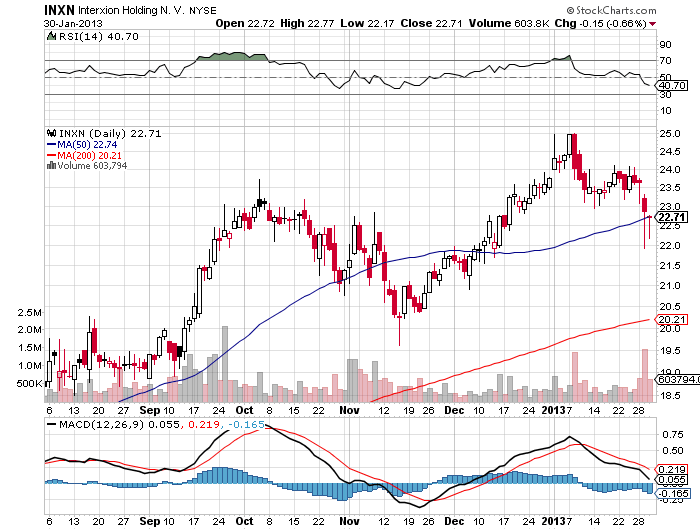 VFC since last December has been lagging the retail sector as it struggles to get back above its 200 day SMA. The stock on its weekly chart looks troubling. 4 weeks brought heavy selling, and those weeks finished in the bottom of their weekly range. Look to short back near 200 day resistance at 149.
Good luck.
The author owns NRG DNKN.