Markets lost ground this week to the tune of 1.5% for the Nasdaq, and 1.7% for the S&P 500. The S&P 500 seemingly had altitude sickness above the round 1800 level and its daily chart is sporting a bearish rising wedge pattern. It has now lost ground 9 of the past 11 days and many of those down days came on accelerated trade. It is nearing a 50 day test about 1% lower from here. The Nasdaq looks technically better, and still commands an 8% point gain above the S&P 500 up 34.5% YTD, as it holds the round 4000 handle. This weeks 1.5% loss comes on the backs of two separate railroad track patterns the weeks ending 11/15-11/22 and 11/29-12/6. We did mention the fact that solid breakouts have been scarce and the benchmarks path to least resistance does feel lower. Indexes this week ignored some decent economic data, and when markets do not respond well to benign developments that often is a tell. Decent employment figures, rosy retail sales figures, have all led to fears over the dirty tapering word. For those who believe the tapering is baked into the cake, they may be misaligned. But the train is still humming along, although this week it did need a rest stop and maybe an oil change and tune up, and it will be interesting to see if additional repairs are needed and how the market responds going into year end which is traditionally a strong period. Strong GDP growth of 3.6% in Q3, has me a bit skeptical. News this week that rents have dropped for a third consecutive month in New York City is one reason. Lets see where the markets reside next week, pun intended.
Stocks that can be bought as they take out their 50 day SMAs and then be added to through future base pivot points are TSLA BAH. TSLA has had a monster year up well over 300% in 2013 and is obviously part of the auto group. This stocks up and downs have brought the entire group with it, and perhaps its recent rebound will add some appeal. After an enormous 40% decline on a 5 week losing streak between the weeks ending 10/25-11/22 TSLA has found proper alignment, pun intended. It is up the last 3 weeks gaining more than 20% in the process. TSLA lost its 50 day SMA in late October  after finding support there precisely a couple of times on 7/17 and 10/9. Its last two earnings reports were disappointments from the charts perspective as it lost 5.5% on 8/7 and 11/6 as it sliced its 50 day line after briefly recapturing it the day before. Many were banking on it not recording back to back earnings disappointments. It has battled its way back and lets look to enter TSLA with a buy stop above its 50 day at 153, which sets up a future double bottom with a trigger of 181.53.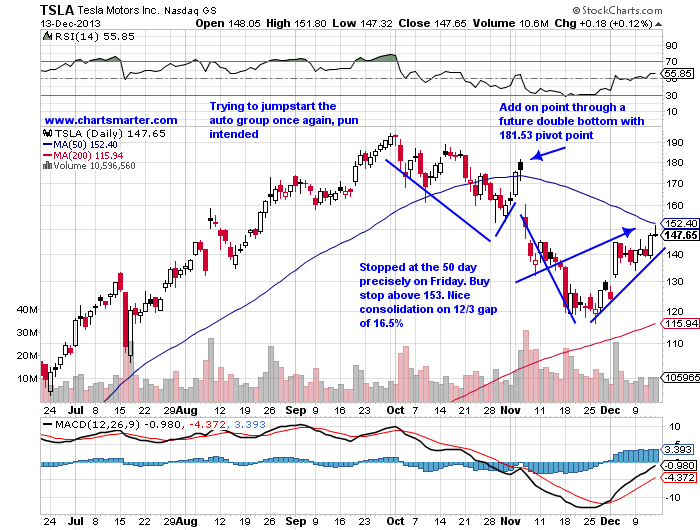 Trigger TSLA 153.  Stop 139.10.
BAH in the consulting business has kept pace with the S&P 500 in 2013 up 25% YTD. It currently resides 17% off its most recent 52 week high. BAH last reported on 10/30 and the stock was flat after an initial strong reaction. Before that it recorded some robust moves after reporting on 7/31 and 5/22 when it rose 11 and 8.5% respectively. BAH last took out a 17.74 flat base trigger on 7/22. Looking on its weekly chart a case can be made for a long bullish falling wedge beginning with the week ending 8/2 when it made an all time high of 20.96. The stock has been trading in a very taut fashion as of late, which is bullish action, and indicates coiling and a potential big move. The move can be either way so wait for price confirmation as always. Lets look to enter with a buy stop above the 50 day SMA at 17.85 which sets up a future double bottom base of 19.44.
Trigger BAH 17.85.  Stop 17.05.
Stocks that can be bought as they take out bullish falling wedge formations include KIRK. KIRK is a consumer play which has had a great 2013 up 127%. It has backed off a bit off now 8% from its most recent 52 week high, which was also an all time high of 26.15 hit on 11/25. That temporarily took out the previous all time high of 25.38 back in the month of April 2010. KIRK  last took out a 21.84 cup base pivot point on 11/18, rising 15%. That occurred a few sessions before reporting earnings on 11/21 when it gained another 4.5% although it did reverse to close in the lower half of its daily range. That last report was the third consecutive well received earnings release. On 5/23 it rose 4%, and on 8/22 it gained 10.5. Since 11/29 KIRK has lost ground 9 of 11 sessions, but the price damage has been limited, and it has stubbornly refused to give back meaningful ground. It now sports a bullish falling wedge pattern and can be bought with a buy stop above the top of the formation at 24.80.
Trigger KIRK 24.80.  Stop 23.35.
Stocks that can be bought as they take out the following specific triggers on firm trade are SEIC AXL VC DLPH.
Flat base trigger SEIC 34.53.  Stop 32.80.
Double bottom with handle trigger AXL 20.42.  Stop 18.90.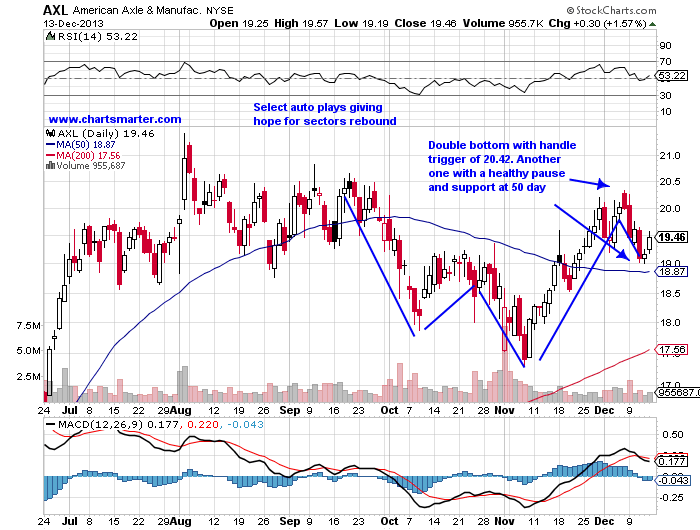 Cup with handle trigger VC 79.68.  Stop 76.30.
Cup with handle trigger DLPH 59.43.  Stop 57.10.
Stocks to be viewed as shorting opportunities are AMGN DSW IFF. AMGN among the secure bio/pharma group has lagged the group up 30% YTD. Compare that to names like CELG GILD BIIB which have enjoyed gains this year of 110, 94 and 88% respectively. Even those aforementioned leaders in the group have had tough weeks, so maybe the group is getting tired. GILD lost 3.5% this week, BIIB 5.5%. AMGN has not seen an accumulation week since the week ending 9/20, indicating little institutional demand. Its chart trades a lot looser and wider than the big three which adds to the negative tone. It sliced its 50 day SMA on 11/21 losing 3% on well more than double average trade and has encountered resistance ever since. It has set up a the look of a bearish descending triangle or symmetrical triangle which could break either way and lets look to short it there with a sell stop of 111. If that breaks lower the 200 day should be a first target near 106.
Trigger AMGN 111.  Buy stop 114.60.
Groups that are weak tend to stay that way and retail fits that bill. DSW is up 30% YTD and has recently backed off to where it is now just below the correction threshold of 10%. It has lost ground the last 3 weeks, totaling 8% in that span. After last reporting earnings on 11/26, it lost 5% and did find precise 50 day support but since has been having issues and has fell 10 of the last 13 days. It pierced its 50 day SMA on 12/6 losing 2.5% and recording a bearish outside day. The report broke a string of nice releases as the stock gained 8% on 8/27 and 3.5% on 5/29. Distribution has been on the rise since losing its 50 day the week ending 10/18 where it slumped 5%. The following week it did gain 5% and set off a 5 week winning streak but volume was light on the rebound. I am betting on the second slicing of the 50 day in two months to prove more difficult to reclaim and lets look to short DSW at 50 day resistance at 43.60.
Trigger DSW 43.60.  Buy stop 44.75.
IFF a diversified sense of taste and smell company is behaving in sympathy with the S&P 500 with a 27% YTD gain. It rests 6% off both its recent 52 week and all time highs. Notice how those highs were made right at the round 90 number that was hit almost precisely on 11/14, 11/15 and 12/2. The stock has been having issues as of late being down 10 of the last 11 days many in heavy trade and finishing near their lows for the daily range. It last took out an 85.09 flat base trigger on 11/6 rising 3% on more than double average daily trade after releasing earnings. IFF is now just below that breakout trigger and on a 4 week losing streak. It is clinging onto its 50 day SMA and with the distribution piling up looks poised to go lower. Lets look to short this name with a sell stop below that line at 84.25, targeting the 200 day at the round 80 number.
Trigger IFF 84.25.  Buy stop 87.10.
Good luck.
The author owns DD FLS BMRN.
Trigger summaries:
Buy stop above 50 day SMA TSLA 153.  Stop 139.10.
Buy stop above 50 day SMA BAH 17.85.  Stop 17.05.
Buy stop above falling wedge pattern KIRK 24.80.  Stop 23.35.
Flat base trigger SEIC 34.53.  Stop 32.80.
Double bottom with handle trigger AXL 20.42.  Stop 18.90.
Cup with handle trigger VC 79.68.  Stop 76.30.
Cup with handle trigger DLPH 59.43.  Stop 57.10.
Sell stop to short below symmetrical triangle AMGN 111.  Buy stop 114.60.
Short at 50 day SMA DSW 43.60.  Buy stop 44.75.
Sell stop to short below 50 day SMA IFF 84.25.  Buy stop 87.10.
Position reviews:
DD, is an industrial conglomerate that we purchased on 11/4 at 60.16. It had held the round 60 number after recently taking out a 60.50 flat base trigger on 10/24 on almost double average daily volume. We are now UP .2% on the trade. It lost ground for the fourth consecutive week falling almost 2%. Good news is that in again came on weak trade, and it recorded its 9th straight week above the round 60 handle, although not by much. Wednesdays 2% bearish outside day is concerning and we will keep our stop on DD at 59.55.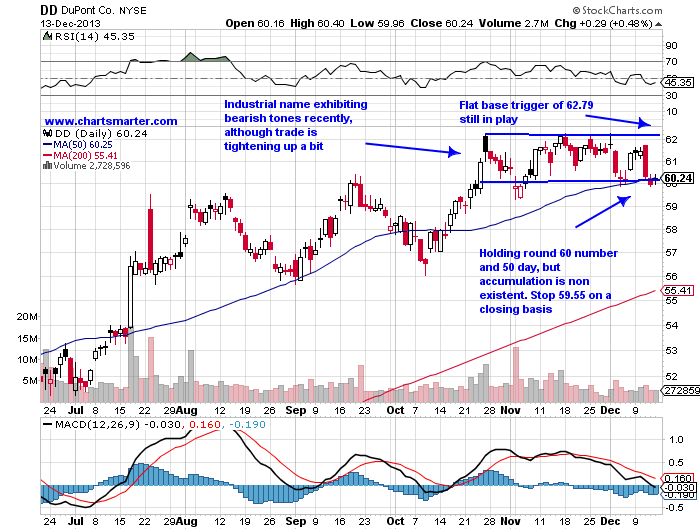 FLS is another industrial that we purchased on 11/14 at 71.29 as it took out a bullish flag formation and we are now UP 1.5% on the trade. It demonstrated good relative strength this week gaining 2% as the S&P 500 lost almost the same amount. Weekly volume was bullish. If not for Thursday fractional loss FLS would be on a 7 day winning streak. It is having a solid year up 48% and stubbornly refuses to give back little of 10/25's bullish earnings gap of 12%. FLS has taken on the look of a bullish ascending triangle now as well. No need to move our stop up as the 68.10 figure is now 50 day support.
BMRN is a position we opened last week as it retested its 69.61 double bottom trigger it took out originally on 11/21. We purchased BMRN at 70.42 and with Fridays close of 69.53 we are DOWN 1.3% on the trade. With Thursday and Fridays rebound off the 50 day line the stock is now pennies below the breakout trigger. It is still well below the 72.17 double bottom with handle trigger, but that now also has the look of a bullish flag formation, although optimally if would form a little higher than where it is currently in the base. It lost ground for a third consecutive week, but each loss has been less than 1%. Our stop of 67.30 was close to being hit on an intraday basis Wednesday and Thursday.