Markets ended Friday with losses for both the Nasdaq and S&P 500 for the second consecutive day. Volume was elevated but still just below normal levels. For the week the Nasdaq fell .6% and the S&P 500 .5%. We raised cash Friday, not for any particular technical reason, just a gut feeling something to the downside may be upon us. Overbought conditions obviously can become more overbought but we will take our chances, as new opportunities arise everyday. The Nasdaq seems the most extended as it lies 120 handles, or 3%, ahead of its 50 day SMA. The S&P 500 lies a bit more than 2% in front of its 50 day, and both coincide roughly with the round numbers of 4000 and 1800. Did we head to the comfort of the sidelines because of the continuing, excessive amount of bullish investment advisors? Maybe it was the underperformance of the small caps, as the S&P 600 fell .75% for the week. The markets yawned at some bullish economic data this week including ISM, new orders, productivity, and employment figures. The S&P 500 Thursday and Friday had weak closes, as even Bernanke's last speech as Fed Chairman created a small pop in the late afternoon that was overcome with selling by the close. Feeble closes inspire the bears, who did not come out to play vigorously in 2013. They made their presence felt briefly at times, but were never really menacing. Perhaps Bernanke was right in saying he sees a stronger economy in 2014. Could it be a sell the news scenario? This rally is a little long in the tooth now, don't you think?
Stocks that can be bought as they retest prior breakout triggers are EVER DOW. EVER is a member of the financial group and came public during the week ended 5/4/12. It rose about 20% YTD and now rests 3% off both 52 week and all time highs. EVER lost ground for the second consecutive week on very light trade, obviously due to the shortened weeks. Prior to that however EVER scored a very notable 7 week winning streak. The last 3 weeks of that streak showed excellent volume as it gained about 8% during that time span. You would have to go back to the week ending 8/2 when EVER dropped 6% to view a distribution week. Notice on the weekly chart that from mid October of 2012 EVER has never CLOSED on a weekly basis below the 14 handle. Good support, and the 17 handle proved tough to overcome to the upside, which made its 17.30 breakout trigger in a cup with handle base impressive. Lets look to purchase EVER within 1% of that pivot point. An alternate buy point could be above the flag pattern it now sports with a buy stop of 18.60.
Trigger EVER 17.30 (within 1%).  Stop 16.45.
DOW has been a wonderful achiever recently in the chemicals space. It performed roughly in line with the S&P's near 30% YTD gains in 2013. It currently stands about 2.5% below its most recent 52 week high. Looking on its weekly chart one can see DOW eclipsed a triple top above 43, with the highs dating back to May 2008 and May 2011 when they scored intraweek highs 42.90 and 42.23. Excellent accumulation could be witnessed as the three weeks ending between 12/06-12/20 were recorded on excellent volume. The last 2 weeks were the heaviest volume weeks of the year, except for the week ending 2/1/13 when it dropped 6%. DOW did take out a very nice looking cup with handle trigger of 42.10 on 12/17. We can approach this one of two ways. We can wait to buy within 1% of the 42.10 breakout trigger, or buy through a very tight flag formation that has developed. Buy stop there would be above 44.60.
Trigger DOW 42.10 (within 1%).  Stop 40.15.
Stocks that can be bought out of attractive flag formations include HPY. HPY is a name in the payment services group and is trading about 1.5% off recent 52 week highs which also are all time highs. HPY rose more than 60% in 2013 and both its daily and weekly charts looks fantastic. HPY has taken out 2 breakout triggers in 2013. First it took out a 34.36 flat base trigger on 6/14 in double average daily volume. More recently it broke out from a 40.48 flat base trigger on 10/14. The stock has traded in a very taut fashion which is bullish and it has received 50 day SMA support several times in 2013.  HPY seems to have stalled at one of the biggest round numbers, 50. Since testing the round 50 number for the first time 12/24 it has been rebuked there everyday since, with NO closes above it. It has formed a bullish sideways flag pattern and lets look to buy HPY with a buy stop above 50.20.
Trigger HPY 50.20.  Stop 48.55.
Stocks that can be bought as they take out the following specific triggers in firm trade are WDR UAL ABC BWC SBH.
Flat base trigger WDR 66.19.  Stop 64.45.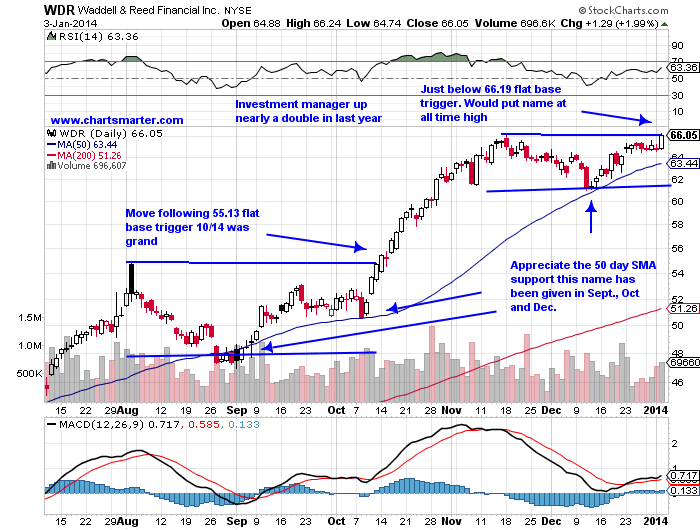 Flat base trigger UAL 40.29.  Stop 38.45.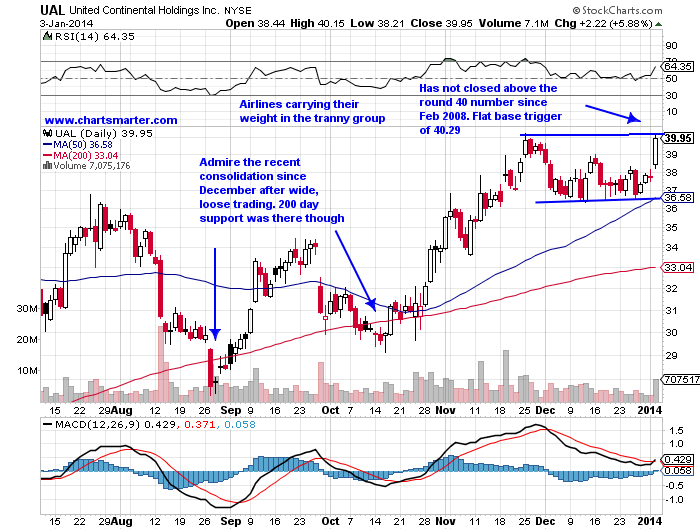 Cup with handle trigger ABC 70.73.  Stop 68.15.
Cup with handle trigger BWC 34.73.  Stop 33.60.
Cup base trigger SBH 31.96.  Stop 29.70.
Stocks to be viewed as shorting opportunities are WTW AFOP. WTW to start off has certainly shed some weight off its bloated chart. Is it making it more lean and mean? Doubtful. It has been lower by more than 40% in the last year, on one of the better tapes in recent memory. WTW is currently almost 50% off highs made back in January 2013 near the round 60 handle that proved problematic. Looking on its weekly chart a sea of red greets you going back years. Its last decent week was the one ending 2/18/11 when it bolted higher by 47%. Since then weeks were WTW has dropped more than 10% are plentiful. Starting with the 20% drop the week ending 8/5/11, and losses of 18, 16 and 14% the weeks ending 2/15/13, 8/2/13 and 11/1/13 more recently. Looking at the daily chart the huge earnings losses 8/2 and 10/31 were big and then went sideways. If you flipped this chart upside down it would look great. Lets look to short this name with a sell stop below the recent digestion at 31.20.
Trigger WTW 31.20.  Buy stop 33.60.
AFOP is a tech play that simply did not keep pace with the superb Nasdaq performance in 2013. AFOP is down almost 40% from its most recent 52 week highs. AFOP has recorded a very solid one year return of 140% however. The stock has undergone significant distribution, obviously with the stock well off its highs, and looking at the weekly chart since the week ending 9/27 it has been lower 10 of the last 15 weeks. Before todays small gain AFOP been lower for six consecutive sessions and plagued by 50 day SMA resistance along the way. To its credit it found support earlier in December at its 200 day SMA. That long term moving average now serves as a neckline in a 6 month long bearish head and shoulders formation. Lets look to enter AFOP short with a sell stop below 13.95.
Trigger AFOP 13.95.  Buy stop 14.85.
Good luck.
The author is flat.
Today we sold DD at 63.89 that we bought at 60.16 on 11/4 for a 6% GAIN.
Today we sold FLS at 77.74 that we bought at 71.29 on 11/14 for a 9% GAIN.
Today we sold BMRN at 69.05 that we bought at 70.42 on 12/3 for a 2% LOSS.
Trigger summaries:
Buy at former trigger retest EVER 17.30 (within 1%).  Stop 16.45.
Buy at former trigger retest DOW 42.10 (within 1%).  Stop 40.15.
Buy stop above flag pattern HPY 50.20.  Stop 48.55.
Flat base trigger WDR 66.19.  Stop 64.45.
Flat base trigger UAL 40.29.  Stop 38.45.
Cup with handle trigger ABC 70.73.  Stop 68.15.
Cup with handle trigger BWC 34.73.  Stop 33.60.
Cup base trigger SBH 31.96.  Stop 29.70.
Sell stop to short below consolidation WTW 31.20.  Buy stop 33.60.
Sell stop to short below 200 day SMA AFOP 13.95.  Buy stop 14.85.