They say its no how you start but how you finish. Putting that theory to work the markets are not telling a sweet good night lullaby. The leading Nasdaq today lost 2.15% on the largest daily volume of the year. It went out on its lows for the day and week, a bearish characteristic. For the year the Nasdaq is now down 1.1%, and if the saying, "as January goes, so goes the year" holds up it could confound the bulls. The S&P 500 with its heavy energy exposure is lower by more than 3% so far in 2014. It lost 2.6% this week and sliced right through its 50 day SMA and the round, psychological 1800 number today. Let us keep in mind that the benchmarks are still just off all time or decade highs. The S&P 500 is just 3% off its all time high. The index has not recorded a 10% correction since the summer of 2011. Talking about the big round numbers, the transports via the IYT fell 4% Friday, but found precise 50 day support at the round 130 handle. We will see how long that holds. KSU a former best of breed name fell 15% today and again the round number of par came into play as it was stopped there at the close. Of course CSX was hit last Thursday to the tune of 7% after missing, and the train wreck continued this week with another 4% being clipped off the share price. We know UPS in the group lowered guidance last Friday, and word may have already been out as it finished Friday in the midst of a 4 week losing streak. Samsung posted its first quarterly decline in 2 years that came as a surprise to many. So I am sticking just to the stocks (forget China and Argentina) and there are a lot of negatives going on. I heard it stressed many times today how todays retreat was orderly and how that was a good thing. I beg to differ and think that means a "panic" selling moment is one that has not transpired yet, and one that can be bought into when it does occur.
Stocks to be viewed as shorting opportunities are GWR VFC MTB. GWR is among the transports we discussed in the opening paragraph. Sure UNP, NSC did beat, but the overall tone of the group seems lower. GWR is up just 7% over the last year and now trades almost 13% off its most recent all time high. We had the name on our radar as it as held its 200 day SMA in both December and January looking to buy it over its 50 day above 95 which would have set up a double bottom base with a 98.69 trigger. GWR has been down 9 of the last 13 weeks and today lost its 200 day SMA which it has not closed below in well over a year. It has been trading wide and loose and its last 3 earnings releases were lower and volatile but now big down days. It was down .5% 11/1, 1% 8/1 and 4.5% on 5/1. Lets look to short a move back into the 200 day SMA at 91.50.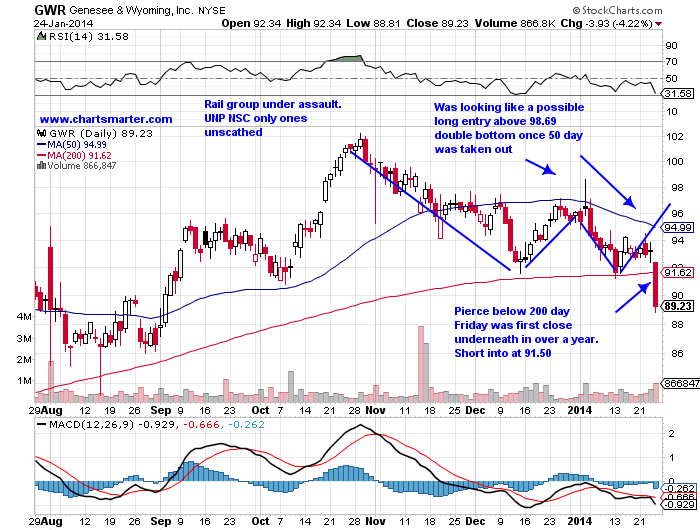 Trigger GWR 91.50.  Buy stop 93.40.
VFC is part of the retail complex which we have been pounding the table on for awhile thinking it could be foreshadowing a lower market. It looks like that may finally be here. To be fair it is best of breed in the group but the chart is starting to indicate a possible trend change. VFC put up a good one year return of 56%, but so far in 2014 in down more than 7%. It is now lower the last 2 weeks and on the brink of correction mode down 9% from its most recent 52 week high. Before this 2 week shortfall, VFC was up 12 of 13 weeks. Many times when a chart looks perfect it may be ripe for a trend change. On December 23rd it split 4:1 and we are not normally big fans of them. VFC is starting to show some distribution as it is down 7 of the last 9 days, many in big trade and closing near their lows for the session. It also undercut its 50 day SMA and lets look to short it there at 59.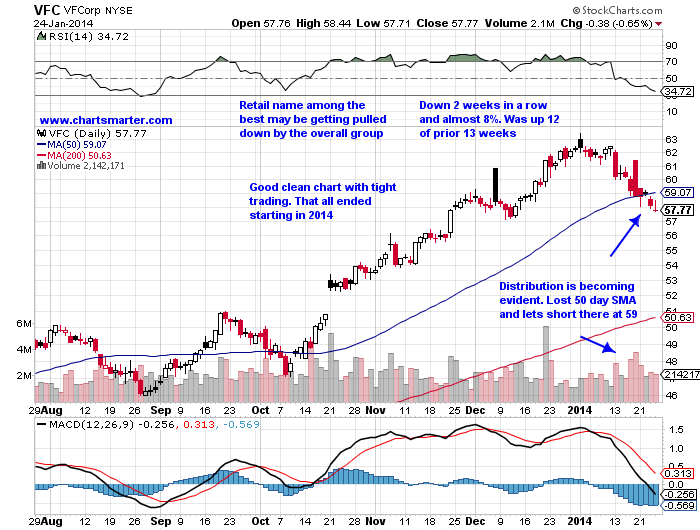 Trigger VFC 59.  Buy stop 61.55.
MTB is a name in the financial space which started going down before this weeks softness. It sports a one year return of just 8% and is already lower by 4.5% YTD. It has come a long way from the lows of 43.23 made back in February 2009, and it looked until recently that it was going to challenge old all time highs of 125.13 made in February 2007. The round 120 handle got into its way last summer however. MTB long a favored bank of Warren Buffett's, is beginning to show signs of wear and tear. Its action is sloppy, hallmark bearish traits, and its last two earnings reports have been unruly. On both of its last reports MTB sliced its 50 day losing 2.5% on 1/17 and 3% on 10/17. MTB is trading right at its 200 day SMA which it has been above for 2 long years now. That 200 day coincides with the round 110 number and lets look to short it with a sell stop of 109.75.
Trigger MTB 109.75.  Buy stop 113.10.
CHS is a member of the feeble retail group and earlier had been highlighted in our Thursday 12/5/13 Game Plan with an 18.86 cup with handle trigger. That pivot point was taken out on 1/2 where it rose 3% in more than double average daily volume after an upgrade. Remember that was the first day of the year when indexes were lower, with the S&P 500 down .9%. Since that strong move the stock has been down 13 of 15 days, a very weak performance. On Wednesday the stock lost its 200 day SMA, and it is on a 3 week losing streak with each week losing more than 4% and finishing the week at the bottom of its weekly range. CHS is now more than 16% off its most recent 52 week high. Lets look to short CHS at 200 day SMA resistance.
Trigger CHS 17.25.  Buy stop 18.10.
Stocks that can be bought as they take out the following specific triggers in firm trade are EPAM WAT.
Cup base trigger EPAM 39.86.  Stop 38.10.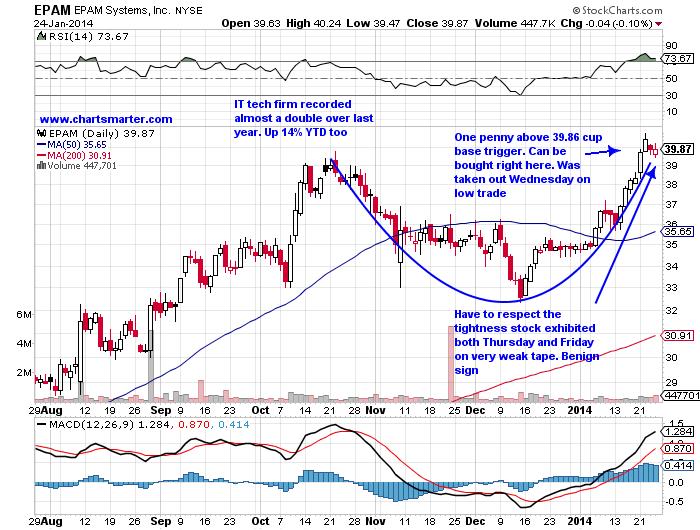 Double bottom with handle WAT 105.49.  Stop 102.10.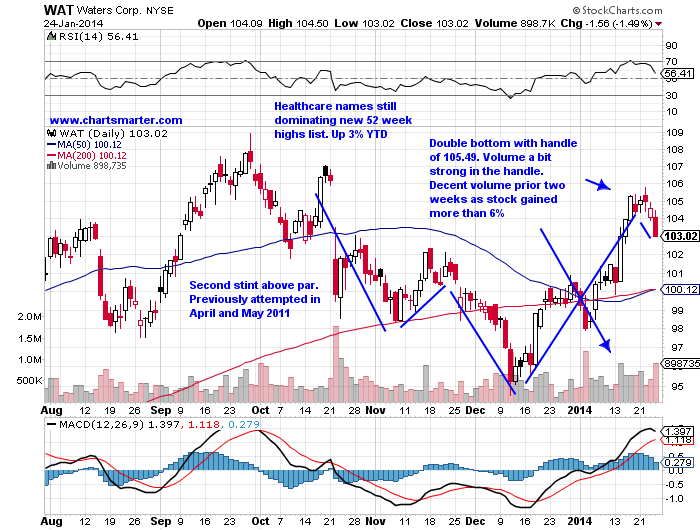 Stocks that can be bought as they retest prior breakout triggers are LOCK MDRX TER COG. LOCK is a name in the security business that has performed very admirably with a one year return of just better than 100%. The stock celebrated its first birthday during the first week of last October and stands a bit more than 6% off its recent all time high. Not surprisingly it met resistance near the round 20 number yesterday as it gained 6% on a weak tape. It has traded very tight, impressive given IPOs normal wide and loose action, and last took out a 15.31 flat base trigger on 10/30 after its last earnings report. The report prior to that was impressive as well as it rose more than 7% on 8/1. LOCK last took out a 17.89 flat base trigger on 1/19 and lets look to enter LOCK within 1% of that pivot.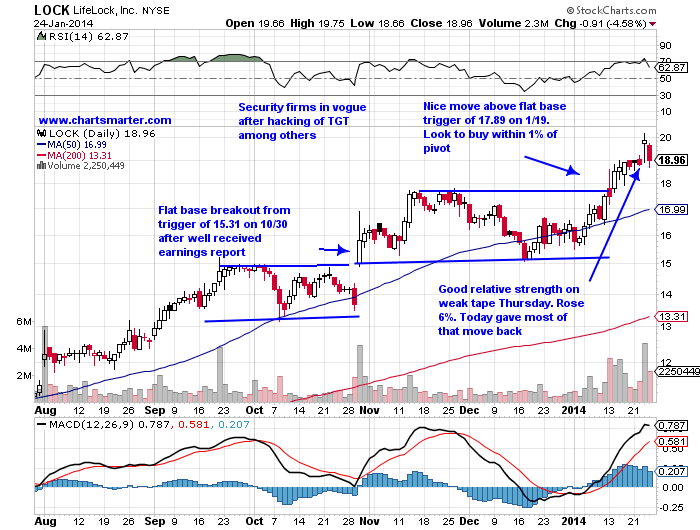 Trigger LOCK 17.89 (within 1%).  Stop 17.30.
MDRX which we last profiled on Thursday's 12/19/13 Game Plan as a long above a 15.54 double bottom with handle trigger. It took out that pivot on 1/15 as it gained almost 8%. That day with the breakaway gap it also took out a 16.53 cup base pivot point as well. MDRX did put up a very solid one year return of 62% and it now stands a bit more than 3% off its most recent 52 week highs. MDRX is up 6 consecutive weeks and 10 of the last 12. That base began back in the beginning of last August and we know the longer the bases the better potential for success. MDRX has traded very tightly since the huge 14% weekly gain the week ending 7/12/13 and has had multiple support at its 200 day SMA last June, October and November and January of this year. Lets look to enter at the 16.53 trigger.
Trigger MDRX 16.53.  Stop 15.30.
TER is a member of the semiconductor space as it put up a lukewarm one year return of 18%, but more impressively is the YTD gain of better than 8%. It trades 5% off its most recent 52 week high and is trading just above 19 which has been tough to get through for the stock. It hit a multi year high of 19.19 back in March of 2011. TER reported yesterday and like LOCK hit a brick wall at the round 20 handle. The stock has been under steady and solid accumulation as it has risen 15 of the last 21 weeks, and before this week was on a 5 week winning streak. During that 21 week span there was 5 weeks of heavy accumulation with just 2 weeks of strong selling. TER took out an 18.83 cup base trigger on 1/14 on double average daily trade. Lets look to enter TER at the 18.83 pivot point.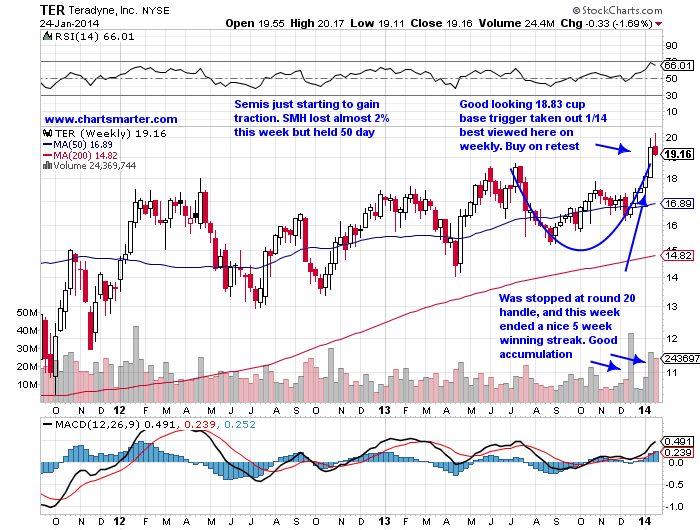 Trigger TER 18.83.  Stop 17.90.
COG is a member of the energy space which has plenty of exposure to natural gas, whose price soared this week due to the frigid temperatures. It sports a credible 54% one year return and sits 2.5% off recent all time highs. It far exceeded the fragile markets weekly losses with a weekly GAIN of better than 5.5%. COG recorded a perfect 4 for 4 with solid earnings reactions in 2013. Its best move came on 2/22 with an 11% move, then came a 2% gain on 4/25, 7% on 7/25 and 6% on 10/25. As impressive as the last one was it was halted almost precisely at 50 day SMA resistance. Looking on the daily one may have believed that COG broke out of a 37.64 double bottom with handle when it rose more than 5% on 12/19 but notice how the handle formed in the middle of the base. Good, sound handles form in the upper half. The round 40 handle created fits for this name all three days this week as it traded above 40 each one of those days but failed to CLOSE above it. It did the same on 9/3/13. Lets look to buy right here on any strength Monday morning as it rests just above its double bottom with handle breakout from a 39.45 pivot on 1/22.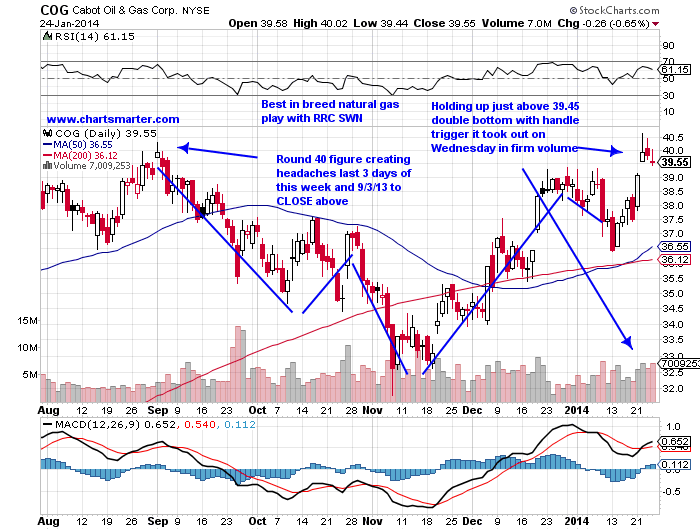 Trigger COG 39.45.  Stop 37.60.
Good luck.
The author is flat.
We sold MYL at 44.39 that we bought at 44.91 on 1/8 for a loss of .52.
We sold CBOE at 50.18 that we bought at 49.90 on 1/17 for a gain of .28.
We sold WST at 48.26 that we bought at 50.89 on 1/16 for a loss of 2.63.
We sold FRC at 50.67 that we bought at 52.17 on 1/22 for a loss of 1.50.
Trigger summaries:
Short at 200 day SMA GWR 91.50.  Buy stop 93.40.
Short at 50 day SMA VFC 59.  Buy stop 61.55.
Sell stop to short below 200 day SMA MTB 109.75.  Buy stop 113.10.
Short at 200 day SMA CHS 17.25.  Buy stop 18.10.
Cup base trigger EPAM 39.86.  Stop 38.10.
Double bottom with handle WAT 105.49.  Stop 102.10.
Buy at prior trigger retest LOCK 17.89 (within 1%).  Stop 17.30.
Buy at prior trigger retest MDRX 16.53.  Stop 15.30.
Buy at prior trigger retest TER 18.83.  Stop 17.90.
Buy at prior trigger retest COG 39.45.  Stop 37.60.