Each week at ChartSmarter we like to bring to a little insight into what we do on a daily basis. We have been at it for 4 years and we love doing it. Each night we detail 10 of our favorite ideas, both long and short, for the next days session. We do NOT have a chat room, nor are we active "tweeters". We like our business growing by word of mouth. Here are some recent examples of our work. Wishing everyone a fantastic 2014, and anyone who would like a full copy of the Monday Game Plan (3/31/14) email me at chartsmarterblog@gmail.com.
Two names that still are relevant, whose triggers have not yet been hit are NWL and ECPG. This is what we wrote on Friday. Both names are right at the 10% correction threshold from their recent 52 week highs and right at support, giving good risk/reward.
Stocks that can be bought as they test their 200 day SMAs are NWL ECPG. NWL is a consumer product play which has had a rough run of it lately. The stock is trading down 10% from both its recent 52 week high and YTD. NWL had been on my watch list as a possible long above a 32.64 cup base pivot but was never taken out. There has been some distribution as the stock lost 6.5% the week ending 3/14. NWL is now approaching its 200 day SMA that almost aligns with its last breakout trigger from a 28.07 pivot on 10/17/13. Lets look to enter there at 28.65 and if that holds their are 2 additional add on points. First through the 50 day with a buy stop of 30.95, then above a new double bottom trigger of 32.41. First things first however, and lets enter with a successful bounce off the 200 day.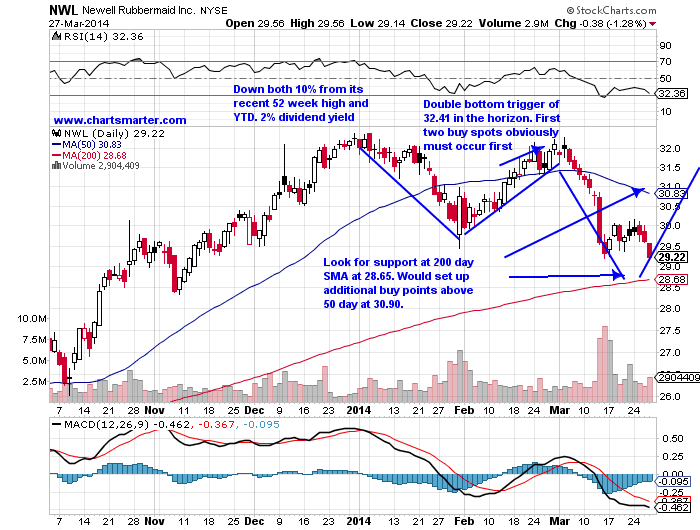 Trigger NWL 28.65.  Stop 27.90.
ECPG is a financial in the lending arena and is currently in correction mode down 13% from its most recent 52 week high. The stock is lower 4 of the last 5 weeks and volume has been mildly above normal. The last 3 times the stock reported earnings were higher as it rose 1% on 2/25, 3.3% on 11/8/13 (although it did reverse hard to close upon lows), and on 8/9/13 it flew higher by 11%. That report on 8/9 began a flat base with a trigger of 45.26 that was taken out on 9/19/13. Since then the stock has traded in a range roughly between 45-51. The 200 day for ECPG aligns close to that last breakout and lets look to enter there at 44.70 on a successful retest.
Trigger ECPG 44.70.  Stop 43.55.
In Thursdays Game Plan two names hit their posted entries and are both still within buying range even though HW is UP 5% from its recommended entry, and SNCR up 2%. In this type of market climate it is better to buy pullbacks to support, than breakouts which work out best when markets are thriving.
HW is an interesting name that helps supply the industries vital to a growing economy, like the building and energy groups. It has recorded a banner 2014 thus far up 25% YTD. The bulk of those robust gains are directly related to the last time HW reported on 2/4 which saw the stock rocket higher by more than 20%. Demonstrating excellent consistency the last two times it released numbers the stock was up 3.5 and 11% on 11/5/13 and 7/30/13 respectively. The last report on 2/4 took out a long cup base trigger of 11.67 that started the week ending 5/17/13. The weekly gain that week ending 2/7 saw HW move higher by 15%, and incredibly the stock the following 2 weeks closed on a weekly basis very tight within .10 of each other. It is trading right at 50 day SMA support at 12.20 and lets look to enter here.
Trigger HW 12.20.  Stop 11.75.
Stocks that can be bought off a successful bounce of its 200 day SMA is SNCR. SNCR is a cloud play that has been acting well in 2014 up 8%. It is however trading 15% off its most recent 52 week high. SNCR last reported earnings on 2/6 and screamed higher by more than 18%, but being halted right at its 20 day SMA. SNCR took that long term moving average line out on 2/26 taking out a flag like pattern that started a double bottom with handle pattern with a 35.42 pivot point. That base was taken out on 3/19 on great volume but did close in the middle of its intraday range. SNCR has fallen 4 of the last 5 days and is now approaching its 200 day SMA and should be bought on a successful bounce at 33.
Trigger SNCR 33.  Stop 31.90.
In Wednesdays Game Plan CATM was profiled as a short and the trigger was hit and the stock gave up ground everyday this week. The trade is profitable by 5%, but here with the name sitting right at 200 day support, half the position should be taken off, if not the entire lot.
CATM is a name in the business services sector and although it has risen nicely over the last one year period up 49%, it is underperforming down 9% YTD. The stock is lower 9 of the last 13 weeks as well. The stock was on my long watch list as it recaptured its 50 day SMA on 3/4 rising 4%. The following week CATM looked as if it was putting a handle on its good looking cup base, but the handle became too long as it undercut its 50 day SMA Monday. It is trading right near the round 40 figure and lets look to short this name at 50 day SMA resistance at 40.40. But a tight stop as always because if this name can recoup its 50 day it has the look of a bullish inverse head and shoulders pattern. Two of its last 3 earnings releases were well received with gains of 6 and 12% on 2/7 and 8/1/13 respectively.
Trigger CATM 40.40.  Buy stop 41.85.
GPOR was also examined in Wednesdays Game Plan and broke out from its highlighted entry and can still be bought here as it rests 2% from its entry, and sits right at all time highs and just below the round 70 handle. The energy group has received excellent rotation into it perhaps from lagging biotechs and software names.
Cup with handle trigger GPOR 68.38.  Stop 65.70.
In Tuesdays Game Plan MU was profiled, and the negative divergence from another group that is on the rise has to be concerning for this name. MU lost 7% this week and is on a 3 week losing streak, and now 10% from lower from the 50 day SMA which had been very supportive.
MU is among the semiconductor group which was gaining steam, probably getting rotation from outgoing software and biotech plays, until this recent Nasdaq malaise. MU put in an excellent one year return of better than 130% and so far this year is up 8%. Since the middle of February the stock has not put in one day of accumulation. In fact the week ending 2/28 where the stock lost 3.5% set off a 4 of 5 week losing streak it is currently on. It took out a flag like pattern of 24.60 on 2/10 but has made no headway since. It last reported on 1/8 where it rose 10%, but prior to that lost 9% on 10/11/13 and 6% on 7/10/13. MU is resting just beneath its 50 day SMA, a line that has been very supportive for more than a year now. Lets look to short MU at 50 day SMA resistance at 24.10 with a tight stop.
Trigger MU 24.10.  Buy stop 24.75.
On Monday we looked at KSS, which hails fromthe retail sector that has lagged all year although some names in the group are starting to demonstrate leadership like a WSM. This name is still just below its highlighted entry. KSS is up 7 of the last 9 weeks and the two down weeks were in light trade and about 1% lower. The 2.7% dividend yield is attractive as well.
Double bottom with handle trigger KSS 57.43.  Stop 55.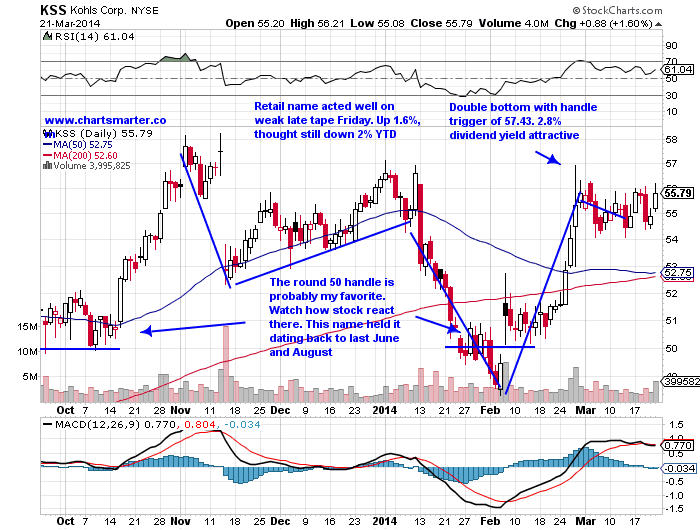 If you like what you read why not take a 2 week FREE trial at www.chartsmarter.com