Each week at ChartSmarter we like to bring to a little insight into what we do on a daily basis. We have been at it for more than 4 years and we love doing it. Each night we detail 10 of our favorite ideas, both long and short, for the next days session. We do NOT have a chat room, nor are we active "tweeters". We like our business growing by word of mouth. Here are some recent examples of our work. Wishing everyone a fantastic 2014, and anyone who would like a full copy of the Tuesday Game Plan (6/9/14) email me at chartsmarterblog@gmail.com. 
In Friday 6/6's Game Plan this is how we profiled FLS. FLS put in a bullish outside week last week gaining almost 4%. Volume was soft but a nice move above the 50 day SMA has its sights set on a forthcoming double bottom pivot point at 79.80 just below the round 80 handle. Stay long above the 50 day. The stock is UP one handle since the posted entry.
Stocks that can be bought as they take out their 50 day SMAs which then set up future valid base structures are FLS. FLS a member of the strong industrial group is down 5% YTD, but higher by 34% over the last one year period. It now trades 10% off all time highs made just above the round 80 handle that it took out on 2/19 after reporting earnings. FLS gained 5.7% that session clearing a cup base pivot point. Notice on the weekly how tight it traded between the weeks ending 2/21-3/7 where all three weeks closed within .40 of each other. On 10/25/13 the stock jumped 12% after reporting, but its most recent release on 4/24 saw FLS drop 4.2% slicing its 50 day SMA. It has been below it ever since. Perhaps that quarter was a one off event as it has demonstrated great consistency. Lets look to enter FLS with a buy stop above the 50 day at 75.55 which sets up a double bottom with a pivot of 79.80 to be added to.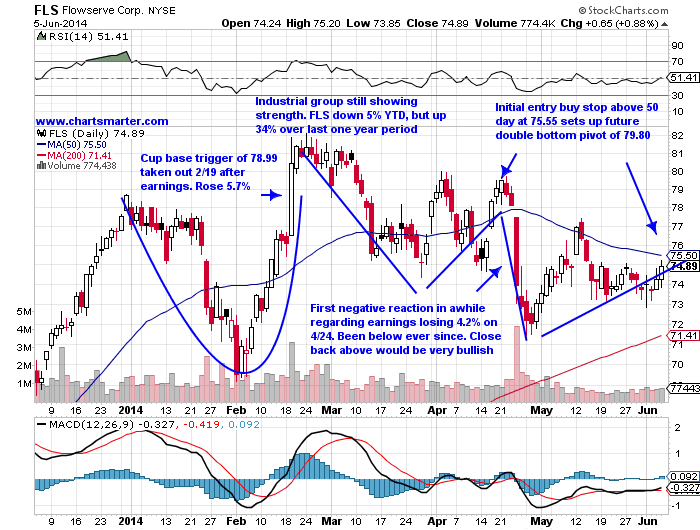 Trigger FLS 75.55.  Stop 73.40.
In Thursday 6/5 Game Plan this is how we looked at ADT. ADT is now up 5 of the last 6 weeks and looks to be putting that big 1/30 earnings drop of 17% behind it. Perhaps TYC knew to spin this name off as it has been a poor performer, but its chart is looking better and has consolidated nicely since for the last 4 months. The stock is UP almost 2% from the recommended entry.
ADT is not my typical strength play as the stock currently sits down 20% YTD, but it does have some technical aspects to like. The stock does carry a decent 2.5% dividend yield. ADT before last weeks 2.1% decline, had been on a 4 week winning streak, between the weeks ending 5/2-5/23 which saw the stock gain more than 12%. The stock is trying to recover from the big 17% earnings drop on 1/30 and notice the high of the day that session was just above 33. That level has since been tested 3 times, twice in April and on 5/23. ADT is now flagging and lets look to enter with a buy stop above the pattern and that 33 figure at 33.10. Demand as always a CLOSE above that pivot. A move above there targets the 200 day SMA to the upside.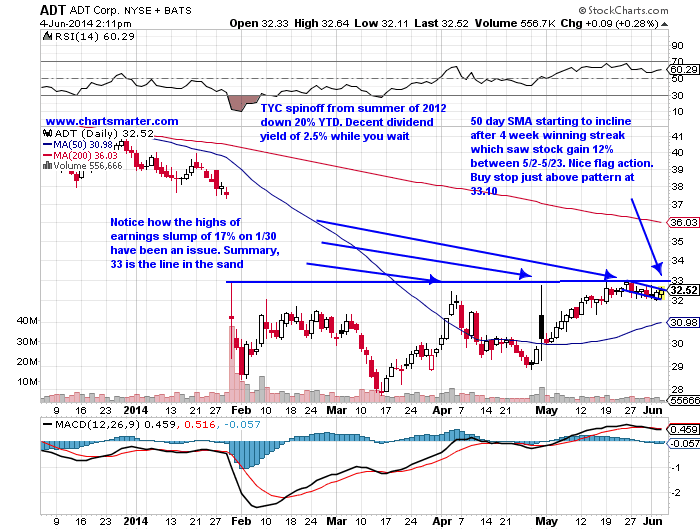 Trigger ADT 33.10.  Stop 31.95.
In Wednesday 6/4 Game Plan JCI was profiled. We really liked how a very tight handle formed indicating a strong upcoming move. JCI took out its 49.03 double bottom with handle trigger of 49.03 on Wednesday and gained ground everyday last week. For the week it rose 4% and we admired how the previous week was UNCH following the week ending 5/23's 7.7% advance. The stock is now up better than 2% from the highlighted entry and is now above the round 50 number. That figure was good support dating back to last November through the beginning of January.
Double bottom with handle trigger JCI 49.03.  Stop 47.90.
In Tuesday 6/3's Game Plan this is how we examined OC. OC is now up 3 of the last 4 weeks and CLOSED above the 42 handle that we thought was important. Notice on the weekly chart the round 40 handle which aligned almost precisely with its 200 day SMA held firm. It briefly fell below on a few occasions in early May, but that situation was quickly righted. It is just above the recommended entry and stay long above 42 and add to a double bottom trigger of 44.03 that is now in sight.
Stocks that can be bought as they take out their 50 day SMAs and then added to through future buy triggers are OC. OC relies on a number of industries and could benefit from a nice housing recovery. The stock is up 2% YTD, but down 5% over the last one year period. It sports a dividend yield of 1.5%. Its most recent earnings release on 4/23 saw OC drop 4.1% slicing its 50 day SMA in the process in huge volume. On 2/12 it jumped 8.7% but did reverse to close at lows for the day. OC has found recent support at its 200 day SMA and roughly the round 40 handle. The stock did close below 40 twice on 5/14/1-5 and that created the double bottom we currently have. Lets look to enter OC with a buy stop just above the 50 day SMA at 42 (demand a CLOSE above 42), which can than be added to through the double bottom we mentioned earlier with a pivot point of 44.03.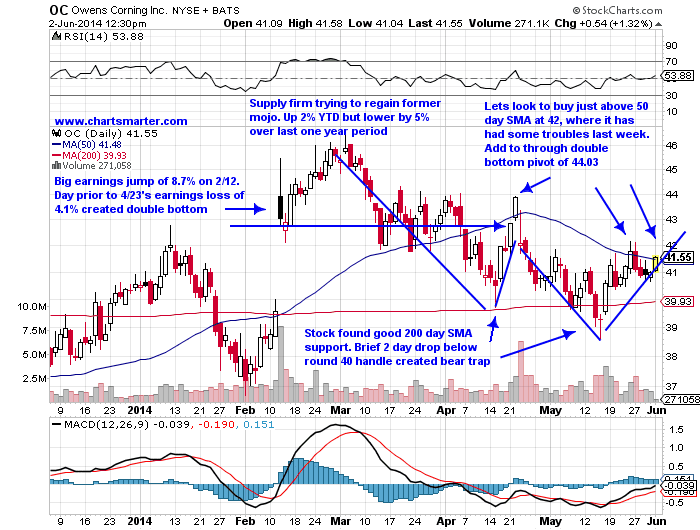 Trigger OC 42.  Stop 40.55.
If you like what you read why not take a 2 week FREE trial at www.chartsmarter.com. Have a great rest of the weekend.