Each week at ChartSmarter we like to bring to a little insight into what we do on a daily basis. We have been at it for more than 4 years and we love doing it. Each night we detail 10 of our favorite ideas, both long and short, for the next days session. We do NOT have a chat room, nor are we active "tweeters". We like our business growing by word of mouth. Here are some recent examples of our work. Wishing everyone a fantastic 2014, and anyone who would like a full copy of the Monday Game Plan (7/14/14) email me at chartsmarterblog@gmail.com.
In Fridays Game Plan we took a look at a gold play FNV. Focusing in on the long term picture we noticed that there were only two weekly CLOSES above the round 60 figure, those being the weeks ending 9/21/12 and 10/5/12. Gold has been getting a lot of attention, because of its inflation hedge, which we do not buy. But we stick to the charts and we recommended a short at 59, and FNV reversed hard near that 60 number both Thursday and Friday.
FNV is a name in the gold group and has performed very nicely as of late. We know the that metal itself is acting well and lifting many individual names in the sector like this name. The stock is having a wonderful run in 2014 up by 43% YTD and 71% over the last one year period. FNV is still nicely above its last breakout from a cup base trigger of 53.49 taken out on 6/19 on more than two times average daily volume. It is almost certain to make it 5 weekly gains in a row, up more than 3% going into Friday. The streak began with two huge weekly gains of 8.6 and 9.5% the weeks ending 6/13 and 6/20 respectively. FNV met resistance at the round 60 handle Thursday and reversed hard, and that level was significant dating back to the months of September-November 2012. There were two weekly closes above the weeks ending 9/21/12 and 10/5/12. Lets look to short the name at 59, with a buy stop above Thursdays high of 60.45.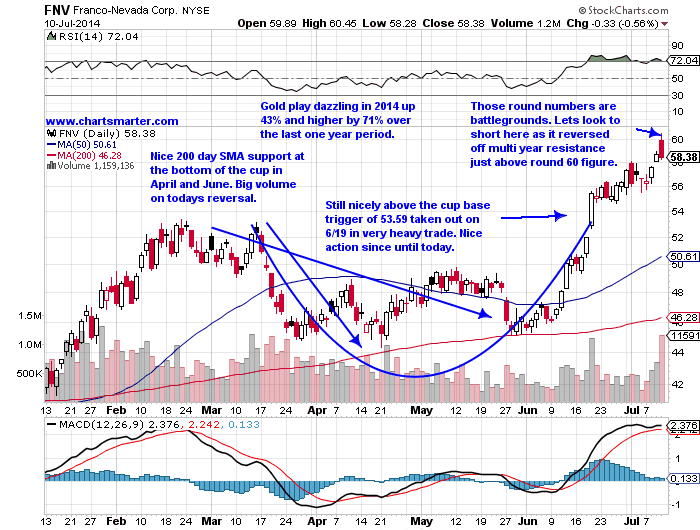 Trigger FNV 59.  Buy stop 60.50.
In Wednesdays Game Plan we looked at names that could be good buys on "throwbacks", or retests of the prior breakout triggers. Both ADM and X defied the markets weakness this week and rose smartly. ADM rose 4.5% this week on almost double average weekly volume and is closing in on all time highs of 48.95 made back in April 2008. X tacked on another 1% this week, after a strong volume 5% plus the week prior. It is currently just below a double bottom with handle pivot of 27.85.
Stocks that can be bought as they test prior breakout triggers are ADM X. ADM is among the agriculture space and is having a good 2014 up 6% YTD and by 32% over the last one year period. It sports a 2.1% dividend yield and is higher 3 of the last 5 weeks. Last week was easily the best one with an advance of 4.4% in average weekly trade, with a holiday shortened one. This week is off to a good start and ADM broke out from a 45.50 flat base trigger on 7/3. The stock is holding right at fresh 52 week highs despite its last two earnings reports which were not well received. It fell 2.6% on 4/29, finding precise 50 day SMA support, and dropped 1.75% on 2/4 with rough 200 day SMA support. On 2/5 the following session it recorded a fine session gaining 1.1% in the best single volume day of the year. It has not looked back since. Lets look to enter on a retest of the 45.50 pivot point.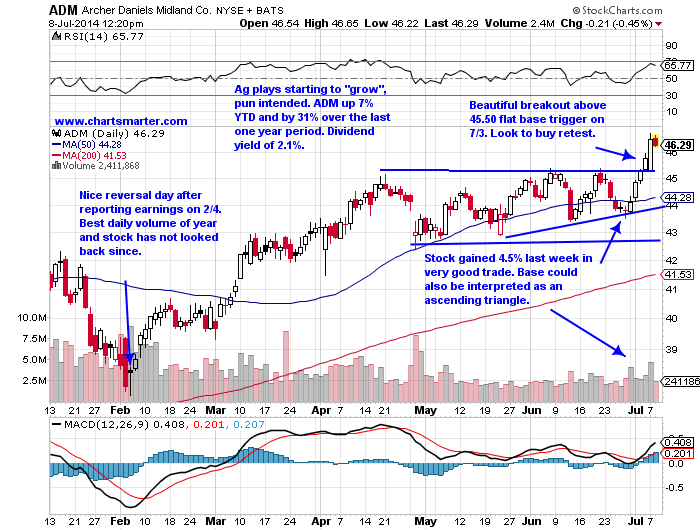 Trigger ADM 45.50.  Stop 44.
X is a name in the steel group that is lower by 8% YTD, but higher by 48% over the last one year period. The steel ETF SLX looks to be starting a handle on its cup base with a potential pivot point of 49.67. Remember a handle to be considered valid must be 5 days in duration. Notice how the round 50 handle acted as stubborn resistance on the SLX last November and December. X looks better to me than rival NUE as it currently trades above both its 50/200 day SMAs. It last took out a 27.41 double bottom trigger on 3/25, but failed to make much headway afterwards. X is on a current 3 week winning streak with a 6.1 and 5.1% weekly gain the weeks ending 6/20 and 7/4 respectively. The stock now trades just above its 26.50 double bottom pivot point it took out on 7/2 and lets look to enter on a successful retest there.
Trigger X 26.50.  Stop 25.30.
In Tuesdays Game Plan we looked at HLT. Long time readers know our affinity for new issues, as they can be under followed and HLT has to be considered a best of breed hotel name. This week lost 1.9%, but has to be construed as bullish as it recorded a bullish inside week, and gave back little of the prior weeks 8.7% jump. It also retested a breakout from an ascending triangle pattern and held firm.
Stocks that can be bought as they retest breakout triggers are HLT. HLT hails from the hotel industry and came public last December and has been higher by 14% since inception. It has advanced by 10% YTD as well. There are many names in the group holding this sector in high regard, among them H MAR HOT. The stock had a huge weekly move last week jumping 8.7%, and that was following the prior weeks 2.5% gain. Both those weeks came in the strongest weekly volume ever, besides the week it first came public. It has reported earnings just twice and the first time was an UNCH finish on 2/27 with precise 50 day SMA support. On 5/9 HLT was up by 1.9% and its intraday high that session created the buy point in the ascending triangle or triple top that was taken out last Friday at 23.90. Lets look to enter there on a successful retest.
Trigger HLT 23.90.  Stop 23.35.
To highlight the importance of stops on CLOSING prices, which we always adhere to, WST is still alive. This is how we profiled the name in Wednesday's 6/25 Game Plan. The possible trend change may have taken place with the big reclaim of the 50 day SMA on 7/1 when it jumped more than 3% on double average daily volume. The stop was hit intraday on Thursday, but a nice close above the stop was just what longs wanted to see.
Stocks that can be bought as they take out their 50 day SMAs which could then end up as powerful trend changes are WST.WST is among the healthcare group and has had a rough go of it in 2014 down 15%, but higher by 22% over the last one year period. You can make a case that the last 3 times the stock reported were well received. On 5/1 it fell 1.4% but reversed nicely to close at session highs. On 2/20 it closed up 1.4% but rallied 7% off session lows to finish at highs for the day and on 11/7/13 it closed higher by 1.8%. WST has the look of a bearish descending triangle that started on 3/28 just above the 41 handle, but it has also tested its 50 day SMA 6 times since the 2/20 earnings report. The more times a line of resistance is tested the more likely it is to break above. Lets look to enter with a buy stop above at 42.75.
Trigger WST 42.75.  Stop 41.60.
If you like what you read why not take a 2 week FREE trial at www.chartsmarter.com.