Retail has been a real sore spot in general in '17 and one would have done their portfolio well by having reduced exposure to the group. There have been some names which have acted decently, but some former best of breed names like BURL PLCE and FIVE to name a few have all been somewhat bruised. It does not mean one should not keep an eye or stocks showing unusual strength and can even put capital to work on names that must be given the benefit of the doubt until it is not deserving. One name that fits the bill is GOOS, a recent IPO, and directly below is how we profiled the name in our Tuesday 5/2 Game Plan.
Stocks that can be bought as they take out bullish ascending triangles are GOOS. GOOS is a recent retail IPO down 3% since inception. Please use caution as I was unable to find out when its first earnings release would be taking place. With consumer discretionary getting its act together again this name could benefit as it has advanced 4 of 7 weeks since its debut and is currently 10% off recent 52 week highs. It has posted strong action following bullish engulfing pattern on 3/28 up 6.2% and the stock has had difficulty CLOSING above 17 number (occurred just twice on 3/17 and 3/20). Therefore a move above could be powerful. GOOSnow sports a good looking bullish ascending triangle pattern with buy stop above 17.30. A breakout carries a measured move to 19.25.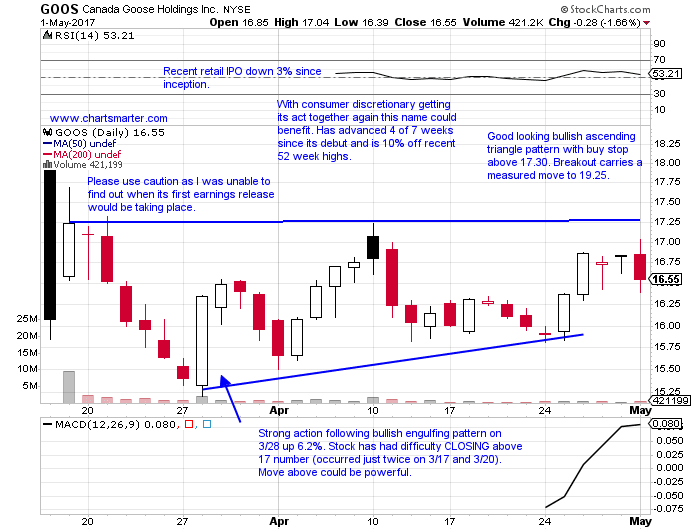 Trigger GOOS 17.30.  Stop 16.
Taking a present view on GOOS it is lower 7 of the last 8 sessions and 16% off recent 52 week highs, although it has still gained 20% since inception. The stock recorded a massive 20.2% jump the week ending 6/2, then the week of 6/9 recorded a bearish shooting star candle and this week slumped 7.1%. One positive is that volume has slowed down with each successive falling day. GOOS is also approaching the very round 20 number and one can add to or initiate a new position just above at 20.20 and know that just below is another potential bullish event with a gap fill near 19.50 from the 6/1 session.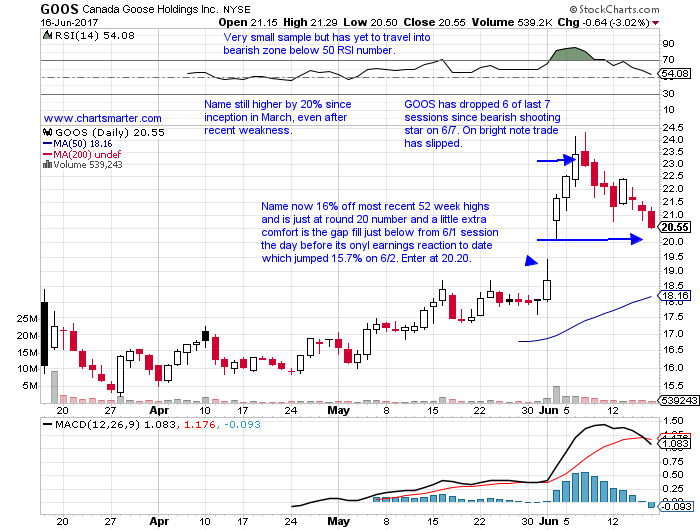 If you liked what you read why not take a 2 week FREE trial at www.chartsmarter.com.