Energy has been in the spotlight this week as WTI has regained the very round 50 number after a bear trap Monday which found support at its 50 day SMA. This action where a breakout is made, a small failure then a thrust back above the trigger can be very powerful. The XLE has risen 7 of the last 8 weeks but is finding a roadblock at its 200 day SMA (it has recorded a bullish 3 week tight pattern there with the last three all CLOSING within just .41 of each other). Below we take a look at a couple recent plays we highlighted. The first name is YPF, an Argentinean name whose country is acting very well. The AGT rose 13.2% during a 7 week winning streak ending between 8/18-10/6. The fund is very illiquid but demonstrates how robust the region is. Directly underneath is how we looked at YPF in our Monday 10/2 Game Plan and then a present view. We added a best of breed name FANG here as well.
Stocks that can be bought after recent breaks above their 200 day SMAs are YPF. YPF is an Argentinean energy play higher by 35% YTD and 24% over last one year period and sports a small dividend yield of .5%. Was having a hard time getting accurate earnings reporting dates so did not want to publish any. The stock on a 3 week winning streak and this week rose 8% in double average weekly volume (recorded other big weekly accumulation ending 1/13 and 3/17 up 24.1 and 13%). The last 8 weeks all CLOSED above 20 even though 6 were below intraweek (important as that was a prior breakout above a 20.05 trigger on 1/10). Enter YPF here with third consecutive CLOSE above 200 day SMA. Potential cup base shaping with trigger of 26.58 that can be added to.
Trigger YPF here.  Stop 20.90.
Taking a present view at YPF it has now formed a bull flag trigger after putting in a decent weekly gain. Its move IF a break occurs through the bull flag would be to 26.50 which would put it just pennies below a 26.58 trigger. It has put in a series on nice higher WEEKLY lows the week ending 8/11 which registered a strong hammer candle that reversed 10% off intraweek lows. Higher lows were also seen the week ending 12/30/16 which completed a bullish weekly morning star jumping 8.5% and week ending 1/22/16 which recorded a weekly engulfing candle adding 6.5%.
Below is the chart of FANG and how it was presented in our Tuesday 9/26 Game Plan. It is now more than 3% above the suggested trigger and still has a potential, measured 12 handle move.
Stocks that can be bought as they take out bullish ascending triangles are FANG. FANG is a best in breed energy play lower by 4% YTD and higher by 9% over the last one year period. Earnings have decent momentum with three straight gains of .5, 1.9 and 3.9% on 8/2, 5/3 and 2/15 (although there were sizable losses the day following each of those three) before a small loss of .2%. The stock is higher 4 of the last 5 weeks and is still off 15% off most recent 52 week highs even after gaining a combined 8.5% the last five. FANG now sports a bullish ascending triangle pattern that is aligning with a 200 day SMA which is still sloping slightly lower. Enter with buy stop above 98 which carries a measured move to 113.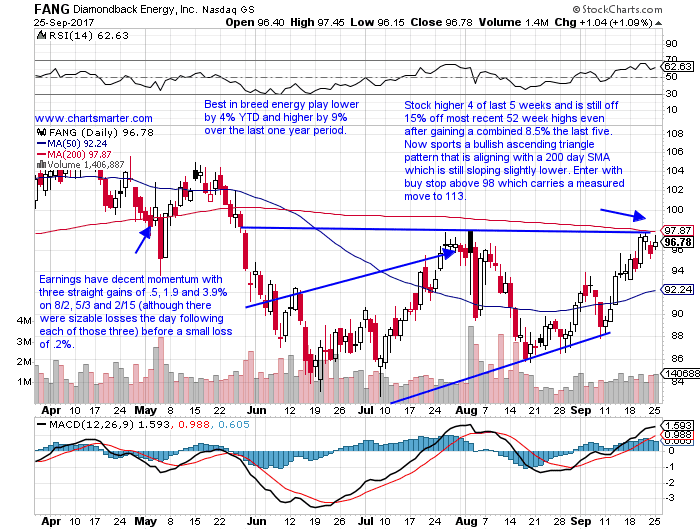 Trigger FANG 98.  Stop 95.20.
If you like what you read why not take a 2 week FREE trial at www.chartsmarter.com.