Healthcare made a decent push this week with the XLV higher by 1.8%, the second best major S&P sector gain of the week, trailing only the financials. Weekly volume was the strongest in almost 5 months too, dating back to the week ending 6/30. The IBB has lost ground the last 2 weeks to the tune of 2.6% (it is now sporting a weekly cup with handle trigger of of 342.60 which began the week ending 7/24/15 which was stopped cold at round 400 number), but below are three charts we have focused on recently in the research, equipment and software within the healthcare arena. They are leaders in their space and all have had to deal with the round number theory as well.
In our Monday 10/16 Game Plan we looked at Q. Q in the research space and this week was able to do something it was unable to do the week ending 8/25 and 10/13, and that is clear and CLOSE above the very round par figure. The last 2 weeks have gained 7.5% and it is now 3% above the recommended 100.05 cup case trigger. Below is precisely how it appeared in our daily report.
Stocks that can be bought as they take out cup base triggers are Q. Q is a healthcare name higher by 31% YTD and 26% over the last one year period. Earnings momentum going in wrong direction with back to back losses of .6 and 3.2% on 8/3 and 5/3 after gains of 2.9 and 1% on 2/14 and 11/2. The stock is on 4 week winning streak gaining a gradual 5.6% and is on a current 9 session winning streak and respect taut trade and consistent support at rising 50 day SMA. The name is hitting all time highs in conjunction with very round par number and enter Q with a buy stop above cup base trigger of 100.05.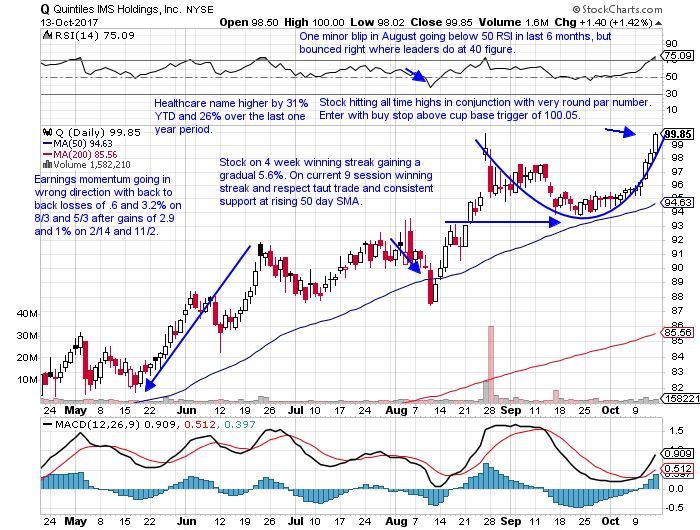 Trigger Q 100.05.  Stop 96.
In our Friday 10/13 Game Plan we looked at VEEV. VEEV is in the software space in healthcare and it is on a current 4 week winning streak gaining more than 9%, but still sits 10% off most recent all time highs. Notice how the round 60 number which was solid support in late June, July-August, became resistance on 9/1 and between 10/12-19 until Fridays strong move above. It is now 1% above the recommended 60.25 trigger and now watch for a break above the double bottom trigger of 66.18 into year end.
Stocks that can be bought as they take out the round numbers are VEEV. VEEV is a software play higher by 46% YTD and 53% over the last one year period. Earnings mostly higher with four consecutive solid beats with gains of 8.2, 2.8, 11.4 and 8.7% on 5/26, 3/1, 11/23 and 8/13/16 before a recent loss of 13.6% on 8/25. The stock is down 11 of the last 16 weeks, but looking for a 3 week winning streak higher by 2.4% heading into Friday. It has acted well POST breakout from a 49.10 weekly cup base trigger that began the week ending 10/25/13 and taken out week of 3/17. Enter VEEV which broke above its 50 day SMA Thursday above the round 60 number at 60.25 and add to above a double bottom trigger of 66.18.
Trigger VEEV 60.25.  Stop 58.
In our Monday 10/2 Game Plan we looked at BSX. BSX is in the equipment space and is in the process of building a very nice long round cup base that began in 2004 in the mid 40s. It has gained 6 of the last 8 weeks in gradual fashion, and now stands almost 1% above the bull flag trigger and one can enter here and add to above the round 30 number. 
BSX is a best in breed healthcare name higher by 35% YTD and 23% over the last one year period. Earnings have been mixed with gains of .8 and 4.8% on 4/27 and 2/2 and losses of 1.3 and 1.6% on 7/27 and 10/26. The stock is higher 4 of the last 5 weeks and the last 4 have all CLOSED very taut within just .38 of each other. We profiled this name recently with a break above its 50 day SMA in our Wednesday 8/30 Game Plan and now it is acting well POST breakout from the 28.16 double bottom trigger taken out on 9/6. BSX has now formed a bull flag formation and enter with a buy stop above 29.45 which carries a measured move to 32.50.
Trigger BSX 29.45.  Stop 28.20.
Here is the chart from the Wednesday 8/23 Game Plan that we mentioned in our 10/2 report, and keep in mind the leading stocks will continue to offer additional entry points for those that missed prior ones. BSX is an excellent example.
If you liked what you read why not take a 2 week FREE trial at www.chartsmarter.com.