"Old tech" names are increasingly making a good showing for themselves with it be INTC breaking above a flag formation at the round 40 number, after a nice move through a bullish inverse head and shoulders pattern trigger with a neckline at 36.50 in mid September (it REPORTS later this week). MSFT has advanced 8 of the last 9 weeks and VMW is acting even better higher 14 of the last 16 weeks. Today we take a look at a past and present view of GLW, and directly below is precisely how we looked at the name in our Friday 10/6 Game Plan. Notice how the 29.50 was never taken out on a CLOSING basis.
Stocks that can be bought after recent cup with handle breakouts are GLW. GLW is an "old tech" play higher by 25% YTD and 29% over the last one year period and sports a dividend yield of 2%. Earnings mixed with gains of 3.7 and 5.7% on 4/25 and 1/24 and fell 5.3 and 3.8% on 7/26 and 10/25 (REPORTS 10/24 before open). The stock is higher 4 of the last 6 weeks and by 1.8% this week headed into Friday and doubled between weeks ending 1/22/16-7/21/17 (did fall 13% between weeks ending 7/28-8/18). GLW now looks ready to resume its long term uptrend, after pushing free of the round 30 number and is now just above a 30.47 cup with handle trigger. Enter here.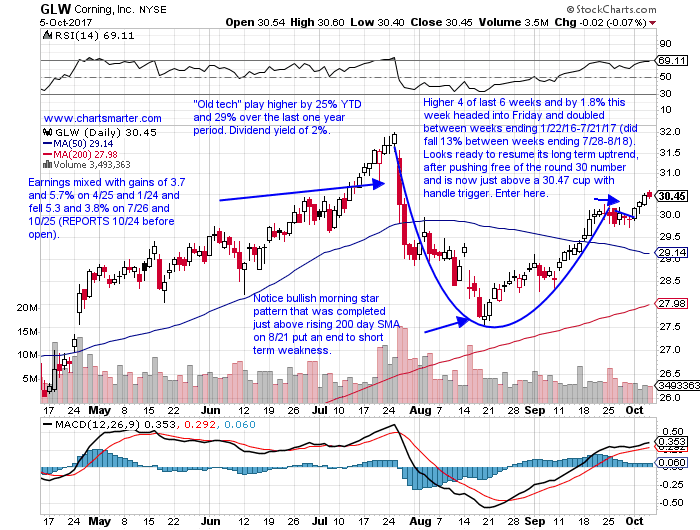 Trigger GLW here.  Stop 29.50.
Today GLW reported earnings and the stock responded handsomely higher by more than 6% as of this writing in the early afternoon hours. The last 5 weeks have all CLOSED very taut, all within just .35 of each other and bobbing above and underneath the round 30 number. That type of tight action normally results in explosive fashion once the direction is established. It is now just below a cup base trigger of 32.27 cup base trigger and look for a finish above. That would put it at highs not seen since 2001. Old tech names are continuing to represent themselves well with the likes of INTC MSFT and VMW just to name a few.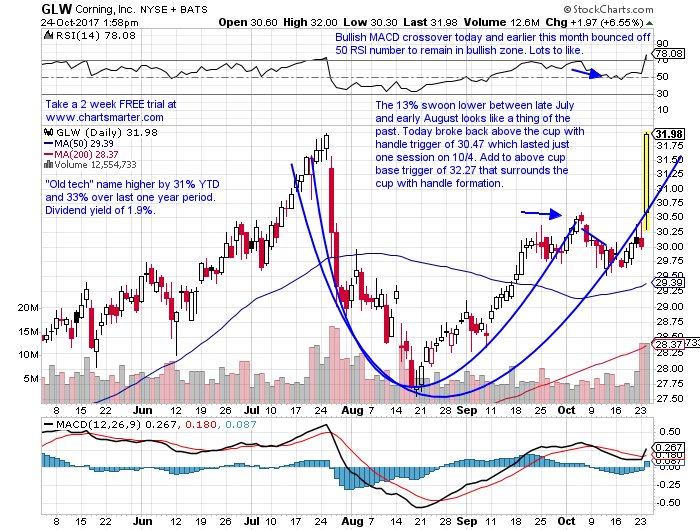 If you liked what you read why not take a 2 week FREE trial at www.chartsmarter.com.