Industrial Take:
The industrial sector has really been making a name for itself lately. The XLI is now higher 10 of the last 12 weeks as it has traded roughly between the round numbers of 70-80 since early January. Volume could be a bit more cooperative on the recent swing northward, but it is hard to argue with its PRICE action.

Looking "left" on its WEEKLY chart, one sees the excellent action as the ETF gaining 39 of 61 weeks ending between 11/11/16-1/12/18. Look for a move above an 81.06 weekly cup base trigger, for what could be a very powerful breakout if that occurs. 
Examples:
A name that will have a huge impact on how well the overall industrial arena will do is BA. Of course it is the largest component in the Dow, and this week it put up a second straight weekly gain of better than 3%. That was the first time that happened since the first 2 weeks of this year which ramped up a combined 13.6%. The stock now sits less than 1% below a cup base trigger of 374.58, and a break above would record an all time high.

CAT also did some of the heavy lifting in the group, pun intended, advancing nearly 8%, its second best weekly gain in the last 17 months.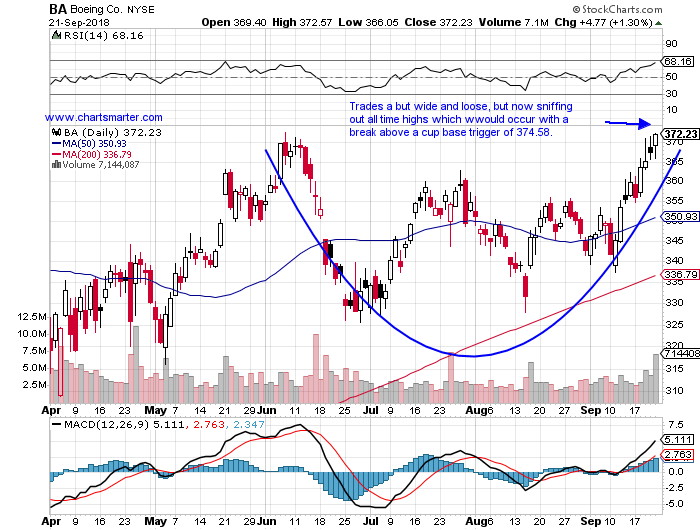 Relative Performance: