Markets endured another mini roller coaster ride today and finished modestly lower. The Nasdaq assumed its customary laggard role falling .35%, compared to the S&P 500s .16% loss. Perhaps the Nasdaq will find a bid at the big round number of 2800. There are becoming less and less places to hide in this recent carnage. Maybe you would think I could park some money in phamra. Then you look at ABT down 13%, and clinging to 40 week support. MRK PFE are down 11 and 9% respectively. Even more breathtaking is the flush in the utilities. XLU is down 12% from its recent high, with former stalwarts NEE SRE enjoying temporary 40 week support, and DUK nearing bear territory. Again buying breakouts in this environment is toxic. Buying off support areas and trading them remains the best strategy. Today some nice reversals off their 200 day SMAs came from the likes of AKAM MON DHI TOL. Some stocks catching my eye as well are GOLD EOG. GOLD, one of my favorite gold names is at the moment enjoying 40 week support at the big round number of par. EOG COG continues to be my favorite energy plays. EOG found 10 week support today, and COG continues to trade tautly after its recent flat base breakout. Today AAII investment manager survey showed bullish advisers down 10%, which is a pretty good sentiment indicator. Bearish advisers grew 9%. Good sign for the bulls, but those indicators remain secondary to the all important tape. For you Knick fans out there, full disclosure I am a huge one, MSG is sporting a 44.85 flat base trigger that if they can take out the Spurs tonight could breakout. At least the chart looks that way!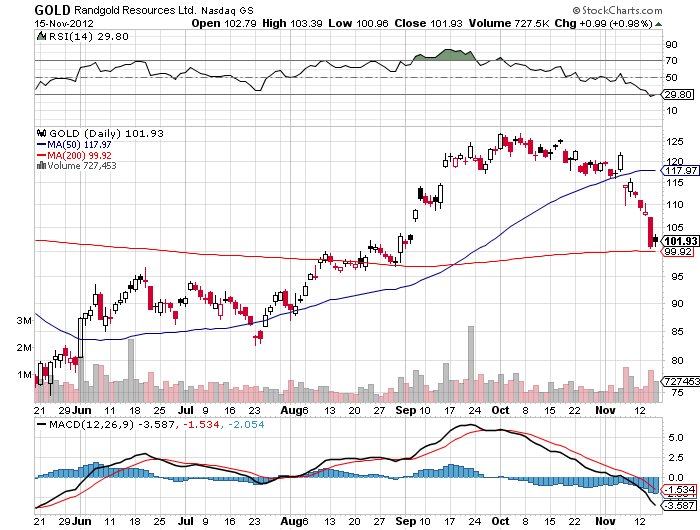 Stocks that can be shorted as they lose 10 week support and their sell stop spots are GRA 60.80, LOW 30.75, SBAC 63.70, OCN 32.25. Stocks that lost 10 week support today were DFS AOL WNR GWR MA MHK AMT PPG LL AME.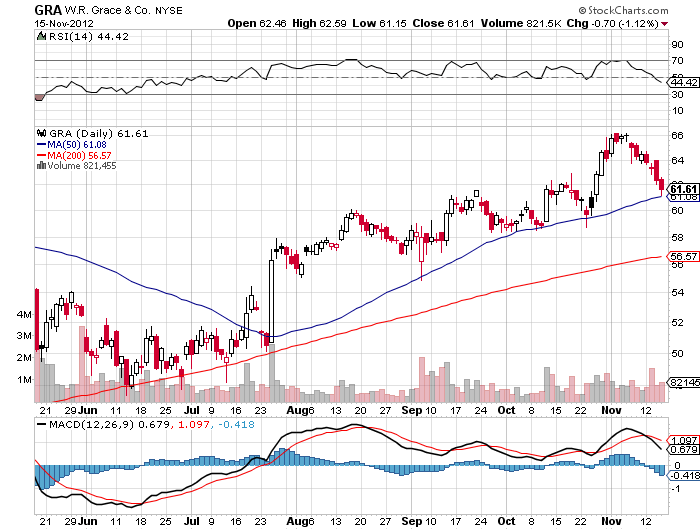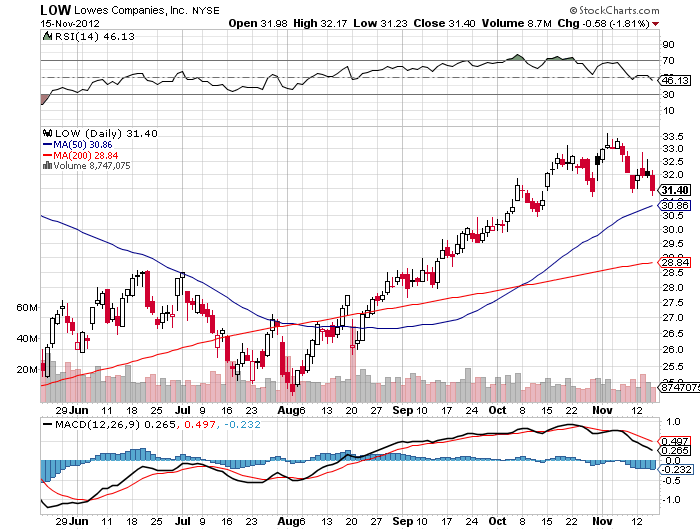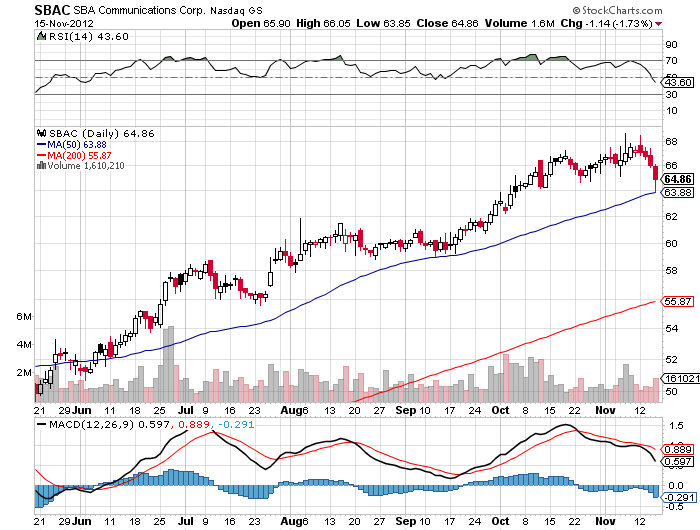 Stocks that can be shorted as they lose their 40 week MAs and their sell stop spots are ASH 67.15, CBS 32.75, CTAS 38.75. Stocks that lost 40 week support today were TRN NXPI VZ DSW CRUS GG WYN WCC.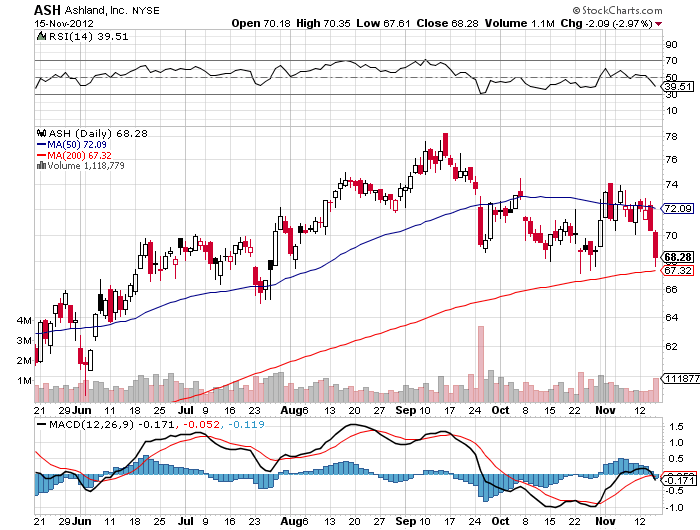 SH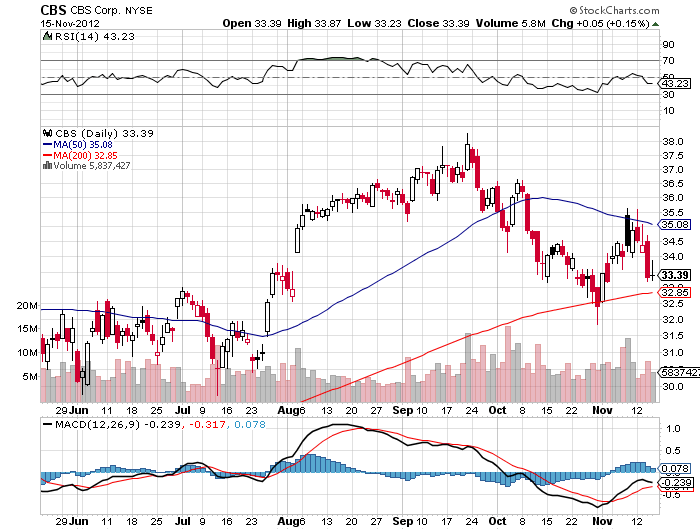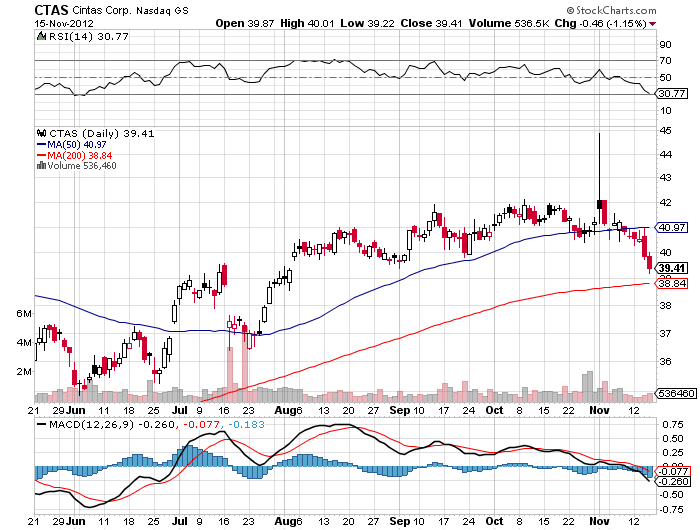 Stocks that can be put on a watch list, and bought when market conditions improve, and their following specific triggers are cup with handles XRAY 39.88, CNC 44.40, ROK 79.06. Other cup with handles are ARG 91.40, MCK 96.18, VAR 71.49, CREE 32.15, ETN 50.93, PGR 23.29. Flat bases are SXC 17.69, HFC 42.43, AMP 60.57, DOV 61.74, SAP 73.96. Double bottom is PSA 149.94.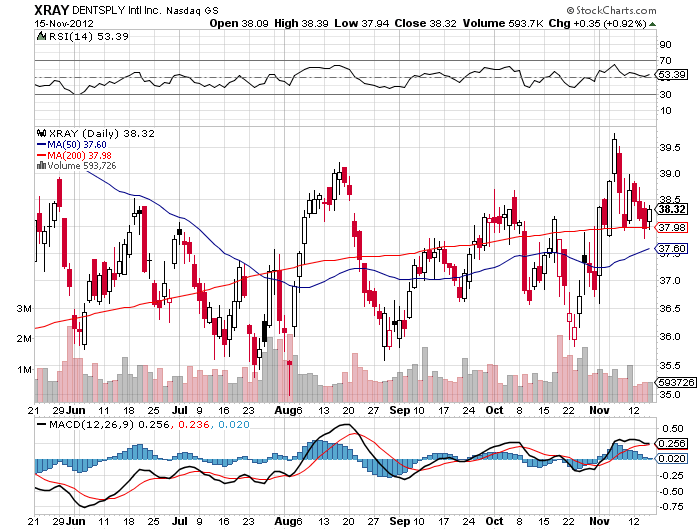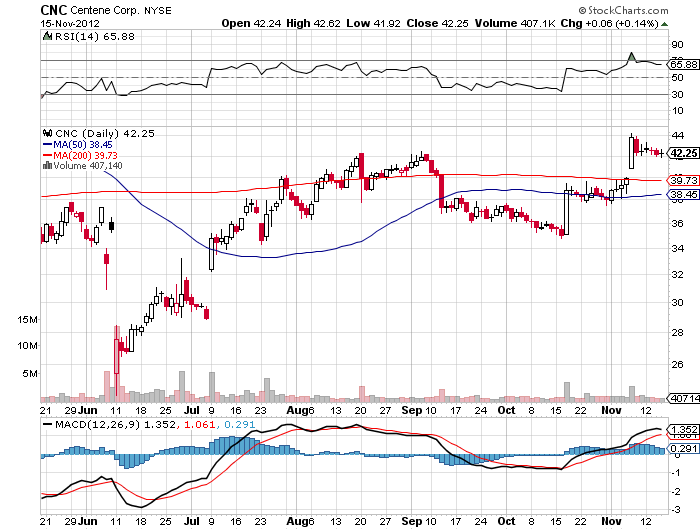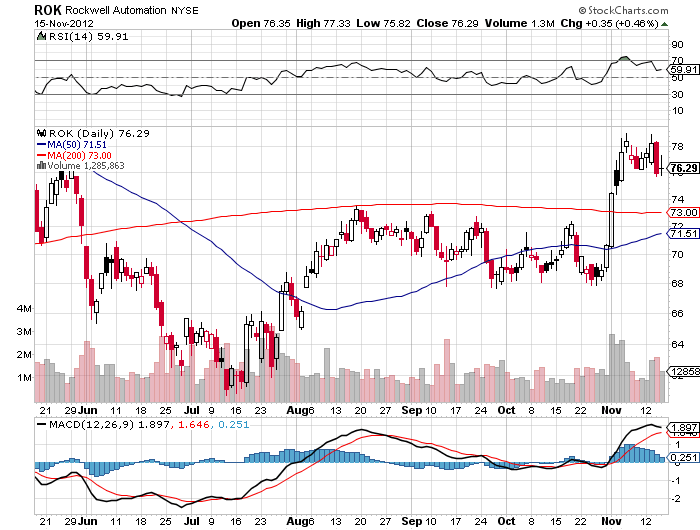 Stocks that can be bought as they retest prior breakout triggers and hold are SNI DDS POL. SNI took out a 57.85 flat base trigger back on 8/6. It hails from the media sector which has been hit just like everything else. Perhaps the most alarming move in the group was the NYT 22% drop 10/25. Others in the group having issues are NWS CBS MHP. DDS took out a 79.33 flat base trigger on 11/1. It hails from the retail sector which has had its share off stocks on sale, pun intended. WMT was a prime example today. As I like to say earnings moves normally find support or resistance at big MAs and today was no different. WMT slid, but the debacle was met with almost precise support at its 40 week SMA. POL took out a 17.63 flat base trigger on 10/24. It has been down 9 of the past 10 days and volume has been increasing as of late. With all these examples be nimble, because remember fighting a soft tape is no easy endeavor.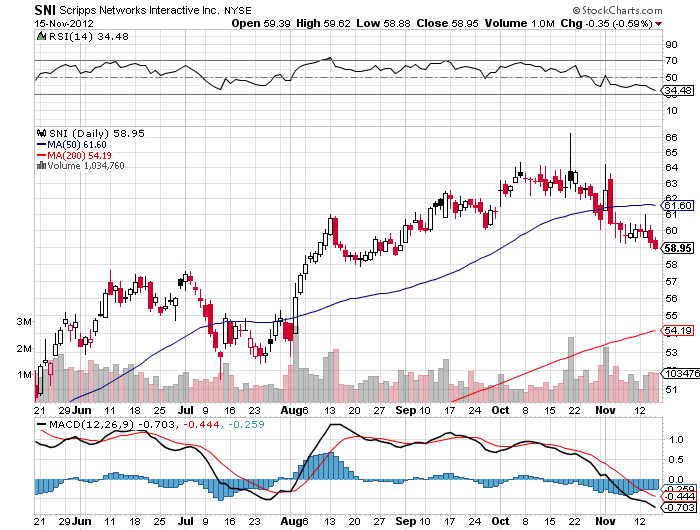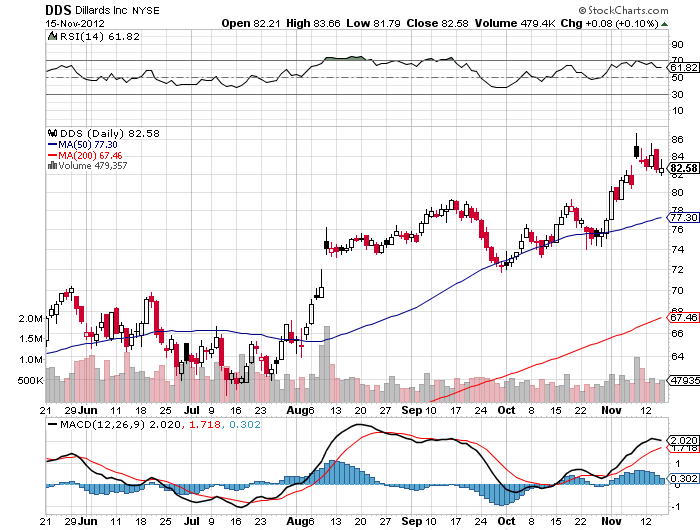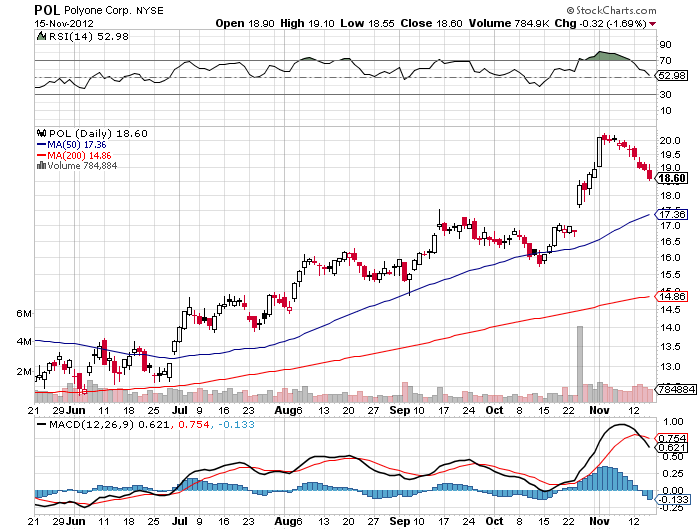 Stocks that can be bought as they reclaim their 10 week MAs and their buy stop spots are TGT 63.60, MPC 54.65, SEIC 21.80, ROP 108.75, CAKE 34.50, TRV 69.60, ZMH 65.30, ARUN 20.20. M retook its 10 week MA today. Stocks that can be bought as they reclaim their 40 week MAs and their buy stop spots are SLB 71.15, APC 72.25, CRM 144.50. Stocks that retook their 40 week MAs today were DTV TRIP VIAB CERN.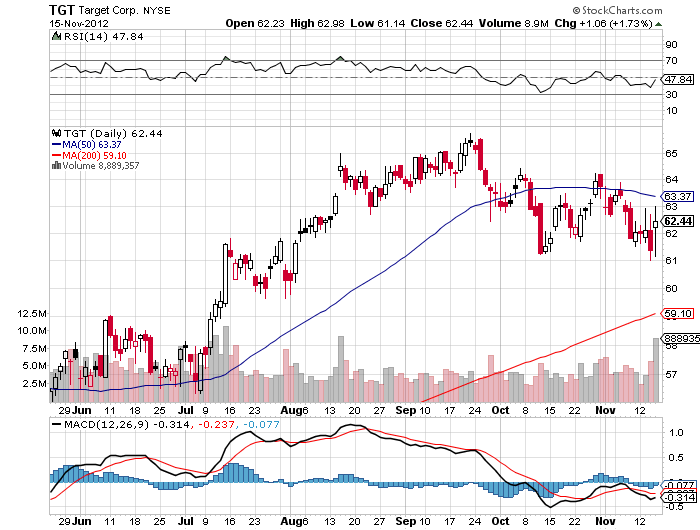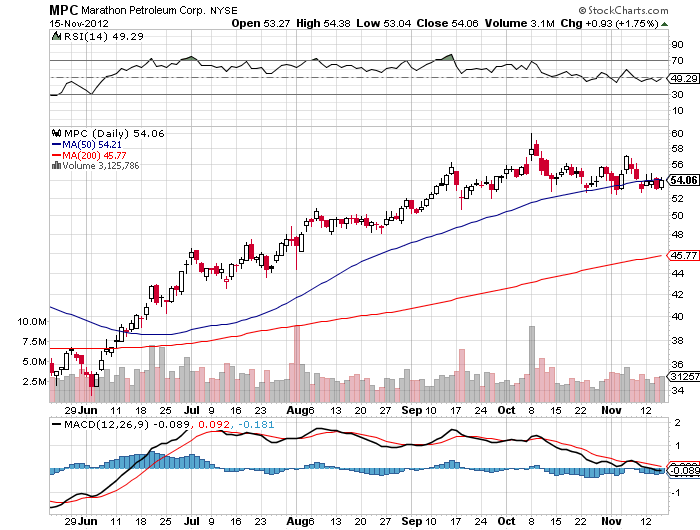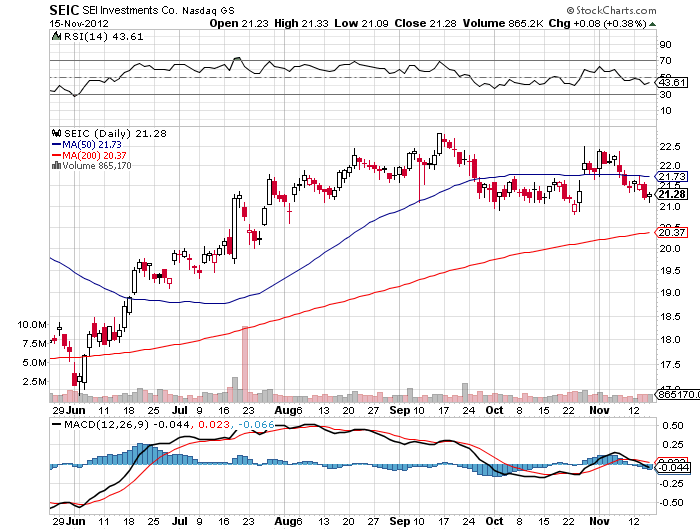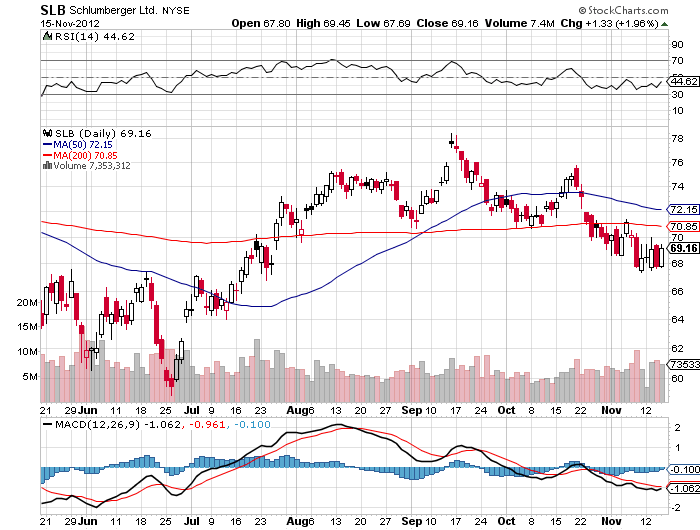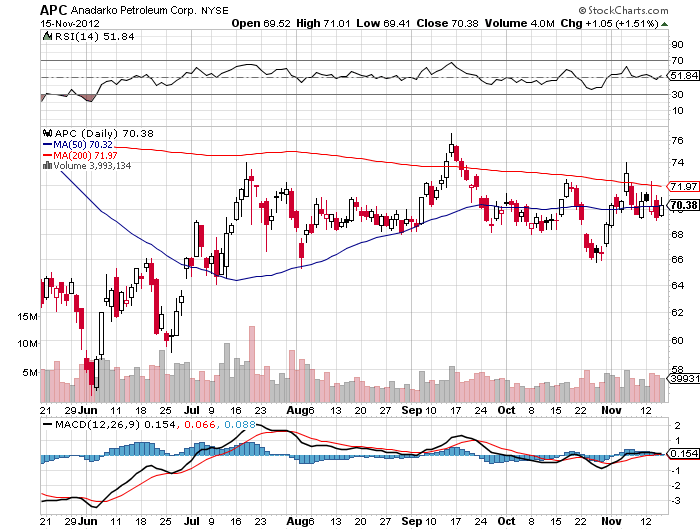 Good luck.
The author owns FNF.