As we head into year end and Black Friday, shoppers will most likely be in a jolly mood. That should translate into rosy sales and boost the retail group. Consumer Confidence numbers remain elevated, but I just prefer to let the actual charts do the talking with their PRICE action. The beauty space remains a bifurcated one, as ULTA has advanced 40.5% YTD, but ELF and COTY are LOWER by 42 and 59% respectively in 2018. Tonight we will take a daily and weekly look at a former general in the space whose chart looks poised to move higher, and if a year end rally were to materialize this name can benefit substantially.
Here is a daily look at EL and it is higher by 14% YTD and 16% over the last one year period and sports a dividend yield of 1.2%. Earnings have been mixed, but now show back to back advances, with gains of 4.7, 3.4 and 9.2% on 10/31, 8/20 and 11/1/17 and losses of 8.3 and .1% on 5/2 and 2/2. It is now back above a "death cross" (not as potent a play as many believe) that occurred in late August. Enter the name with a buy stop above a bullish inverse head and shoulders trigger of 145. Use a stop below 137 to know when you are wrong.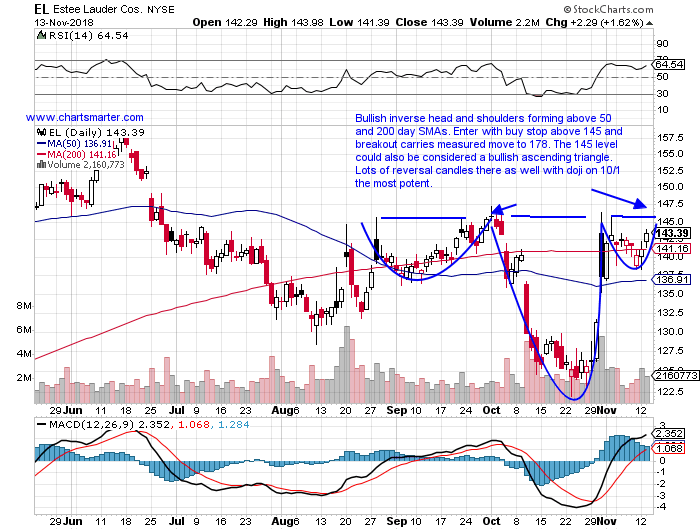 The weekly look on EL shows the sideways trade since late June, could merely just be a resting point before taking off to the upside once again. A very positive trait was the doji weekly candle the week ending 10/26, which tends to signal an end in the prevailing direction. Additionally the 3 week period between weeks ending 10/12-26, all CLOSED very tight all within just .87 of each other. That type of coiling action often leads to explosive moves, and the next week rose better than 10%. One can add to this name with their stake initiated on the daily chart earlier in the post, with a double bottom trigger of 147.33.
Good luck.