The big news after the bell delivered courtesy of FDX, pun intended, should not have been such a big surprise. This certainly will be a one two body blow the industrial group will have to endure with the BA debacle last week. FDX is down 10 handles overnight, and barring any big turnaround tomorrow it will record its FIFTH consecutive negative reaction. Drops of 12.2, 5.5, 2.7 and 1.2% were witnessed on 12/19, 9/18, 6/20 and 3/1/18. PRICE action has been reflecting its weakness and below is how we looked at a ratio chart between UPS and FDX in our 2/26 Industrial Report.
Losing RedHeaded Stepchild Status:
Contrasting big names on ratio charts, is a good way to illustrate which stocks the market is deploying capital too. Today we look at the relationship between UPS and FDX. The former has been a notable out performer compared to FDX. UPS is peeking its head above its 200 day SMA here, while FDX still lingers 40 handles below the long term secular line. Many like to play the mean reversion game, but we prefer to buy strength and sell weakness. UPS now sits 11% off most recent 52 week highs, while FDX trades 32% off its own. The dividend yield is also more attractive with UPS at 3.4%, and FDX at 1.4%.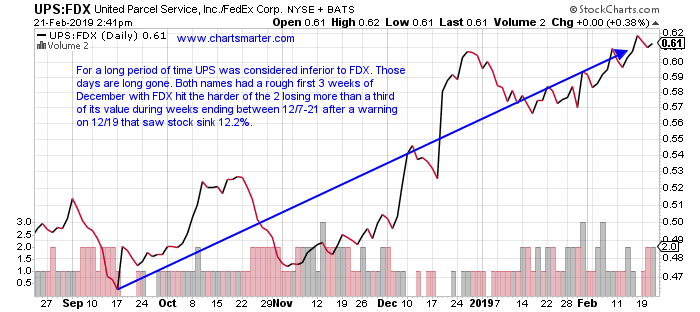 This is how we profiled the name in our 2/8 Industrial Report. It came very close to being stopped out, but the 185.75 stop was never hit on a CLOSING basis. The break below the bearish rising wedge has a measured move to 158.
Transport giant higher by 12% YTD, but lower by 28% over last one year period. Dividend yield of 1.4%.
Up 5 of last 6 weeks but little progress into big volume 3 week losing streak that fell 35% weeks ending between 12/7-21/18.
Poor relative strength still 32% off most recent 52 week highs. Peer UPS is just 14% off its own most recent 52 week highs.
Short here after recent gap fill from 12/18 session and downward sloping 50 day SMA resistance.
Entry 

FDX

 here.  Buy stop 185.75.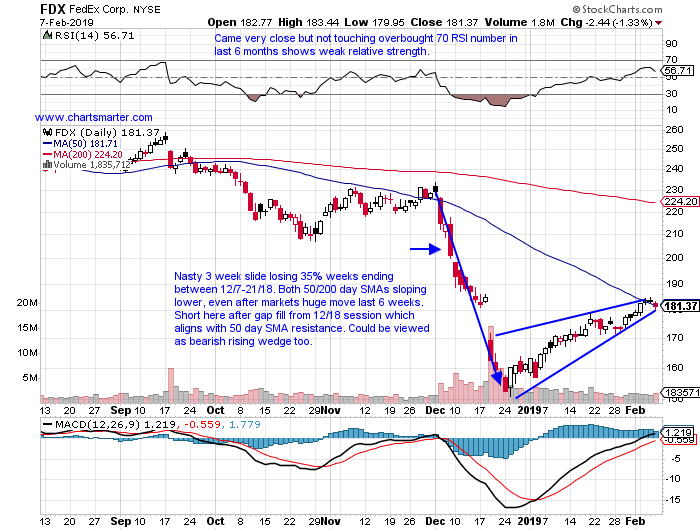 If you liked what you read why not take a 2 week FREE trial at www.chartsmarter.com.