The round numbers theory is one we pay attention to greatly. Names will often find support and resistance there temporarily giving investors the chance to trade around core positions, adding or shaving as they come into play. Some of the figures we like best are 10 (rare but we like to see names climb above single digit and many funds will shun stocks below), 20 as they shed teenager status and 90 and par as these two have relevance as names that pass through 90 historically trade through par and beyond. Below we look at four examples that highlight the round number theory and all are still near spots that investors can take advantage of.
Here is the chart and how it was presented in our Wednesday 9/27 Game Plan. The Denver CO energy name has certainly benefited from a nice sector rebound and Friday recorded its first weekly CLOSE above the very round 20 number since going public. It has more than doubled since coming public in April '16 and one can enter here and add to above a 20.54 double bottom trigger.
Stocks that can be bought as they take out the round numbers are CDEV. CDEV is an energy play lower by 4% YTD and higher by 32% over last one year period. Its last earnings reaction rose 4,5% on 8/8 and the previous 2 fell by 1.1 and 6.4% on 5/11 and 3/23. The stock is higher 4 of the last 5 weeks and by 5.3% thus far this week and has recent strong weekly gains of 12.3, 7.6 and 6.2% ending 7/14 (bullish engulfing week), 7/28 and 8/11. The round 20 number has been tough to pierce and it was above weeks ending 12/16/16-1/6/17 and 4/14 but no CLOSES above. Enter CDEV with a buy stop above 20.20 and add to above double bottom trigger of 20.54.
Trigger CDEV 20.20.  Stop 18.75.
Below is the chart of MSI and how it was presented in our Thursday 10/12 Game Plan. The stock is enjoying a current 6 week winning streak with all 6 weeks CLOSING either at or very near the top of the weekly range, a bullish trait. It burst above a bull flag trigger of 90.25 on 10/26 and could very well surpass it measured move, which are guidelines not rules. As a bonus this Friday it broke above a 93.85 cup base trigger.
MSI is a tech play higher by 8% YTD and 20% over the last one year period and sports a dividend yield of 2.1%. Earnings have been mixed with an UNCH finish on 8/4, a loss of 1.9% on 5/5 and gains of .7 and 6.5% on 2/3 and 11/4. The stock lost 6 of 8 weeks ending between 8/4-9/22 with back to back bearish shooting star weekly candles ending 7/28-8/4, but has gained last 2 weeks by combined 6%. Enter MSI with a buy stop above bull flag trigger of 90.25 which obviously aligns with very round number. Names that travel thru 90 often reach par and beyond. A break above flag carries measured move to 97.
Trigger MSI 90.25.  Stop 88.50.
Below is the chart of WYNN and how it was also presented in our Thursday 10/12 Game Plan. This name was looked at as a bounce candidate off its 50 day SMA, but it also illustrates the round number theory well as it encountered nice support at 140 and 150 was resistance in late September and early October. See if it can base here now just above 150 and see former resistance become support.
Stocks that can be bought as they touch their 50 day SMAs for the initial time after a recent breakout are WYNN. WYNN is a best in breed leisure play higher by 66% YTD and 47% over last one year period and sports a dividend yield of 1.4%. Earnings have been mixed with gains of 5.9 and 7.9% on 4/26 and 1/27 and losses of 5 and 9.3% on 7/26 and 11/3. The stock is higher 5 of the last 8 weeks including gains of 7.4 and 6.5% weeks ending 8/18 and 9/1. Round numbers came into play with 140 resistance on 6/26 and 7/25 which then became support on 9/25 and 10/9. 150 number resistance on 9/29 and 10/5. WYNN broke above a double bottom trigger of 139.76 on 9/1 gaining 3.2% on firm trade and touched its 50 day Monday successfully recording a hammer. Enter at 142.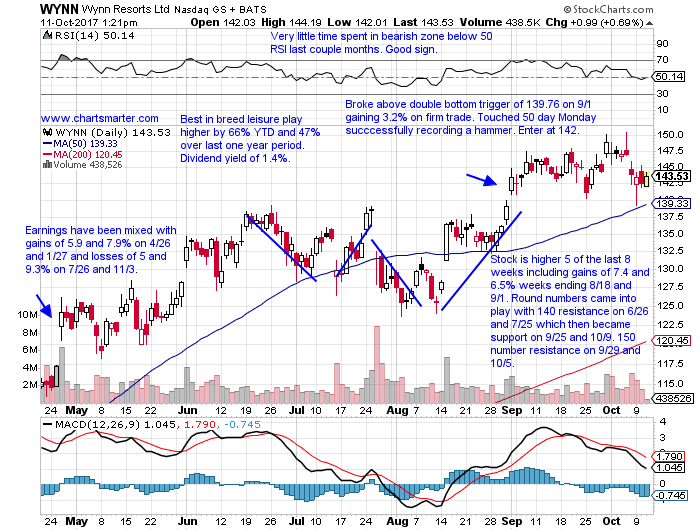 Trigger WYNN 142.  Stop 137.50.
Below is the chart of VRTX and how it was presented in our Thursday 11/2 Game Plan. To be fair right up front the trigger was NOT touched missing by a measly .51. but demonstrates the power of the round numbers. It certainly looked like a gap fill from the 7/18 sense was in order, but the round 140 number acted as a floor on 10/26 and now sits just below the 150 figure as of Fridays CLOSE. If it can climb back above its 50 day SMA a double bottom base is taking shape.
Stocks that can be bought after recent bullish engulfing candles are VRTX. VRTX is a healthcare leader higher by 94% YTD and 84% over the last one year period. It has produced back to back earnings drops of 2.1 and 4.4% on 10/26 and 7/27 after losses of .7 and .2% on 4/28 and 1/26. The stock is lower 5 of the last 8 weeks and this week by 5% so far. Last week was significant as it registered an 11 point reversal off the round 140 number which was resistance dating back to the weeks ending 8/7-21/15. It has reacted well to clinical data this year advancing 20.4 and 20.8% on 3/29 and 7/19 respectively. VRTX recorded a bullish engulfing candle on 10/27 in firm volume and look to enter on a pullback into it at 141.50.
Trigger VRTX 141.50.  Stop 138.25.
If you liked what you read why not take a 2 week FREE trial at www.chartsmarter.com.