The Run for The Roses is alway best described as the best two minutes in sports. Let's take a look at a little longer time frame from an investment point of view. Directly below is how we profiled the name in our 4/30 Consumer Report and then we will take a peak at the WEEKLY chart.
Gambling play higher by 25% YTD and 12% over the last one year period. Dividend yield of .5%.
Rose 8.2% last week for third best weekly gain in last one year, also on third best weekly volume in same timeframe.
Enter on pullback into very round par number at 100.75 after recent breakout above cup base.
First CLOSE above 100 Monday since 7/25/18. Add to this name above 104.96 cup base pivot in pattern that started in May '18.
Enter CHDN 100.75.  Stop 96.25.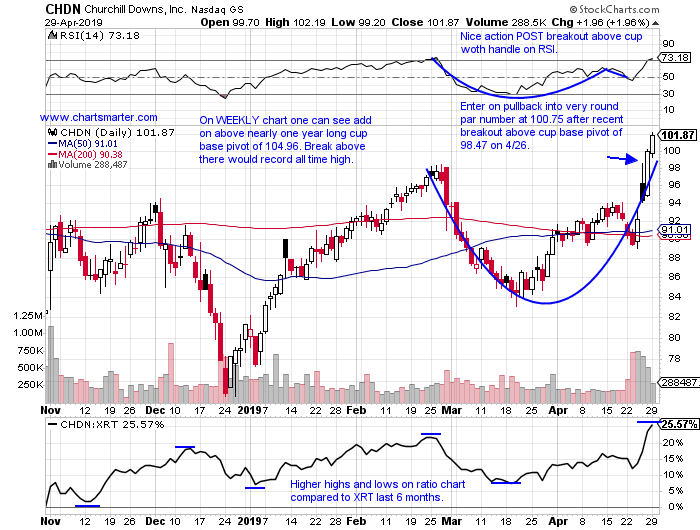 Longer the base the greater the move on the potential breakout.
Strong volume trends last couple years have stock just 2% off most recent all time highs.
Look for stability above very round par number where name was hesitant last spring too.
Could be on verge of major move higher.
If you like what you read why not take a 2 week FREE trial at www.chartsmarter.com.